Kipyegon keeps the Faith to claim historic hat-trick
Share - WeChat Kenyan cruises to third 1,500m gold while Barshim's bronze also unprecedented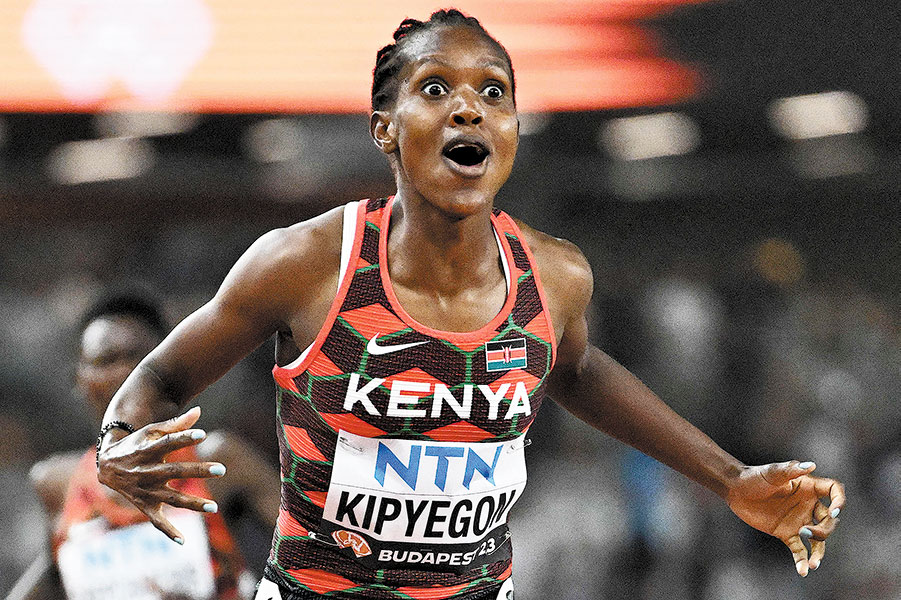 BUDAPEST, Hungary — Faith Kipyegon's race strategy isn't all that complicated. What works is that she's among the few who can execute it.
"Get to the front and go faster," the Kenyan runner explained.
Her pace, the one that she's used to set three different world records at three different distances this season, also brought her a second straight 1,500-meter title, and an unprecedented third in total, on a muggy Tuesday night at the world championships.
Popping out quickly to the lead, then daring the other 11 runners to reel her in, the 29-year-old's tactics are not for the faint of heart.
More often than not in these races, early leaders fade. Not this one. Kipyegon finished in a time of 3 minutes, 54.87 seconds to beat Diribe Welteji of Ethiopia by almost a second. Sifan Hassan, running from back in the pack, as is her custom, surged into third place.
"I told myself, 'You are the strongest and just keep going,'" Kipyegon said.
Whether it's winning races or setting records, Kipyegon has been in quite a zone this summer. Over a 50-day span, she set world marks in the 1,500m, 5,000m and the mile.
In Budapest, Kipyegon says, it's all about medals, not records.
No time for rest, though. Kipyegon was due to be back on the track on Wednesday evening for the start of the 5,000. She got a bit of a reprieve when officials decided to move the event to the night session due to excessive heat forecast for Wednesday morning.
The Dutch runner Hassan will be in the field, too, and running her third event at the worlds, much as she did at the Olympics two years ago where she won two golds and a bronze.
It's a decision she's starting to lament.
"Before I decided to run these three events, I did not look at how fast the girls are this year," said Hassan, who regrouped for a medal Tuesday after a fall near the finish in the 10,000 over the weekend cost her a chance at one.
"When I looked at the start list for my heat, I was wondering why I put myself in this position. I would never have imagined that I would win a medal."