Wu bidding to take Scottish shortcut to PGA Tour
Share - WeChat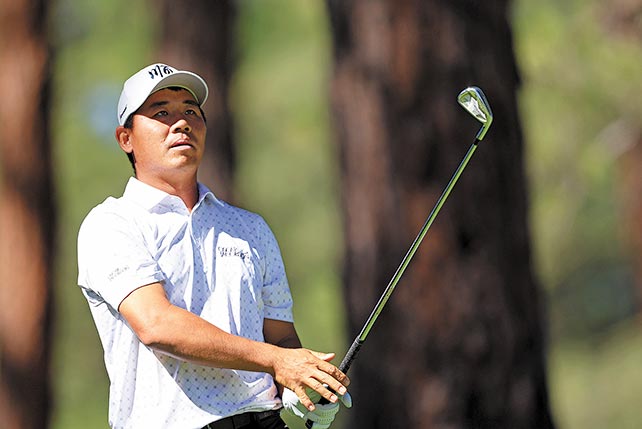 China's Wu Ashun gets reminded all the time by his swing coach that if he can win multiple times on the DP World Tour, he can surely taste victory on any other global circuit.
This week would be a good one for Wu to prove his coach right.
The 38-year-old Wu tees up in the Genesis Scottish Open at the Renaissance Golf Club in North Berwick starting on Thursday with everything to play for as a victory will grant him immediate entry onto the PGA Tour, which is co-sanctioning the $9 million showpiece with the DP World Tour for the second straight year this week.
"It's a great week here in Scotland, a big tournament co-sanctioned with the PGA Tour. All the big players are here. It's a good week to test your game and improve your game. Also a good chance that if you win the tournament, you can be on the PGA Tour," said Wu.
"My coach keeps reminding me that if I can win on the DP World Tour, you can also win on another level, including the PGA Tour. You have to believe that you have a chance of doing it."
Wu has firmly established himself as one of Asia's most successful golfers, with four victories on the DP World Tour, the most wins by a Chinese mainland player. Even though he is approaching his 40s, Wu believes he's got the game to succeed in the US.
The fact that countrymen Carl Yuan Yechun and Marty Dou Zecheng are currently plying their trade on the PGA Tour is also serving as a motivation for Wu to join them in the US.
With the DP World Tour being strategic partners with the PGA Tour, the leading 10 players not otherwise exempt from the final 2023 Race to Dubai rankings will earn PGA Tour cards too — and Wu believes this is a massive incentive.
"Everybody is targeting top-10 at the end of the year, but it's a step-by-step process," said Wu, who is currently 86th in the rankings. "You need to play well every week, be patient and good stuff will happen. It's a good opportunity for us.
"I follow the scores of Carl and Marty every week, and they've played solid over the past month or so. They've started to do well. Hopefully they can land a trophy this year. It's always the putting. If you putt well, you'll always finish well. If I can improve in this area, I think it will be great. When I was playing in Asia, you kind of feel the DP World Tour is tough and then when you get on this tour, you feel, 'OK, I can compete here.' There's some difference but it's not much."
Wu has enjoyed some measure of success at the Renaissance Golf Club but knows he must be on top of his game to go toe-to-toe with many of the sport's leading lights. Eight of the world's top 10 golfers, including top-ranked Scottie Scheffler, reigning FedExCup champion Rory McIlroy and titleholder Xander Schauffele, are teeing up this week.
"I've been working really hard. When I was back home in China last month, I tried to figure out a little more about the swing. It feels good right now and it'll be important to keep my focus and play my best. I think it will be a great week," he said.
"This golf course is so different, and we don't have this kind of golf course in China or Asia. Maybe one or two. It's good to improve your game as you have to learn to play shots into the wind, and have to play a lot of different shots. It's more fun compared to standard golf courses, where you hit far and high. Here you have to hit it low, use the slopes and manage the golf course more."