Chinese delegation ready to shine at World University Games
Share - WeChat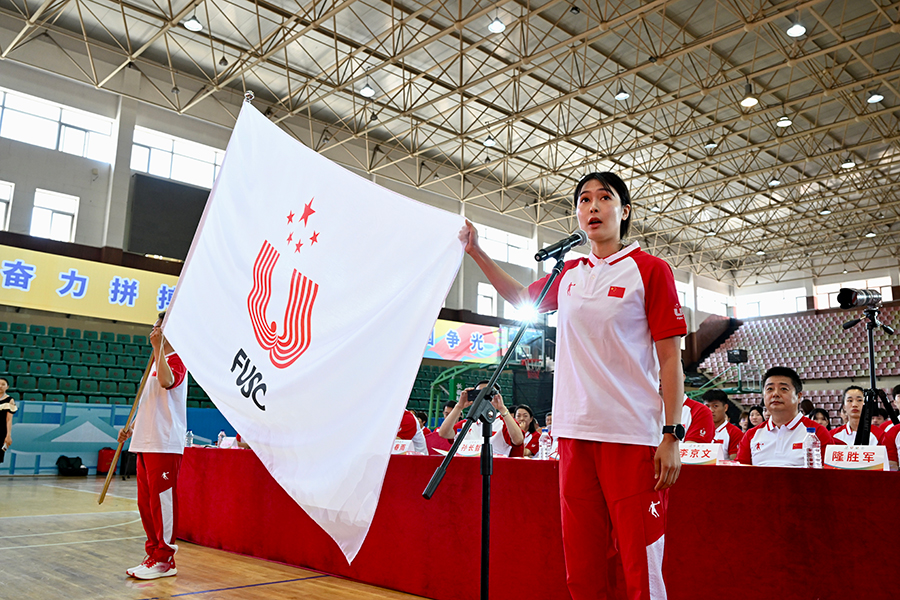 The Chinese delegation for the 31st FISU World University Games was officially formed on Wednesday and the top Chinese student athletes are ready to shine at the event, which will be staged in Chengdu, Sichuan province from July 28 to Aug 8.
Announced during a meeting in Changchun, Jilin province, the Chinese delegation boasts more than 700 members, among which 411 are student athletes from across the nation. The Chinese athletes will compete in all 18 sports at the World University Games.
"This year's World University Games will be a home event for us. We have to seize the last period of time before the start of the Games to train hard with scientific methods," said Wang Jiayi, the chef de mission of the Chinese delegation, during the Wednesday's meeting.
"The Chinese students should show their spirit and positive mentalities at the Games. Also we need to show our hospitality to all the friends from around the world who are coming to Chengdu. We should also show them our best culture and be the ambassadors of cultural communications."
"We are aiming at winning the best possible results and showing our best spirits. The Chinese athletes will do the nation proud, while, for themselves, adding a glorious chapter to their student athletic careers."
Postponed twice due to the pandemic, the event raised the age limit from 25 to 27 years old, while the minimum age limit remains the same at 18.
Also the Games changed the original requirement that only the students who are still at universities and those who graduated within less than a year are eligible. Now, apart from those who are still at school, student athletes who graduated from 2020 to 2022 can also join the Games. The change gives opportunities to more student athletes across the world - who could have lost their chance - to return to the World University Games.
According to the Chinese delegation, the average age of the Chinese athletes is 22.9 years old. The Chinese squad is very gender-balanced, as there are 205 female athletes, which accounts for 49.9 percent of all Chinese student athletes.
Among all Chinese athletes, 94.2 percent of them will make their debut at the World University Games, while only 24 athletes participated in the previous editions of the Games. 34 Chinese athletes have participated in Olympic Games before.
"I have been preparing for the World University Games for many years due to the postponement. But I have been having very comprehensive training. I have made a lot hard effort. So, I'm confident in my performance at the event. For me, personally, I'm aiming at two gold medals in Chengdu," said Cao Maoyuan, Chinese wushu athlete.
"I'm a student from Chengdu Sport University, so I'm proud to represent our nation to compete at a home event. And wushu events will be competed in the early days of the Games. So, probably, we can win our nation the first gold medal. "