Hua relishing Hangzhou homecoming
Share - WeChat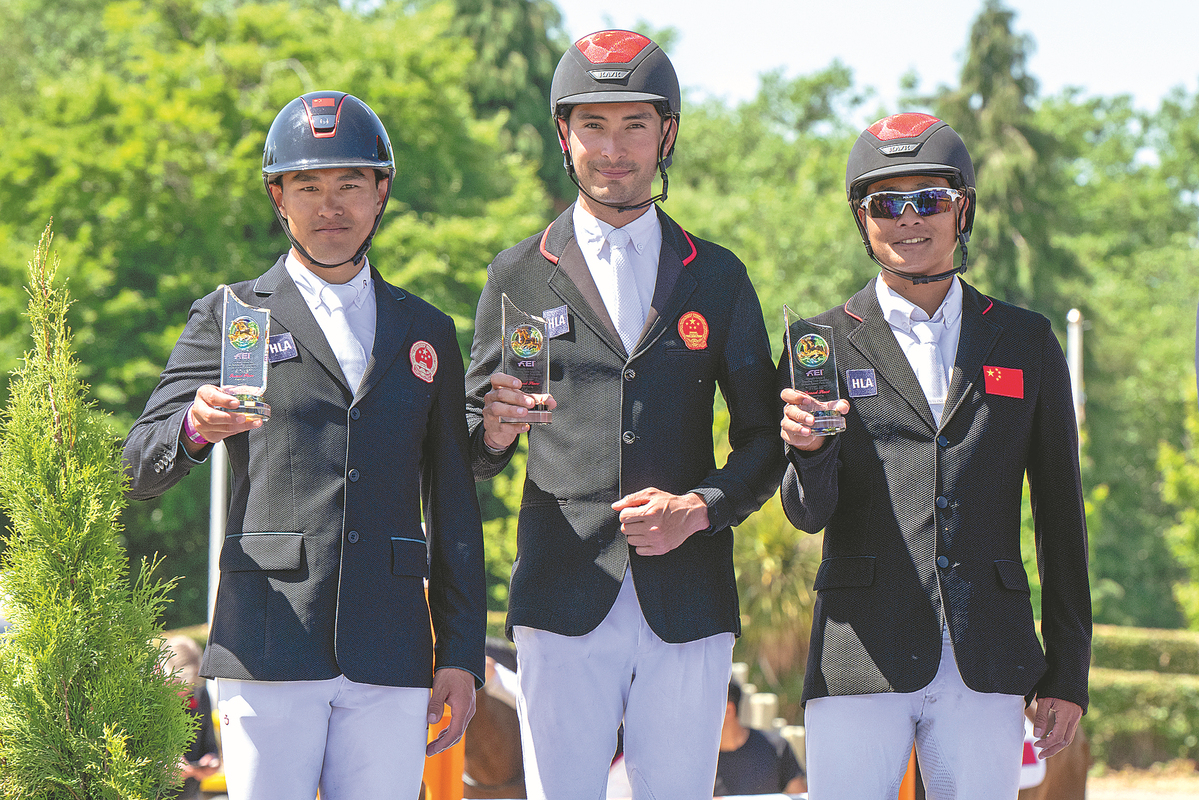 Star Chinese rider raring to deliver for the home fans at Asian Games
After famously representing China as an 18-year-old at the 2008 Beijing Olympics, Alex Hua Tian will compete on home soil for the first time in 15 years when he buckles up his stirrups at the forthcoming 19th Asian Games.
The star eventing rider is, therefore, understandably keen to shine in front of the home fans in Hangzhou, Zhejiang province.
"I always try not to set my expectations beyond doing my best," Hua told China Daily in an exclusive interview after unveiling his new competing slogan "Rider in Red" at a media conference in Beijing last week.
"I'm confident that the horses I have are up to the task. And a huge part of this year's Asian Games is the fact that it's a home championship. It's so important to me, and I know also to my teammates. The opportunity to compete in front of the home crowd is a dream come true.
"I can't wait for Hangzhou. My team and I are really starting to focus each horse's individual preparation to ensure they peak at the right time. Whatever happens next, I know we will be bringing unparalleled excitement to Tonglu Equestrian Park this year."
Hua and his Chinese teammates have been in fine form this season.
Earlier this month, Team China secured qualification for the 2024 Paris Olympics after finishing second at a qualifying event for the 2024 Paris Olympic Games in Millstreet, Ireland.
Only two Olympic spaces were on offer at the event. While Australia finished well ahead of the pack in first, Team China produced something of an upset by beating tough rival Japan to secure a ticket to Paris.
"We were all very excited, quite surprised as well. I think every rider played their part, and the horses performed as expected if not better. The overall performance was very good," said Hua of the qualification feat.
"Team China had a really difficult, uphill battle. Australia and Japan brought very experienced riders and very experienced star horses. Compared with them, Team China lacked competitive experience at the higher-level events.
"We didn't really have too much of a chance. It was very close in the end, but Japan made a couple of mistakes, which opened the door for us."
Hua told China Daily that when the competition ended, Team China's riders faced an anxious wait because the scores in Ireland were being processed relatively slowly. But there was huge "relief, excitement, and surprise" once the result was confirmed.
"It's great to seal qualification for the Olympics, and it also takes the pressure off a lot before the Asian Games. Without the team qualification, then we were going to have to look toward individual qualification," explained Hua.
"There were quite a lot of schedule clashes this year between potential individual qualification and the Asian Games. A lot of the big point-scoring competitions were in September and October. So it's really great that we've qualified, because now we can really turn our attention to Hangzhou."
The success came as a very pleasant surprise to the Chinese equestrian community.
"I would like to extend my congratulations to the Chinese eventing team for qualifying for the 2024 Paris Olympics. This hard-earned accomplishment deserves a hearty round of applause," said Zhong Guowei, secretary general of the Chinese Equestrian Association.
"Alex is a dedicated athlete who has a deep love for his country and is not afraid to shoulder responsibilities.
"We wish Alex and all of our participating athletes the very best as they continue to forge ahead and endeavor to achieve excellence once again at the Hangzhou Asian Games and the Paris Olympics."
Five years ago at the Jakarta Asian Games, Hua won eventing bronze on board PSH Convivial, with Japan's Yoshiaki Oiwa taking gold.
With five more years of competitions under his belt, Hua believes he's become an even more mature rider.