Anti-desertification efforts to drive environmental security
Share - WeChat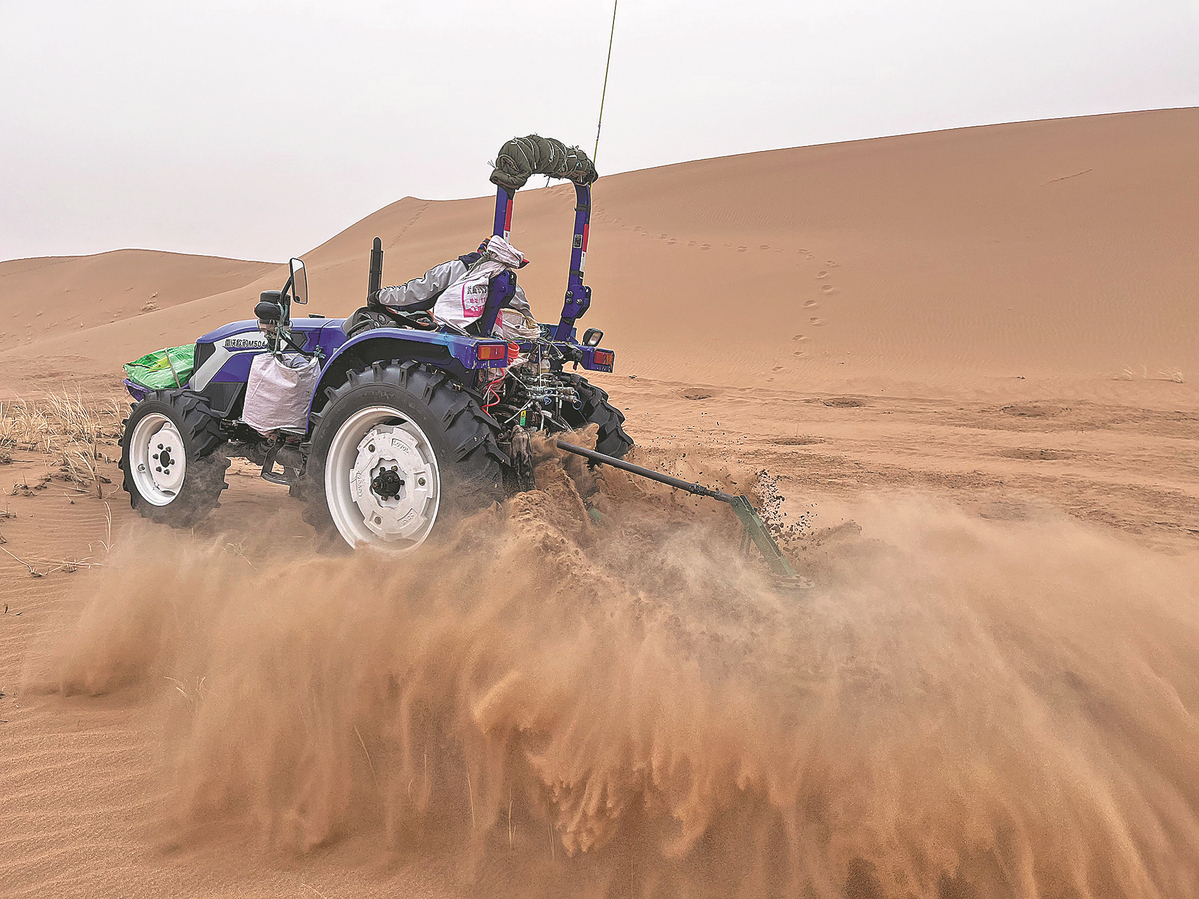 Essential tasks
Speaking on Tuesday during a meeting with officials after a fact-finding trip to Inner Mongolia's Bayannuur, President Xi Jinping said the strengthening of efforts to fight desertification and move forward with key projects, such as the Three-North Shelter Forest Program, is related to China's environmental security, the building of a strong nation and the sustained development of the Chinese nation.
Xi called for sustained efforts to create new miracles in tackling desertification. He reiterated the need to adopt a holistic approach to conserving mountains, rivers, forests, farmland, lakes, grassland and deserts, and to prioritize the prevention and control of desertification as part of broader steps to build up a shield for environmental security in northern China.
Sun Tao, director of the desertification monitoring center with the Forestry Survey and Planning Institute at the NFGA, said, "China has made tremendous anti-desertification efforts, especially in the vast northern and northwestern regions, as the arid land in these areas has been a major source of sandstorms. Severe sandstorms can affect even large regions and their populations."
A series of storms from March 19 to 22 swept across 3.62 million sq km and affected 560 million people, the administration said.
Sun noted that the storms, with sand mainly originating in Mongolia and the Xinjiang Uygur autonomous region, were divided into three routes — eastern, middle and western — mainly based on their origins and main routes. He added that Beijing is usually affected by those in the eastern and middle routes.
Eight rounds of sandstorms were recorded in March and April, Sun said, adding that five were in the eastern and middle routes.
"Sandstorms occur when all three required factors are present: sources of sand; volatile air conditions; and winds," he said, noting that sand and dust is lifted into the air and carried long distances by strong winds.
"The only factors that we, as humans, can affect are the sources of sand, thus making desertification-control measures important to controlling storms," he said.
Global issue
The fight against desertification has become a global issue, making international cooperation essential. As such, Chinese methods could be shared with countries facing similar problems, Sun said.
Lying to the north, the Gobi Desert region of Mongolia, especially the part that borders China, has become a major source of dust and sand.
During March and April, the area accounted for more than 42 percent of the dust and sand concentrations across northern China, according to recent research conducted by Huang Jianping, an academician at the Chinese Academy of Sciences and a professor at Lanzhou University.
Huang's work also showed that Xinjiang's Taklimakan — China's largest desert — accounted for 26 percent of airborne sand during the same two months.
Sun said China and Mongolia have discussed establishing a joint center to control and prevent desertification, adding that China and a number of Arab nations also plan to found a research center on drought, desertification and land degradation.
"But more importantly, we need to do our greening efforts well, which could effectively mitigate the impact of sand and dust storms," he said.
President Xi has also called for extensive international exchanges and cooperation in fulfilling China's commitments to the United Nations Convention to Combat Desertification. China will actively participate in global anti-desertification and environmental governance efforts, strengthen cooperation with neighboring countries and support desertification-control initiatives under the Belt and Road Initiative, he said.