Social Media Digest
Share - WeChat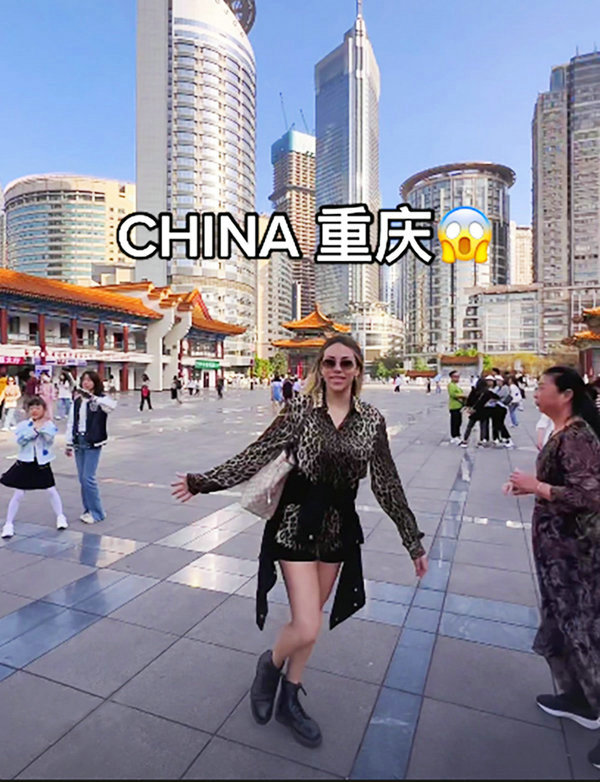 Chongqing's global fame
A travel video of Chongqing in China, created by vlogger @Yasminvroon, has become a sensation on TikTok, garnering 4 million views worldwide to date.
The video captured scenes from Kuixinglou Square, which appears to be on the first floor but is actually on the 22nd floor. Internet users have been greatly impressed by the city's architectural designs, referring to it as the "Dream City". Responding to this comment, @Yasminvroon posted another video and praised Chongqing as a prosperous city with a rich historical heritage, vibrant nightlife, and 24-hour shops everywhere. She also mentioned that Chongqing is safe for female solo travelers without having to worry about harassment or unwanted attention.
Surprised to see sci-fi scenes seemingly appear before their eyes, many netizens worldwide have left comments like "Cyberpunk 2077 must have drawn inspiration from here" and "It looks like the city in Blade Runner."
Colorful fashion
If you search the hashtag #Dopamine-Dressing on social media these days, you'll see people dressed in bold colors and patterns with equally colorful accessories. This new craze began to soar this season.
Dopamine is a chemical messenger in the brain that reinforces behaviors that make you feel good. That's why it's often called the "feel-good" hormone. The thinking behind dopamine dressing is that wearing brightly colored clothes will often boost your mood.
The trend is believed to have first emerged in China among university students. And it was soon further embraced by people from all age groups, including an 86-year-old influencer named Grandpa Kang. A video of him wearing a series of clothes with vivid color-ways — from a pink tunic jacket to a green T-shirt to blue overalls — has already garnered more than 340,000 likes on the social media lifestyle platform Xiaohongshu.
Most Popular