Demand grows for gadgets from China
Share - WeChat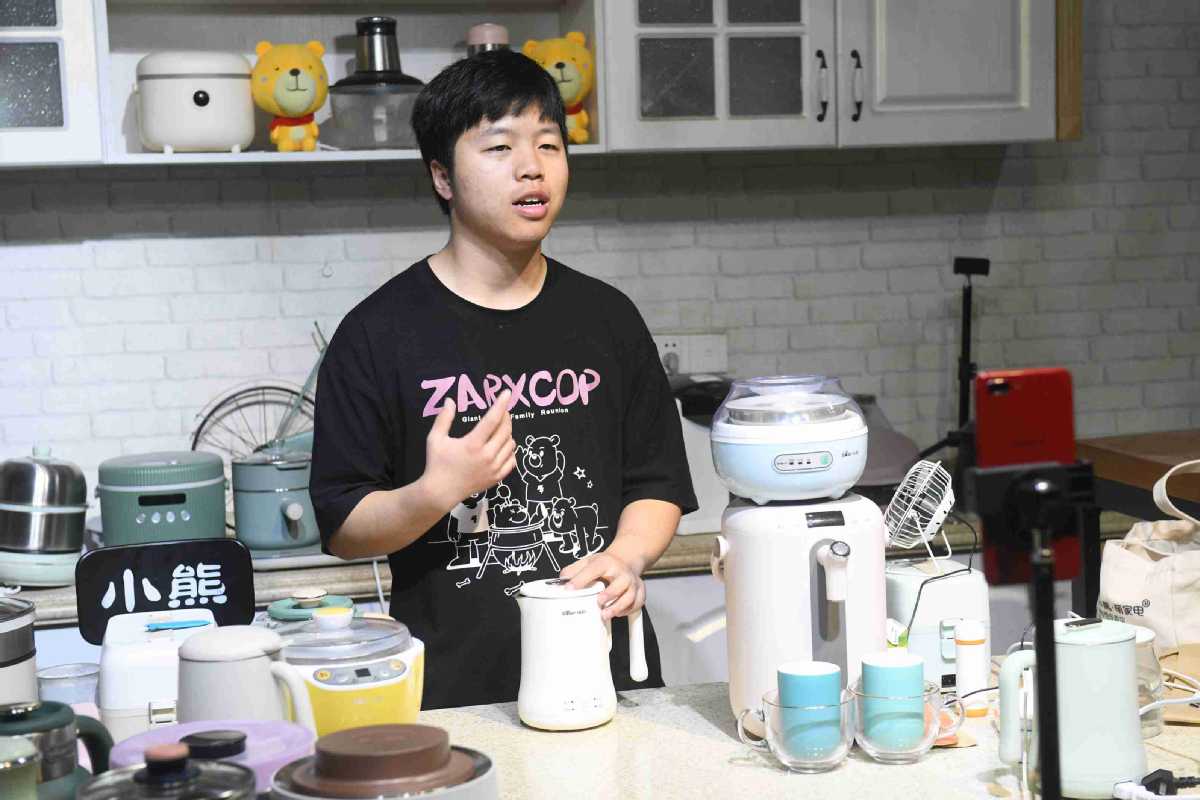 An increasing number of domestic small appliances, such as coffee makers, air fryers and robotic vacuum cleaners, are gaining popularity among overseas consumers, industry experts said.
The products' creative designs, simple-to-use features and online promotional events have helped manufacturers boost their sales abroad, they said.
Bear Electric Appliance Co Ltd, a maker of such small appliances, has seen robust growth in sales in Southeast Asia, Japan, South Korea, Europe and the United States, with meat grinders, egg beaters and humidifiers seeing the best performance since the COVID-19 pandemic.
The company, founded in 2006, has developed and produced a series of creative electrical appliances, including yogurt makers, egg boilers and electric stewpots and steamers to entice young consumers.
Such sales account for a relatively small proportion of the company's overall revenue at present, said Li Yifeng, chairman and general manager of Bear Electric. However, Li said, "We will expand our presence in overseas markets this year, with a key focus on bolstering sales via cross-border e-commerce platforms."
The pandemic has already changed the buying habits and lifestyles of people, who are increasingly focusing on the quality of life, personal health and food safety, according to the company.
In addition, the rising demand for high-quality consumer goods will continue to be consolidated, with small household appliances becoming popular among tech-savvy consumers, it added.
Chinese-made intelligent home appliances are often popular with foreign buyers, as seen in an explosive growth in sales. On the first day of the Black Friday shopping event last year, sales of robotic vacuum cleaners from Dreame, a Chinese home appliance maker, ranked first on Amazon's online marketplace in Germany.
According to AliExpress, Alibaba Group's business-to-customer platform, coffee grinders and tampers made in China were favored by consumers from South Korea and Spain during last year's Singles' Day shopping event, while those in Saudi Arabia bought coffee makers made by Chinese enterprises.
AliExpress said sales of air fryers rose by 162 percent year-on-year in Spain, while Chinese manufacturers of heating appliances, including electric blankets, saw impressive growth in exports to Europe in 2022, as the continent faced an energy crisis as natural gas prices soared.
Guangdong Xinbao Electrical Appliances Holdings Co Ltd said more than 70 percent of its revenue is from overseas consumers from more than 100 countries and regions across the globe, including Europe and the US. The company specializes in designing and manufacturing small home appliances such as electric kettles, blenders, toasters and coffee makers.
The rise in overseas orders of such appliances has reflected the robust recovery of China's economy, and the country's home appliance sector is picking up momentum, industry experts said.
China is the world's largest producer of home appliances, with the most complete industrial chains, including upstream materials and components to downstream machine manufacturing, said Liang Zhenpeng, an independent consumer electronics analyst. Liang said he is bullish on the prospects of the Chinese home appliance industry.
Because people have placed greater emphasis on health and quality of life, products with sterilization and disinfection functions are seeing a significant increase in sales, according to Si Zhenming, brand director of Joyoung, a Chinese home appliance manufacturer and soybean milk machine maker.
Cui Lili, director of the Shanghai University of Finance and Economics' Institute of E-commerce, said the popularity overseas of small household products made in China shows such cost-effective commodities have gained wide recognition and raised brands' reputation abroad.
"China's major online shopping festivals have become more international, exerting greater influence on overseas shoppers who are increasingly drawn to buying Chinese brands via cross-border e-commerce," Cui said.
Cui said Chinese manufacturers should take advantage of cross-border e-commerce platforms to benefit from heavy demand in overseas markets, learn more about local laws, regulations and quality standards and adjust supply chains to make products that meet local needs.
Generally speaking, consumers overseas have gradually boosted their awareness of and trust in Chinese companies and products, and maintain a favorable attitude toward Chinese brands, according to a white paper released by online media outlets Sina News and Huanqiu.com.
Liu Buchen, an independent researcher in the sector, said some Chinese manufacturers should abandon the low-quality and low-price competition strategy as soon as possible, and instead innovate in technology, quality and design.