June 18 gala off to roaring start for nation's retailers
Share - WeChat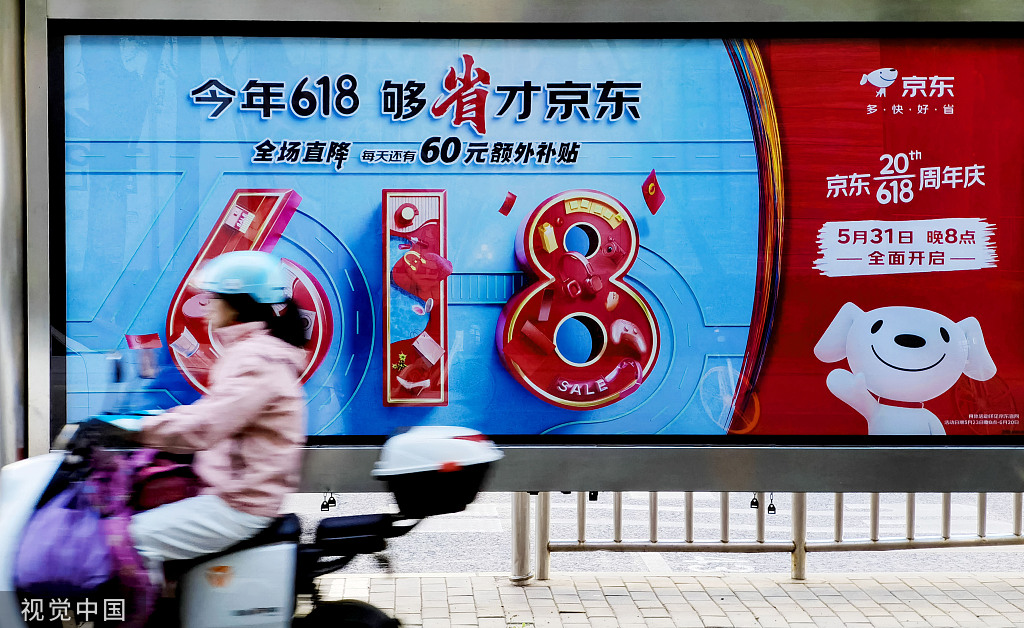 Chinese consumers' passion for online purchases has been sparked again with this year's June 18 shopping carnival, which more resembles a shopping month, as related online purchases kicked off at 8 pm on Wednesday, with major e-commerce platforms accelerating efforts to offer steep discounts and shopping coupons and use livestreaming promotions to boost sales.
Industry experts said the midyear online shopping extravaganza plays a vital role in stimulating consumers' purchasing appetites, promoting the recovery of consumption and shoring up the economy amid downward pressure and external uncertainties.
E-commerce giant JD, which initially created the June 18 campaign, said the number of brands that witnessed sales revenue surpass 100 million yuan ($14.0 million) within the first 10 minutes surged 23 percent year-on-year, while the transaction volume of nearly 50 percent of small- and medium-sized enterprises skyrocketed more than 200 percent on a yearly basis.
The turnover of Apple's products on JD surpassed 100 million yuan in just one second, while sales of smartphones from Xiaomi, Honor, Oppo and Vivo increased more than 100 percent year-on-year within the first 10 minutes. In addition, the transaction volume of JD's cross-border platform JD Worldwide in just five minutes exceeded total sales of the first two hours from last year.
Xin Lijun, CEO of JD retail — the retail unit of JD — said the company has issued more discounts and vouchers for the June 18 shopping festival compared with previous years. "We will launch more products and provide easier and more convenient shopping experiences for consumers."
Meanwhile, Apple hosted its first livestreaming event at its official flagship store on Alibaba Group's Tmall at 7 pm on Wednesday, as the US tech company steps up its push to offer substantial discounts on its main products including smartphones and smartwatches to drum up sales in the Chinese market.
Online discounter Pinduoduo has kicked off its June 18 promotional event, vowing to distribute shopping coupons worth 5 billion yuan covering a wide range of categories such as smartphones, home appliances, cosmetics, fresh products, maternal and infant goods as well as apparel.
The midyear promotion gala has further stimulated consumers' purchasing appetites and boosted the recovery of the economy, said Wang Yun, a researcher at the Academy of Macroeconomic Research, which is affiliated with the National Development and Reform Commission.
Wang expects China's consumer sector to maintain growth momentum in the second quarter, with the overall growth rate reaching more than 6 percent in 2023, adding that more efforts should be made to stabilize employment and improve household incomes.
As livestreaming becomes the new normal for retail practices in China, this year's June 18 event is set to be a grand platform where business executives and online influencers attract customers through targeted narratives for brands and products, said Mo Daiqing, a senior analyst at domestic consultancy Internet Economy Institute.
Mo said that following previous seasons of glitzy strategies, companies are taking a more pragmatic approach this time, offering an array of coupons and discounts to customers, with the promotional events becoming simpler.