Coffee bean transport sizzles as cups fly
Share - WeChat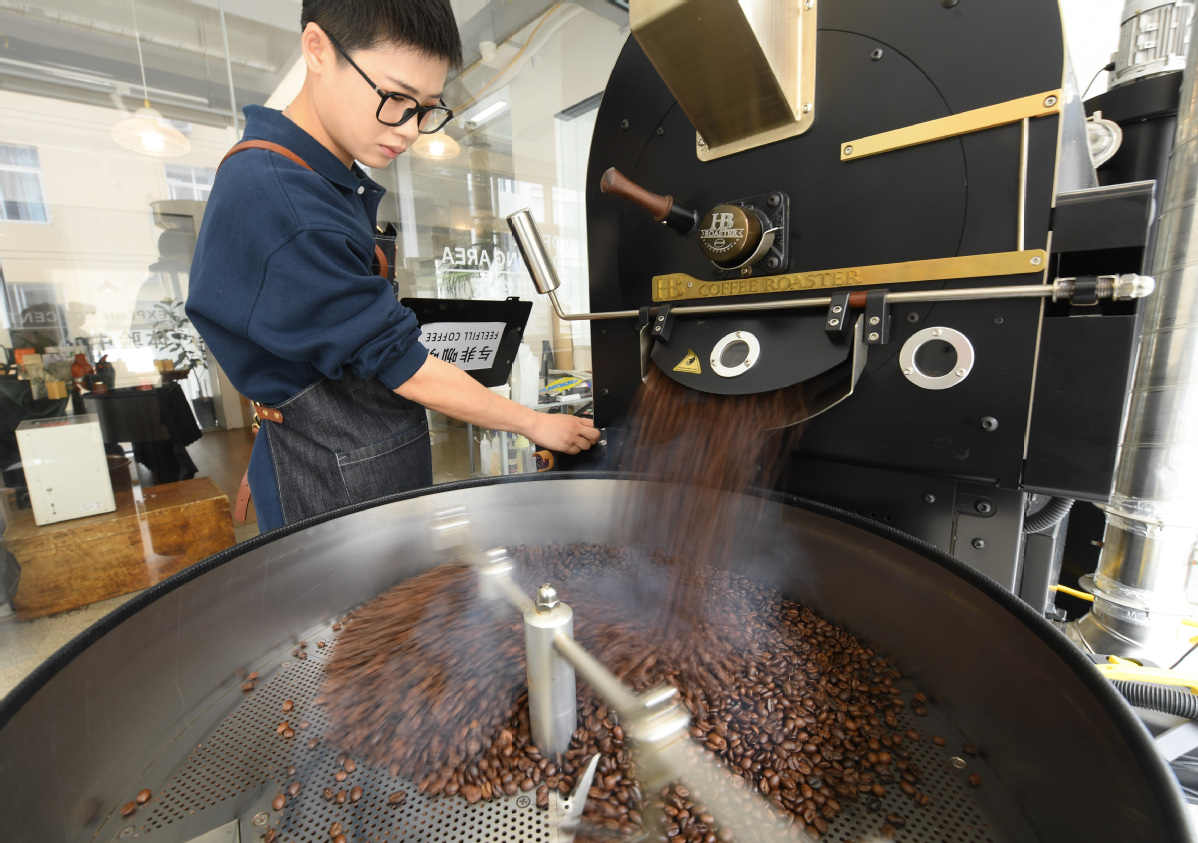 As coffee consumption in China rises, the freight transportation business of coffee beans has been booming, and first-tier cities remain key destinations for the highest quantity of coffee beans, according to a new report.
Suzhou, Jiangsu province; Kunming, Yunnan province; and Shanghai were the top three cities that received the largest volume of coffee beans in the past year, the report by truck-hailing platform Full Truck Alliance, released in May, showed.
In recent years, Suzhou has increased its deep processing facilities for coffee beans, and a number of renowned brands have set up their roasting bases in the city.
With a population of more than 10 million, Suzhou received nearly 90,000 metric tons of coffee beans last year, topping the list. The number is higher than the total volumes received by Shanghai and Tianjin, according to the report.
"The period between October and March is the major harvest season of coffee beans in China, and a large amount of fresh coffee fruits needs to be transported to roasting plants. It requires transportation by trucks to achieve rapid turnover and circulation," said Tao Ran, vice-president of Full Truck Alliance.
"After China optimized its COVID-19 response measures late last year, and with the resumption of work from offices in urban areas, the consumption of coffee has further gained momentum since March," Tao said.
This year, coffee sales are expected to reach 180 billion yuan ($25.3 billion), and the compound annual growth rate of coffee in the country is expected to touch 26 percent over the next few years, according to a projection by global consultancy Frost & Sullivan.
So far, more than 1,600 coffee outlets have been opened in Suzhou, and over 10,000 people are involved in coffee-related work. The city has shaped new types of consumption formats that integrate the consumption of coffee with bookstores, gardening and Chinese opera, the report found.
Meanwhile, Kunming in Southwest China's Yunnan province has become a transit hub for coffee beans, and a large amount of beans have been transported across the nation as well as overseas from the city. Yunnan has China's largest coffee cultivation area — the region is ideal for growing high-quality beans.
Zhang Hang, a 35-year-old resident of Yunnan, has been involved in the coffee bean business for more than 15 years. He said it is important to extend the transportation chain to expand the business scale.
"Now, we can easily order transportation of coffee beans by trucks online. The service has lowered the cost of Yunnan coffee beans transported to other regions in China and overseas such as Southeast Asia. It has also helped raise the trading efficiency of coffee beans, and we have received more orders from customers," Zhang said.
Pu'er, a major coffee bean plantation area in Yunnan, is more than 4,000 kilometers away from Kunyu in the Xinjiang Uygur autonomous region, but the distance hasn't stopped the flavor of coffee from reaching local consumers in Xinjiang.
Data from Full Truck Alliance show that the farthest distance for which it received an order was from Yunnan to Xinjiang, transporting 34 tons of coffee beans.
The average per capita coffee consumption volume of office workers in China's first- and second-tier cities has reached about 300 cups annually, close to the level of mature markets. The level is significantly higher than the overall average on the Chinese mainland, which stands at nine cups a year, a research report by Deloitte revealed.
Driven by the development of the coffee industry chain, smaller cities have increasingly taken a significant position in the transport of coffee freight.
More coffee houses have opened in third- and fourth-tier cities in China, and coffee consumption volume has picked up rapidly in such cities, the report by Full Truck Alliance showed.
In terms of the volume growth rates of coffee beans that Chinese cities received in the past year, besides Shenzhen in Guangdong province, smaller cities such as Zhengzhou, Henan province;Foshan, Guangdong; and Xuzhou and Yancheng in Jiangsu, were among the top 10 cities that have seen fast growth, according to the report.
Ma Si contributed to this story.