Budweiser looks to support Sheyang farmers
Share - WeChat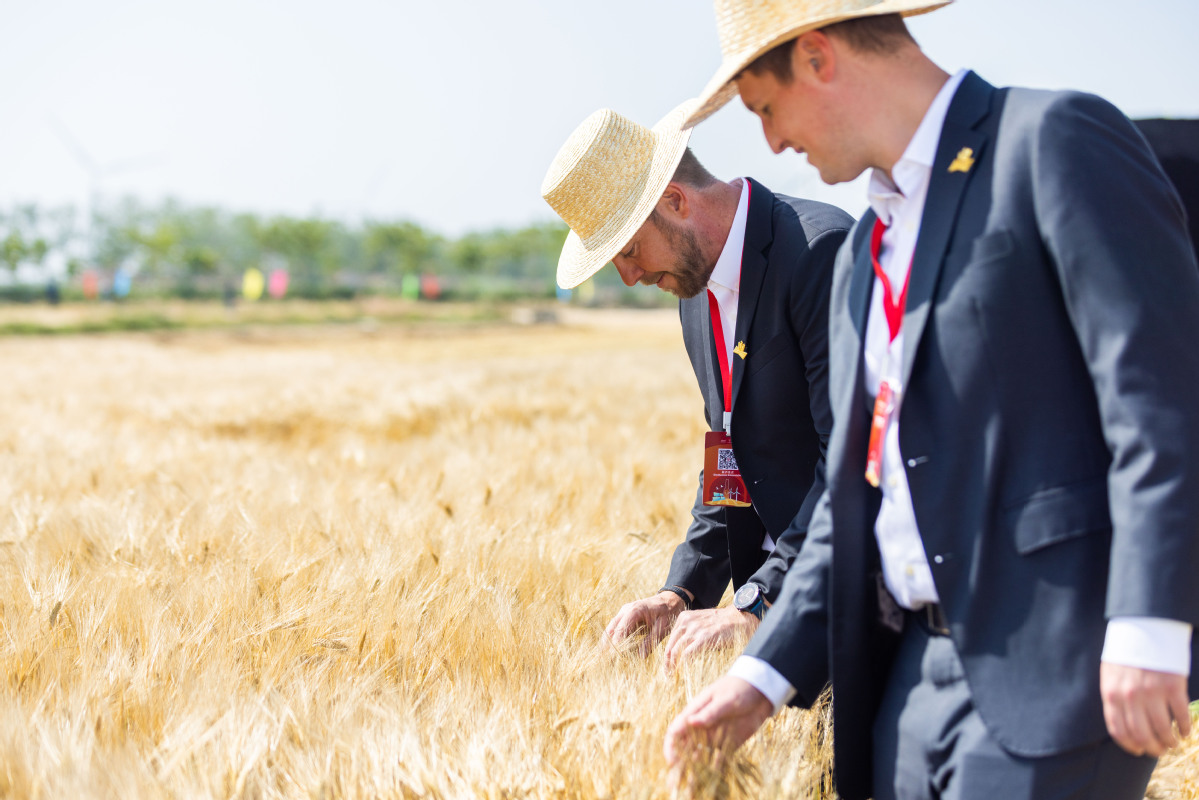 With China entering a new era of green and innovation-led growth, Budweiser Brewing Co APAC Ltd, the Hong Kong Stock Exchange-listed brewer, will deploy more resources to grow local supply chain and further cut carbon emissions across the country, said a senior executive.
Upbeat about the Chinese market, the company has been procuring locally produced malting barley in Sheyang, Jiangsu province, since 2016. This collaboration was established through a cooperative agreement with Jiangsu Nongken Group, a State-owned agricultural business company.
In its pursuit of promoting regenerative agriculture, Budweiser APAC plans to procure 80,000 metric tons of malting barley from Sheyang farmers in 2024. This initiative will cover an extensive farmland area of 160,000 mu (about 10,667 hectares) and significantly enhance the income of 7,000 local barley growers.
"Through our collaboration with Jiangsu Nongken and local farmers, we have leveraged technology and shared practical solutions to enhance both the quantity and quality of malting barley. These materials have played a crucial role in ensuring the production of high-quality beer for consumers in China," said Jan Clysner, vice-president for sustainability and procurement of Budweiser APAC.
Budweiser APAC is also working with Jiangsu Nongken and Yangzhou University in Jiangsu province to explore and develop new malting barley varieties that are suitable for growing in China, Clysner said.
"We will focus more on low-carbon practices in smart agriculture, leading the industry's green and eco-friendly transformation, and jointly promoting the high-quality development of Chinese malting barley," he added.
Budweiser APAC has also established the 2025 Budweiser Sustainability Goals focusing on four key pillars - smart agriculture, water stewardship, circular packaging and climate action - to reach its net-zero ambition across the value chain by 2040.
"These moves will definitely support and are fully in line with the China's goals to achieve peak carbon emissions by 2030 and carbon neutrality by 2060," he said, adding a number of its breweries, such as the plants in Foshan, Guangdong province and Wuhan, Hubei province, have achieved 100 percent renewable power brewing and carbon neutrality.
Highlighting the significance of China as a key global market for the group, Clysner said that Budweiser APAC remains committed to delivering premium products that align with evolving consumer preferences.
"Like many industries, the beer sector is experiencing a digital revolution. We recognize the significance of embracing digital technologies and leveraging China's emphasis on digitalization," he said. "This approach is consistent with our market strategies and enables us to tap into the country's digital advancements."
Attracted by China's lucrative and huge market, global companies have been diversifying and accelerating their investment efforts in the country. Specifically with a significant interest in areas such as consumption and manufacturing, healthcare and the green sector, said Sang Baichuan, dean of the Institute of International Economy at the University of International Business and Economics in Beijing.