BGI Genomics backs colorectal cancer screening project in Beijing
Share - WeChat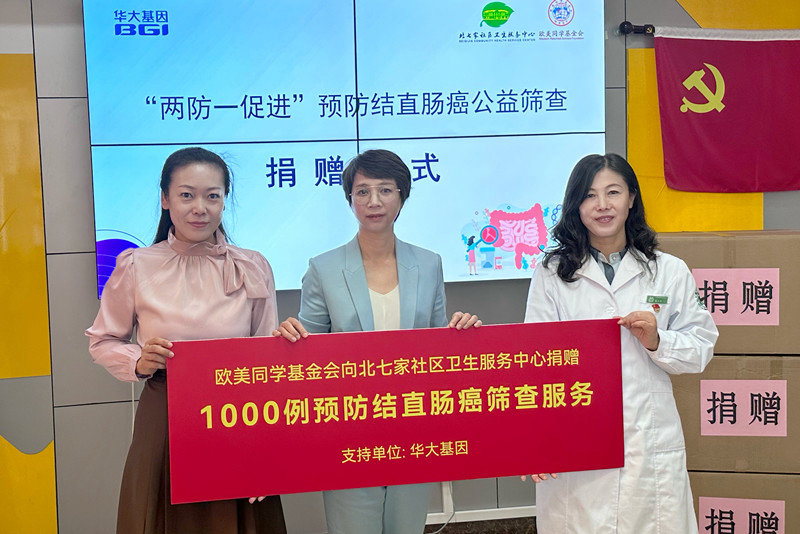 Shenzhen, Guangdong province-based genomic sequencing company BGI Genomics supported a public welfare colorectal cancer screening project in Beijing, in an effort to deliver advanced screening technology to communities.
The project, launched by the Western Returned Scholars Foundation, offers free screening services to a lot of communities in Beijing. So far, 22 screening stations have been established. A total of 4,733 samples have been collected, from which 4,312 report have come out.
According to the results, the positive rate of colorectal cancer has been increasing significantly after the age of 45, consistent with the trend of colorectal cancer incidence in China.
Healthcare professionals from communities in Beijing said the public welfare project will promote the standardization and long-term development of colorectal cancer screening in communities.
Li Haiju, secretary general of the Western Returned Scholars Foundation, said: "The public welfare project is a more precise and effective prevention of colorectal cancer. It moves the prevention measures ahead, and serves as an innovation of prevention and treatment coordination mechanism. It improves the early monitoring and rapid screening capabilities at grass-root level, controlling major diseases from the very beginning."
She noted that one of the advantages of the public welfare project is that it adopts non-invasive self-sampling. Another advantage is that the screening technique contains high throughput and high sensitivity. Also, as the project is community-based, it offers more convenience to people.
Li Jie, senior sales director of BGI Genomics, said: "The progression from precancerous lesions to cancer usually takes 10 to 15 years. This is an important time window for early diagnosis and clinical intervention of cancer. Therefore, the key to reducing the incidence rate of colorectal cancer and improving the survival rate is to actively carry out high-risk population screening, and find precancerous lesions and early cancer patients."
zhengyiran@chinadaily.com.cn