Seven arrested over Vinicius racism storm
Share - WeChat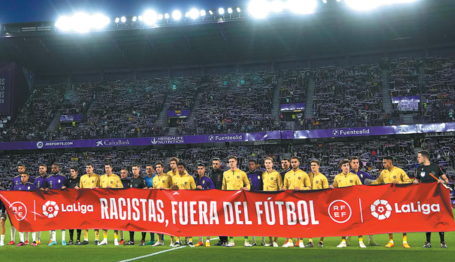 MADRID — Spanish police arrested seven people Tuesday over the racial abuse of Real Madrid's Vinicius Junior, as the Brazilian star was spared a ban for his red card against Valencia.
The forward was targeted by Valencia fans on Sunday, sparking an international outcry. As well as the arrests, one stand of Valencia's Mestalla stadium will be shut for five games, Spanish soccer authorities announced late Tuesday.
Spain's soccer league, La Liga, has been engulfed in a racism scandal after the 22-year-old forward was subjected to racist taunts during Madrid's 1-0 defeat at Valencia and later sent off.
The player has been taunted by opposition fans since joining Madrid in 2018 but the latest incident has kicked up a storm over whether Spain is doing enough to stamp out racism in soccer.
Police on Tuesday arrested three youths in Valencia for "insults and gestures with racist overtones "toward the player that amounted to "an alleged hate crime" during Sunday's match.
After their statements were taken, they were later "released on condition they appear when summoned "by the public prosecutor's office or the courts, a police spokesman told AFP.
Sunday's game was held up for several minutes with the referee saying that shouts of "monkey" had been directed at Vinicius.
In a statement, Valencia confirmed the arrests, saying it acting against those involved "by banning them for life" from the stadium.
In Madrid, police arrested another four men suspected of dangling an effigy of Vinicius from a bridge hours before a derby against Atletico Madrid on Jan 26. Above it was a banner reading 'Madrid hates Real', police said.
Investigators said three of the suspects were "active members of a group of radical fans" who had previously been identified as "high risk "by agents working to prevent soccer violence.
Red card rescinded
After the abuse in Sunday's match, Vinicius was sent off for hitting Valencia's Hugo Duro.
But Spain's refereeing committee on Tuesday sidelined VAR official Ignacio Iglesias Villanueva for his part in awarding Vinicius a red card.
During the match, the VAR footage showed the referee did not include the part where Duro grabbed the Brazilian around the neck before the incident.
" (The red card) was determined by the omission of the VAR room of the entire play, without showing the aggression carried out seconds before," said the Competition Committee in a statement. "Therefore the expulsion should be declared null and void."
The Spanish soccer federation also announced the decision to shut the Mario Kempes stand at the Mestalla — where Vinicius singled out a fan who had been abusing him — for five matches, and fined the club 45,000 euros ($48,000).
Valencia protested the decision early on Wednesday.
"We consider that penalizing and depriving all the fans who were not involved in these regrettable incidents of being able to watch their team is a totally disproportionate, unjust and unprecedented measure against which we will fight," read a Valencia statement.
Political fallout
There is growing anger in Brazil over the incident, with the lights on the Christ the Redeemer statue in Rio de Janeiro turned off for an hour in solidarity with the player.
"Spain is fighting this behavior, we condemn it and we are working to eradicate it," Spanish government spokeswoman Isabel Rodriguez said on Tuesday after Brazil protested to the Spanish ambassador.
Meanwhile, La Liga said it will request more sanctioning power to act against fans who display violent, racist or xenophobic behavior, saying it felt "powerless".
AFP