Intl equestrian event sets stage for Asian Games
Share - WeChat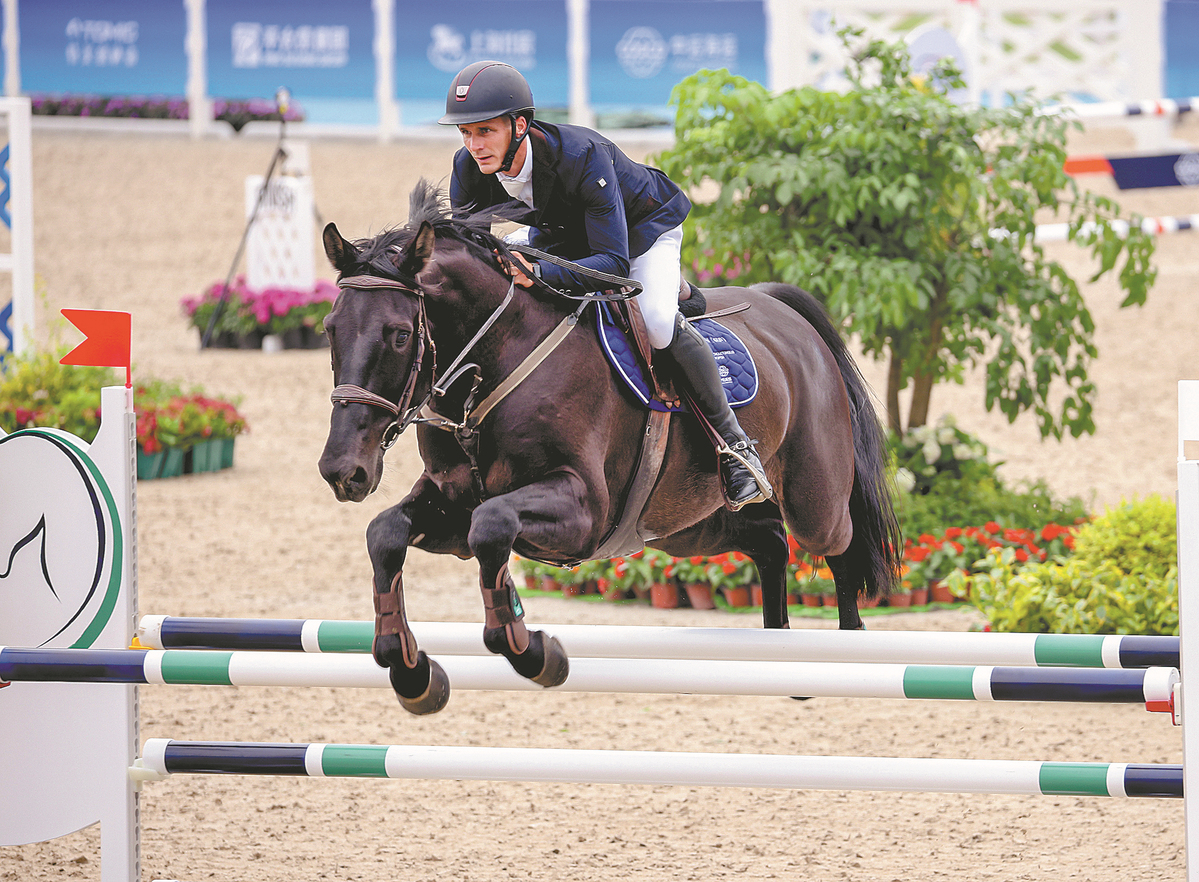 The First China Hangzhou (Tonglu) International Equestrian Open kicked off on Saturday in Hangzhou, Zhejiang province, in a bid to test the Tonglu Equestrian Centre and perfect services for the Asian Games later this year.
A total of six gold medals for jumping at different heights — 90 centimeters, 100-110 cm, and 110-120 cm — were up for grabs during the two-day event.
Since all the horses for the open competition were offered by the organizing committee, the athletes and horses were matched at random, making the competition a bigger challenge.
Forty-eight horses were shipped from Europe to the equine disease-free zone in Tonglu county to take part in the event.
"I have spent four days with my horse, Kumara, and I am quite satisfied with our cooperation today," Amanda Fang, an 11-year-old rider from the United States, said on Saturday.
During the 90-cm jumping competition, Fang, who has participated in equestrian activities for seven years, successfully crossed 12 obstacles with Kumara.
Fang was very impressed by the state-of-the-art venue, which she said is perfectly equipped for elite competitions, especially show jumping.
John Vallance of Austria, who designed the show jumping course, said the design standards vary depending on the age and training level of the horse, the age and ability of the rider, the dimensions of the obstacles, and the way the obstacles are positioned.
Zou Jianhua, deputy secretary-general of the venue operation team in the Tonglu competition area of the Asian Games, said, "We make full preparation for the potential factors that may affect the competition, such as drones and firecrackers."
Zou said all-around tests were conducted in accordance with the standards of the Asian Games.
The equestrian competition of the 19th Asian Games Hangzhou will take place at Tonglu Equestrian Centre from Sept 26 to Oct 6.There will be a total of six gold medals offered in eventing (in which a single horse and rider compete against others in the three disciplines of dressage, cross-country and show jumping), dressage and show jumping.
It is expected that around 200 riders and more than 200 horses from different countries and regions will participate.
In recent years, Tonglu has taken a number of steps since being designated to hold the Asian Games equestrian events, including constructing the Tonglu center and establishing the equine disease-free zone, which is approved by the World Organisation for Animal Health, said Zhang Yadong, deputy director of the Zhejiang Sports Bureau, during the opening ceremony on Saturday.
In addition, six urban and rural sightseeing tour lines have been established by the local government to better use the opportunities brought by the Asian Games.
These include an ancient village tour featuring folk culture, the Fuchun Mountain tour, the Meirong Mountain and Daqi Mountain tour, the Fuchun River tour highlighting the urban night scene, the customs tour of She ethnic group and the Yaolin karst cave tour.