Technology gives tradition new zest
Share - WeChat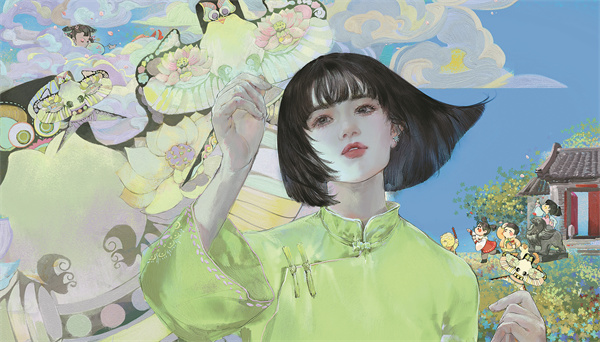 Wang Yan has come to a deeper understanding of her hometown since she signed herself up for a cultural and creative art competition at the end of last year.
The 19-year-old, who is studying art at Tianjin University of Finance and Economics, saw a notice for "The Heart of Beijing" Perfect World Campus Art Design Award seeking submissions from students, and the category of "showcasing hometown influence" caught her attention.
The competition was hosted by the culture and tourism bureau of Dongcheng district in Beijing and the gaming and movie conglomerate Perfect World, also based in the city. It was aimed at driving the innovative development of cultural industries, and promoting the international exchange of traditional Chinese culture.
"I was in quarantine at home then and I figured I could make use of my free time and all the videos I took during prior travels to present my impressions about my hometown," says Wang, who was born in Hezuo city, Gannan Tibetan autonomous prefecture, Northwest China's Gansu province.
As she collated and edited the short videos she made over the years, she came to realize how beautiful and influential her hometown was.
In her submitted video, herds of sheep and cattle cross vast, green grasslands under a clear blue sky, while polychromatic prayer flags flutter in the wind. Pious Tibetan women turn the prayer wheels in Tibetan Buddhist temples, and distinctive buildings stand neatly on clean streets.
"When I think of my hometown, there are too many things that come to mind — the vast grasslands and the kind people," Wang explains the elements in her work.
Most Popular