Dou determined to shine on 'home' turf amid struggles
Share - WeChat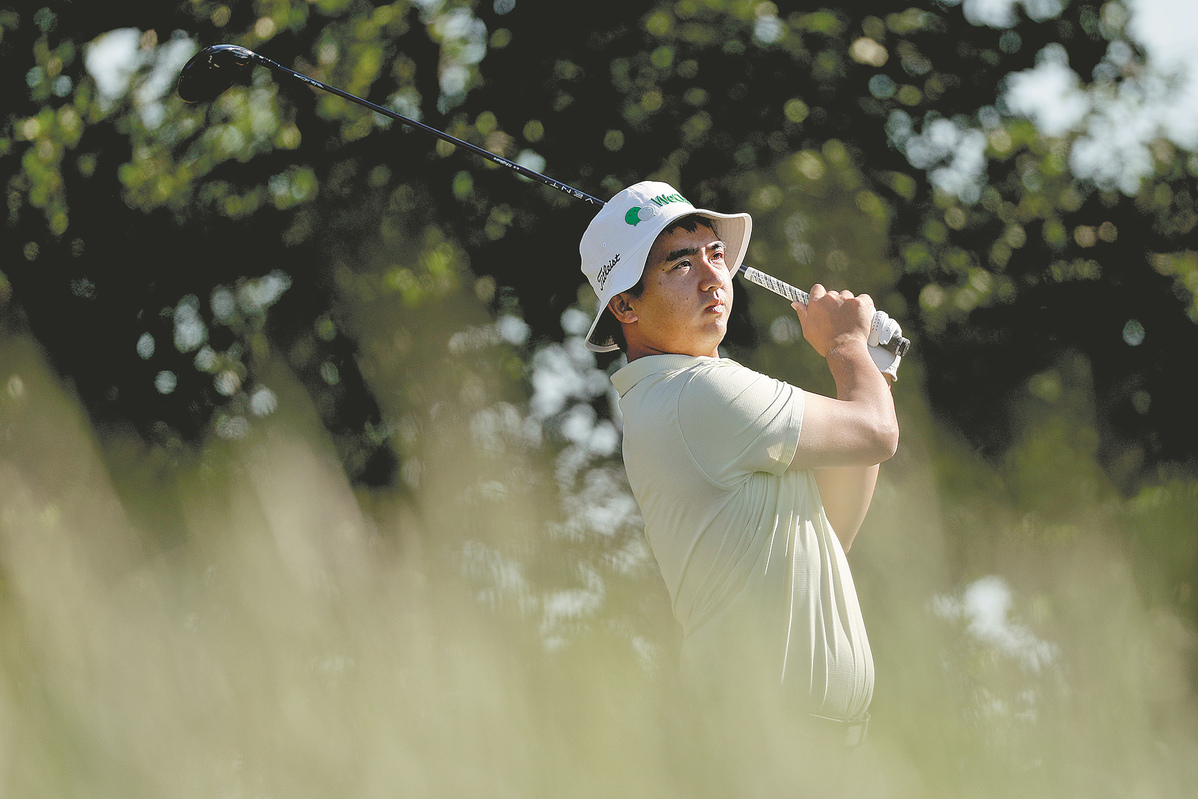 China's Marty Dou Zecheng is banking on a 'home' game at this week's AT&T Byron Nelson to turn his fortunes around after enduring a challenging spell on the PGA Tour.
The 26-year-old is hopeful he can enjoy a strong week at TPC Craig Ranch, his adopted home course in Dallas, in the $9.5 million tournament starting on Thursday.
South Korea's Lee Kyoung-hoon will attempt a three-peat following wins in 2021 and 2022.
A second season on the PGA Tour was meant to be Dou's opportunity to establish himself in the world's leading circuit after his debut season in 2018, but his form has been patchy.
"TPC Craig Ranch is my home course and I usually practice here. It is only five or six minutes from home. This course plays relatively easy and I am quite familiar with it," said Dou.
He is counting on a recent switch to the AimPoint method for reading greens in his hopes of shooting lower and consistent scores as the PGA Tour heads toward the business end of the season. The FedExCup Playoffs start in August, with only the top 70 players qualifying.
"My putting has improved a lot as I am now using AimPoint. I know some guys are fine to use their eyes to read the greens, and may not need to use their feet (which is part AimPoint's technique). But it works for me. My putting seems to be more accurate," said Dou.
After last year graduating from the Korn Ferry Tour where Dou won three times, he began the 2022-23 PGA Tour season on a strong footing with two top-25s in the fall. He then came down with COVID-19 upon his return to Beijing for the winter break which subsequently affected his energy levels at the start of the new year.
Some soreness in his right wrist has also caused concern and he tweaked his swing in an attempt to avoid further aggravation, but it has only thrown his game off rhythm.
In 17 starts this season, Dou has missed eight cuts and currently lies in 169th position on the FedExCup points list.
The top 125 after the fall tourneys will secure exemptions into full-field events in 2024.
"I encountered some challenges with my golf swing, and I was struggling. When I was in China, I got COVID and I didn't quite recover my strength at the start of this year. And after more events, I still wasn't in good form, my swing was not smooth and I was not comfortable," said Dou, who finished tied 49th in the Mexico Open in Vidanta two weeks ago.
"I also felt a little soreness in the right wrist after I adjusted my swing. Although it feels better, I am not quite comfortable. I'm thinking whether I should make further adjustments to find the right form. When I practice at the range, I don't have many good shots and it affects my confidence."
With the tour's newly created "Designated" tournaments as an incentive, Dou is determined to move up the FedExCup rankings. The top 50 players will be exempt for the Designated events in 2024.
"I know the top 50 will qualify for Designated events … it's very competitive. I want to win such an event to prove myself, and the goal is to get into the top 50," he said. "I will need to focus on every event I get into, and focus on every shot."
Early in his career, Dou enjoyed successful stints on the PGA Tour Series-China and Korn Ferry Tour, and much was expected of him on the PGA Tour. He acknowledged it has been a rocky road — another testament to how difficult it is to shine on golf's biggest stage.
"When I played on the PGA Tour the first time (in 2018), I was young and I came to learn. It didn't matter if I lost my membership and had to go back to the Korn Ferry Tour," said Dou.
"But this season, I have felt more pressure as I have been a professional golfer for over eight years. Technically I feel I have improved, however, I also have anxieties when I don't play well. My wife gives me a lot of support, and I remain optimistic. The golf career is long, and I do not look at just one season. You need to stick to your own plan, everyone's time to shine is different," said Dou, who is one of two Chinese mainland golfers on the PGA Tour this season along with Carl Yuan Yechun.