A dancer in step with her time
Share - WeChat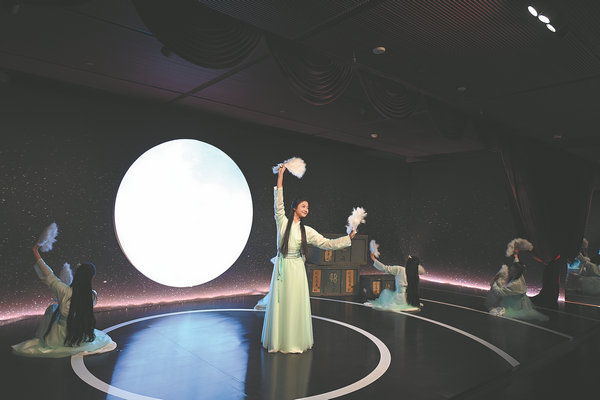 Legendary dancer-choreographer Chen Ailian (1939-2020) was among the first group of students in the country after 1949, when the People's Republic of China was founded, to train as a traditional Chinese dancer, and, as a leading figure, was a devoted educator of the art form.
Now, roughly three years after her death, an exhibition examines Chen's trailblazing career, spanning about seven decades.
More than 80 photos, 60 costumes, video clips, sculptures and paintings, are on exhibit at the National Centre for the Performing Arts in Beijing until May 21.
It brings together Chen's biography, her biggest influences, key collaborations and most memorable performances.
"My mother wanted to perform at the NCPA. However, she didn't fulfill the wish. Thus, we decided to have this exhibition here at this iconic venue," says Chen Yu, daughter of Chen Ailian, who is the head of the Chen Ailian Dance School, one of the first private dance schools in the country, founded in 1995.
"She was a great artist and a great mother. She spent her whole life dancing and teaching her students, including me, to dance," Chen Yu says. "The exhibition will take the audience to her dancing world as well as tell her life stories."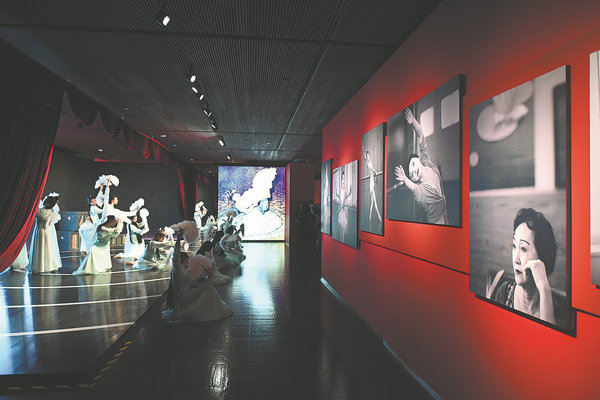 Born in Shanghai in 1939, Chen Ailian grew up in an orphanage after her parents died when she was 10. In 1952, she was selected by teachers of the dancing troupe of the Central Academy of Drama to study traditional Chinese dance in the capital. In her diary, she wrote that she loved dancing as a child and, when the teachers came from Beijing to recruit dancing students, she imitated her mother's movements of sewing clothes and seeking a needle during the audition, which won her the opportunity.
In 1952, she watched a performance by the late Russian ballerina Galina Ulanova in Beijing.
This was a life-changing experience. One of her quotes, "I want to dance like Ulanova", is prominently displayed in the exhibition.
The training in Beijing allowed Chen Ailian to be exposed to a diversity of styles, such as ballet, traditional and Chinese folk dance, Peking Opera and Kunqu Opera, as well as different art forms from home and abroad. After the Beijing Dance Academy was founded in 1954, she transferred to study there. Guided by then president of the academy, Dai Ailian (1916-2006), the Trinidad-born Chinese ballerina who devoted her life to the art form and was dubbed the "mother of Chinese dance", Chen Ailian decided to devote herself to learning and performing traditional dance.
In 1959, a 20-year-old Chen Ailian had one of her biggest breaks. She played the lead role in Yumeiren (The Mermaid), a Chinese dance drama that premiered in Beijing in 1959. It was the first Chinese dance drama to combine Western ballet with traditional Chinese dance moves.
In 1962, her performance in the dance drama Spring River in the Flower Moon Night, based on Tang Dynasty (618-907) poet Zhang Ruoxu's poem of the same title, won Chen Ailian four top prizes at the World Festival of Youth and Students, an international event organized by the United Nations, in Helsinki, Finland.
In 1980, she held a solo dance show in Beijing, the first of its kind in China.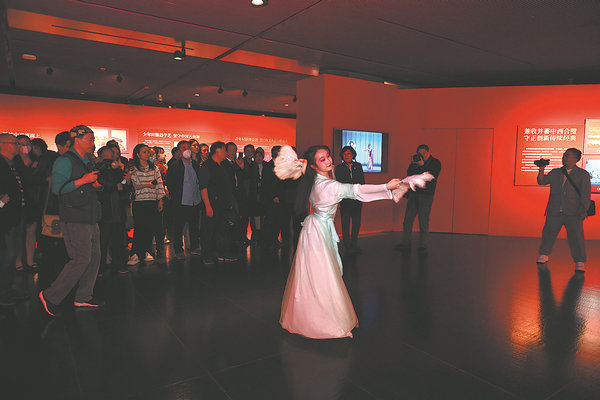 "I can still recall vividly that the show received an enthusiastic response from the audience. She was a big star," said Qu Xuanhe, who hosted the exhibition's opening ceremony at the NCPA on April 27.
In 2017, Chen Ailian, 78, performed the role of Lin Daiyu, a teenage heroine in the dance drama Dream of the Red Chamber, which is based on a novel of the same title written by Cao Xueqin during the Qing Dynasty (1644-1911). She said that she first played the role in 1981 and in 25 years, she played the role about 500 times.
"Dancing is eternal and you can do anything with it as long as you have the passion for it," she once said.
The last time that her performance made headlines was when she danced as a guest on the popular reality show Dance Smash, produced by Hunan Satellite TV, when she was 80. Paired with 28-year-old dancer Liu Jia, she impressed the audience, especially the younger members, with her professional technique.
"I admire those who pursue their passion despite their age. I still have many ideas about choreographing new dance dramas and for my school. Even if one day I am unable to stand, I can still dance in my mind," she said.
The exhibition also features students of the Chen Ailian Dance School displaying different dance styles. Mirrors and ballet barres are set up in corners of the exhibition space, resembling training rooms.
"She served as a member of the National Committee of the Chinese People's Political Consultative Conference and she was keen on promoting dance education among young people living in rural areas," says Wang Xiangwei, editor-in-chief of the CPPCC Daily. The newspaper's website functions as the co-organizer of the exhibition.
Most Popular