New hope for lake rooted in aquatic plants
Share - WeChat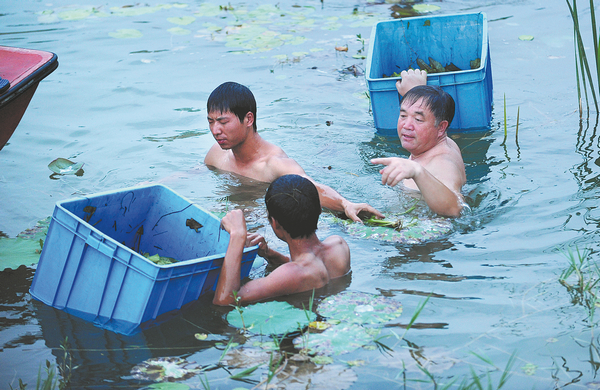 "In order to research aquatic weeds, abundant and different weed samples are necessary," said Xu Xinwei, one of Yu's students.
"We went to places almost all over the country, as long as it had an aquatic area, bringing specimen containers with us," Xu said.
In their travels, they collected more than 400,000 specimens from countless bodies of water and studied more than 30,000 aquatic plant communities.
Their research yielded accurate data and scientific analysis on aquatic plants, and that provided basic theoretical and practical information for the ecological reconstruction of plant communities and restoration of degraded lakes in the country, Hubei Daily reported in an article on April 3.
In 1998, Liangzi Lake was struck by extreme flooding that killed almost all of its water plants and fish. It was a severe blow to the lake's ecology, and its water quality deteriorated from Grade II to Grade IV, the second-worst level in China's five-tier categorization system of surface water quality.
Yu put forward a bold idea — planting aquatic weeds at the lake's bottom and letting the weeds help purify the water.
At the time, there was no successful precedent in China or elsewhere for large-scale planting of underwater plants. "Even so, we needed to try," Yu said.
In the spring of 1999, Yu and his team started their ecological restoration project.
"Some aquatic plants have fragile roots that required us to dive to the bottom of the lake and dig holes by hand, just like planting rice in a paddy," Yu recalled.
Having no experience to guide them, he added, most of their efforts ended in failure. "The plants we grew were either eaten by grass carp or swept away by waves."
But through persistence, they increased the success rate of planting aquatic weeds to about 50 percent after two or three years.
"It is these inconspicuous submerged weeds that have such very good purification ability," Yu said, adding that the weeds can also harden mud and that their photosynthesis releases oxygen, thus providing better living conditions for other aquatic organisms.
Ten years later, the aquatic weeds Yu and his team planted had grown and multiplied, and Liangzi Lake's vegetation coverage rate exceeded 90 percent. Half of the lake's water quality was restored to Grade I.
But their achievements were ruined again and again by catastrophic floods in the following years.
"We still had seeds and seedlings. We could start from scratch all over again," Yu said at the time.
Fortunately, with continued efforts and research, Yu and his team discovered flood-resistant varieties of aquatic plants.
From winter 2010 to spring 2011, they planted 50,000 kilograms of seeds and seedlings in over 3,000 hectares of the lake's bottom.
Through continuous efforts and the natural restoration of aquatic vegetation, the "underwater forest" once again grew to cover more than 80 percent of Liangzi Lake at its peak.
Each time their work was destroyed by flooding, they started a new planting weeds. The results have been gratifying. The natural ecosystem needs increasingly less time to restore itself after floods, proving Yu's belief that aquatic plants can improve lakes' ecosystems.
And Liangzi has become the lake with the richest aquatic biodiversity and highest vegetation coverage in China, the Hubei Daily article quoted experts as saying.
The station on the island has nurtured the education of 48 doctors and 64 masters, who have become central figures in China's aquatic plant research.
Including Yu himself, more than 20 teachers and students now live and conduct experiments on the island.
"Most of the time, I live on the island. It's very quiet, and the air is very good," he said, adding that his son grew up on the island and has started following in his footsteps, studying aquatic plants on the island.
"I hope that students can bear the loneliness and become dedicated to scientific research," Yu said. "It's very rewarding. It's not all about work. You finally get something from the efforts," he said.
He is planning on writing books on Chinese aquatic plants.
"I have no other pursuit except for knowing about aquatic weeds. As long as I am healthy, I will keep doing something useful," he said.
Contact the writers at zhangyu1@chinadaily.com.cn
Most Popular