China sweeps 9 golds at Diving World Cup in Xi'an
Share - WeChat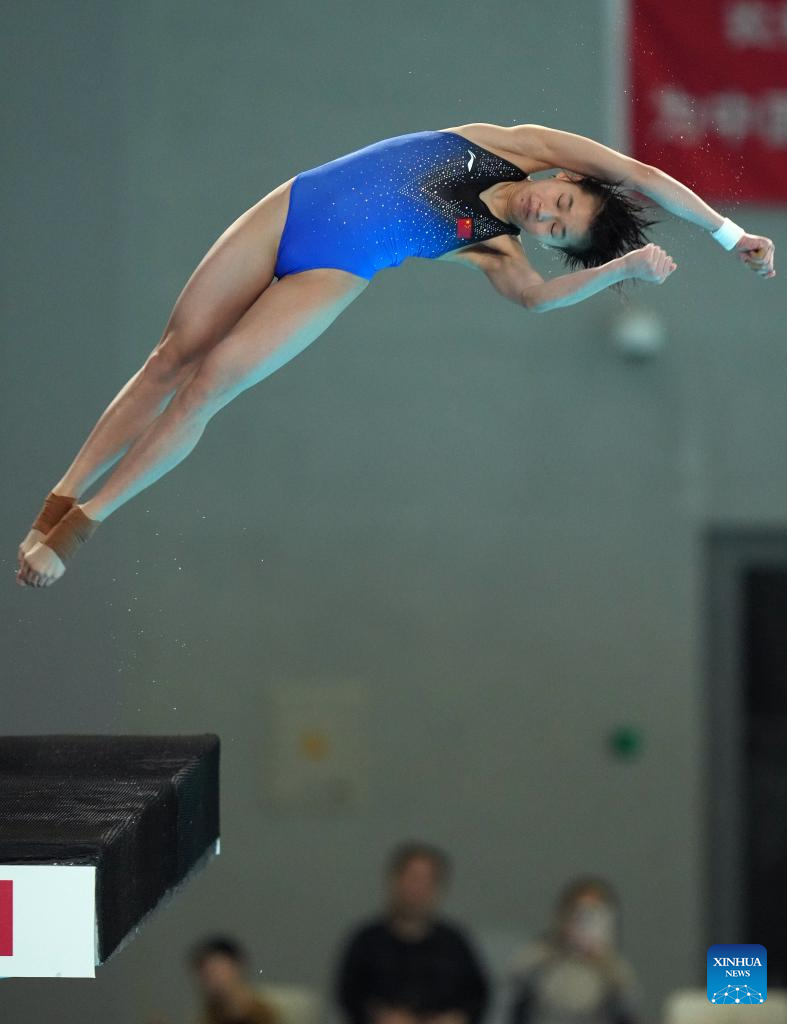 XI'AN, China - Chinese divers swept all nine gold medals on offer at the World Aquatics Diving World Cup after Chen Yuxi, Yang Hao and a quartet team taking victories from the women's and men's 10m platform and the team event here on Sunday.
China topped the medal tally with nine gold and two silver medals, followed by Britain with 0-5-2 and Germany 0-1-4.
China's Olympic champion Quan Hongchan, 16, topped the preliminary in the women's 10m platform with 438.90 points while Chen finished second 427.05.
But their rankings were switched in the final which saw Chen lead for most of the competition, winning 431.20 for the title despite a mistake on the 207C (back 3 1/2 somersaults tuck).
Quan made two big mistakes in the final and had to settle for the silver in 423.50. Andrea Sendolini Sirieix of Britain rewrote her new personal best of 360.30 for bronze.
"I seldom made such a big mistake in the 207C. But in general, I performed pretty good, especially in the other four dives," Chen said.
"On the other hand, I was satisfied that I kept unbeaten streak against Quan in recent competitions. Our positive rivalry is the motivation for me," shea added.
Yang Hao, a Xi'an native, improved his 10m platform score from 531.45 in the preliminary to 574.40 in the final. En route to his victory, Yang received seven full marks for an event-high 111 points in the 109C (forward 4 1/2 somersaults tuck) as well a 108 points in the 207B (backward 3 1/2 somersaults pike).
"The perfect marks boosted my confidence. I should do better in my last dive. Now I'm looking forward to the next World Cup in Montreal," Yang said.
17-year-old Oleksii Sereda of Ukraine was the runner-up in 518.30 and the 16-year-old Japanese Rikuto Tamai, runner-up in the Budapest worlds, placed third with 433.80, edging Timo Barthel of Germany off the podium by 0.9 points.
In the team event, China came from behind to win in 469.35, with Germany and Britain finishing second and third respectively.
A total of 63 elite divers from 13 teams competed at the first stop of the Diving World Cup in Xi'an. The second stop moves to Montreal, Canada, from May 5-7 and the Super Final will take place in Berlin, Germany, from August 4-6.