Peachy prospects in Tibet as blossoms attract public
Share - WeChat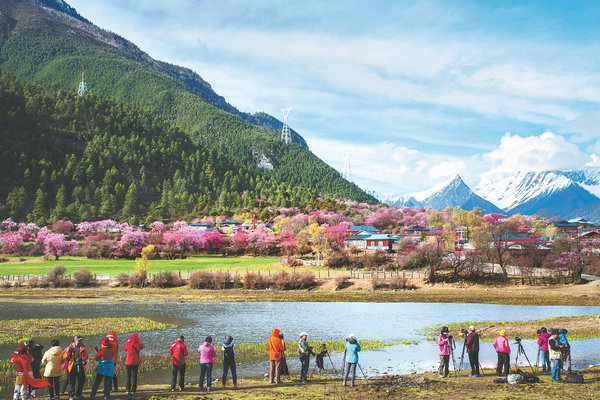 A scattering of courtyards, wide and clean roads, and babbling streams are set against a backdrop of jadelike foliage. Beneath a soft blanket of drizzling rain, Kala, a village in the city of Nyingchi in Southwest China's Tibet autonomous region, lives up to its unique charm as the "Jiangnan of the snowy regions".
Jiangnan is a reference to the prosperous regions south of the Yangtze River.
More than 1,200 wild peach trees make up the 18-plus hectares of peach blossom groves in Kala village.
When spring arrives, the peach trees bloom one after another, covering the mountainside in a shade of rosy pink. The picturesque spring scenery in this snowy region has earned Kala the title of Tibet's "peach blossom village".
The village is also the host of Nyingchi's peach blossom tourism and culture festival.
But about two decades ago, none of the locals realized the peach trees and flowers could be a resource for developing tourism and generating revenue.
"The wild peach trees have been here for hundreds of years and I was told the oldest one is more than 600 years old," Dawa Gyaltsen, a local resident, told Qiushi Journal "In my childhood, though, people never associated them with revenue.
"The fruits didn't taste good, so we never ate them. Their only practical function was using their branches as firewoods," Dawa Gyaltsen said.
But tourists from the rest of the country visited the area by chance and were immediately enchanted by the beautiful blossoms, the scenery of the village and its vicinity, Penpa, head of the village, told the Beijing-based journal.
He added that their word-of-mouth brought in an increasing number of visitors in the years to come.
"Kala first hosted the peach blossom festival back in 2002," Penpa recalled. "At that time, pigs and cattle still roamed freely around the village, residents would set up stalls in a chaotic fashion, and the village looked quite run-down. For 10 years, the festival didn't create any practical benefit."
In 2014, with the help of officials assigned to Kala under the Aid-Tibet initiative, Kala moved to build its brand as a "peach blossom village" and undertook renovations to improve the appearance of the village, according to Penpa.
It built a tourist reception office and gradually promoted projects to house livestock separately from humans. It promoted afforestation and greening, renovated courtyards, paved roads, and put plumbing and wiring underground.
When the transformation was complete, tourists began to flock to the village. Revenue from tourism grew year upon year, allowing residents to move toward prosperity by relying on the tourism industry.
In recent years, Kala village began to further expand its tourism industry by developing its "tourism-plus" growth model, Penpa said.
It built gardens for sightseeing and fruit-picking, upgraded local farm stays, developed cultivation bases for other species of flowers and plants, created programs for experiencing local customs, and introduced innovative products related to local culture while also developing specialty food made with peach blossoms.
"The extended tourism chain improved visitor experiences and left tourists more satisfied," Penpa said. "In 2021, the peach blossom festival welcomed a total of 140,000 tourists, generating a net income of more than 4.6 million yuan ($640,300), out of which a sum of 1.5 million yuan was set aside to be used for development. The rest was shared among the village's 33 households, each earning dividends of close to 100,000 yuan."
The period between autumn and winter is the slack season for tourism in Kala, but Tseyang, a local resident, was as busy as usual.
She was busy fitting and decorating her newly constructed family inn with 16 rooms.
"We will get everything ready before the peach blossom festival next spring and open our new inn to tourists," Tseyang said. "I believe there will be more tourists next year."
Surrounded by the inns and lodges, the new village history museum, which began operation in March, is an eye-catching landmark in Kala.
The museum shows the village's history to tourists through pictures and vintage items as well as multimedia displays.
"With the exhibits offering a sharp contrast between the past and present, the museum is a place that locals can take pride in and where visitors are offered an opportunity to take a glimpse into a history of transformation for an exemplary village in Tibet," said Huang Haifen, a guide at the museum.