Traditional tea planting mirrors human-nature harmony
Share - WeChat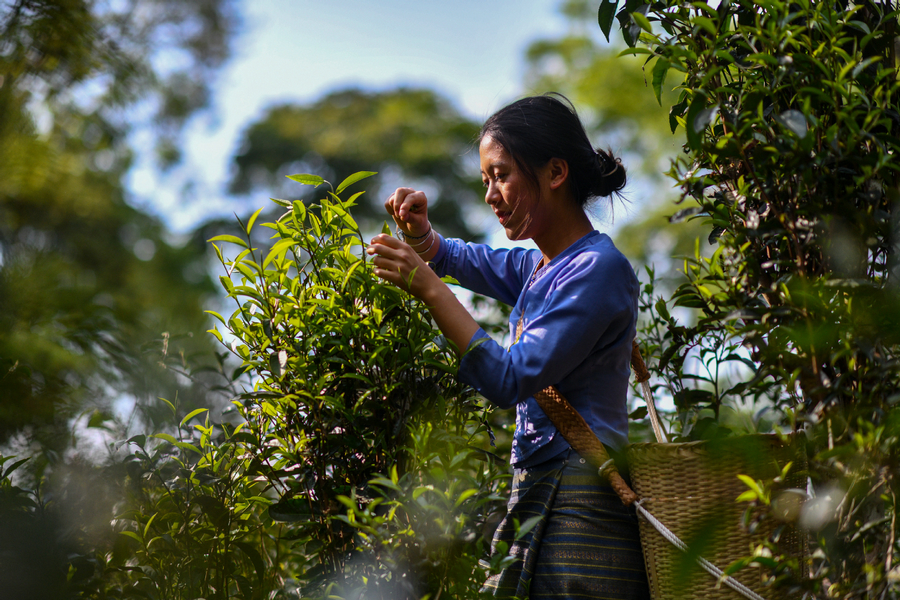 As the advent of spring heralds the ideal time for harvesting fresh tea leaves, locals in Lancang Lahu autonomous county of Yunnan province celebrated the beginning of the tea-picking season with a spirited ceremony held at Jingmai Mountain.
This annual ritual, which takes place towards the end of March, is a tradition among local ethnic minorities such as the Blang and Dai. It is a perfect opportunity to show respect for the tea forest, which has been around for centuries, as well as to pay homage to their ancestors before harvesting the gifts of nature.
Jingmai Mountain, renowned for its dense forests of ancient tea trees, has been an integral part of the locals' lives for centuries. People here have continued to maintain an ancient method of tea cultivation featuring a unique multi-layered ecosystem.
"The key to maintaining harmony between humans and nature is the rational use of land in the Jingmai Mountain," said Xiong Dengkui, an associate researcher with the Lancang county museum.
The village has been sited halfway up the mountain, close to the tea forest in the middle of the mountain, while farmland is in low-altitude areas with abundant water sources, which can avoid interference to tea forests during planting, Xiong called the planting mode "vertical land use."
"All the treasures will be used up, and only the tea forest will unfailingly provide for the offspring," citing the teaching of a legendary Blang ancestor. The wisdom of the ancestors made the tea forest and village last for around a thousand years.