Verstappen not ready to settle for second
Share - WeChat Dutchman concerned by reliability issues as Red Bull rivalry heats up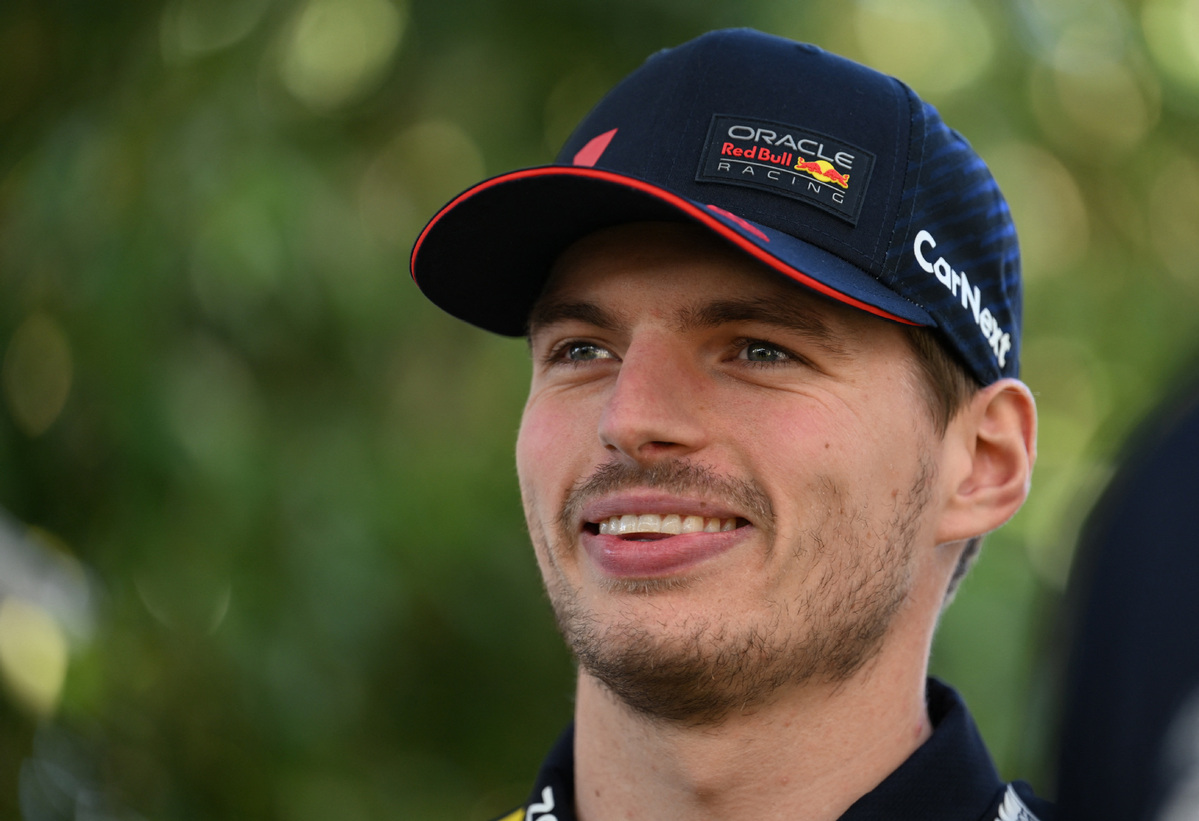 Two-time world champion Max Verstappen is banking on Red Bull ironing out its reliability issues as he targets a second Formula 1 win of the season at Sunday's Australian Grand Prix — a race he failed to finish last year.
The Dutchman drove superbly in an action-packed grand prix in Saudi Arabia two weeks ago, slicing through the field to finish second behind teammate Sergio Perez.
But after dominating the early practice in a super-fast car, Verstappen was fuming when a driveshaft issue in qualifying forced him to start from 15th.
Conscious that an engine fire ruined his Melbourne race last year, the 25-year-old is desperate for a trouble-free weekend.
"I recovered to second which is good, and in general the whole feeling in the team, everyone is happy, but personally I'm not happy, because I'm not here to be second," he said ahead of the third grand prix of the season at Albert Park.
"It's not only about the pace of the car, we need to make sure we are reliable without any issues.
"When you're fighting for a championship and especially, you know, when it looks like it's just between two cars, we have to make sure that also the two cars are reliable."
Perez reeled off a masterful triumph in Saudi Arabia to hold off his charging teammate and convert pole position to his first win of the season and fifth overall.
Team boss Christian Horner called it his best-ever drive, and the Mexican intends to keep the pressure on Verstappen in Australia.
"I don't know if it's my best weekend so far with the team, but I'm sure Melbourne will be even better," he said. "At the moment, I am feeling very comfortable with the car."
With Red Bull already dominant, finishing 1-2 in both grands prix this year, it could benefit further by the introduction of a fourth drag reduction system (DRS) zone in Melbourne — already one of the fastest tracks on the calendar.
DRS allows drivers to open a flap mounted on the rear wing to increase top speed and aid overtaking maneuvers, and Red Bull's scintillating straight-line power will potentially mean new lap records.
Need help
The real battle Sunday is likely to be among the best of the rest, with veteran Fernando Alonso in prime position in his vastly improved Aston Martin.
The 41-year-old Spaniard, who won in Australia 17 years ago when piloting a Renault, finished third in Jeddah to clock the 100th podium of his career — only the sixth driver to achieve the feat.
Starting second, he led briefly before the Red Bulls kicked in, and he knows a mistake is needed from Verstappen or Perez to win his first F1 race in a decade.
"We need some help from them, but it will happen eventually when they cannot finish always first and second," said the two-time world champion, who believes his car was better in Jeddah than the season-opening race at Bahrain.
A flawless Charles Leclerc led all the way for a commanding win in Australia last year, but it has been a sobering start to the year for Ferrari as it struggles with power and reliability issues.
Leclerc managed only seventh in Jeddah, leaving Ferrari with its work cut out.
'Racing hard'
Once-dominant Mercedes, whose drivers George Russell and seven-time world champion Lewis Hamilton finished fourth and fifth respectively at Jeddah, is "storming full steam ahead" to bridge the gap after realizing its car concept was wrong.
"The signs we are seeing back at the factory are promising," said team boss Toto Wolff.
"We are not where we want to be — but that won't stop us from racing hard and giving it everything we've got."
Mercedes may need improvement quickly if it hopes to retain Hamilton, whose contract expires at the end of the season.
Speculation about the 38-year-old Briton's next move is already rife, with Ferrari seen as the likely destination.
Home fans will cheer a new Australian driver over the weekend, with the much-hyped rookie Oscar Piastri having replaced Daniel Ricciardo in the papaya colors of McLaren.
Ricciardo, now reserve driver at Red Bull, never managed a podium at Albert Park, and Melbourne-born Piastri's first home race is unlikely to be triumphant, with struggling McLaren yet to score a point.