Unity sought to make Asia-Pacific pacesetter
Share - WeChat Regional nations should contribute to global economic recovery, panel told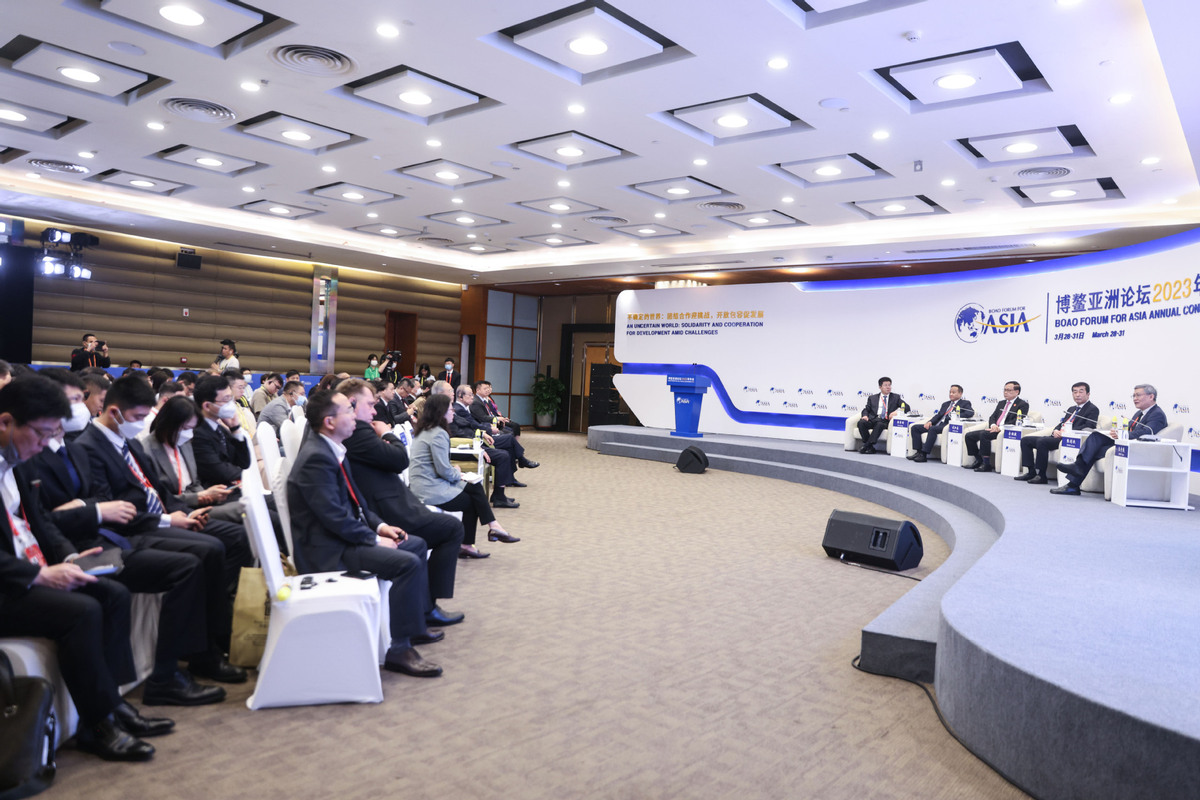 Asian countries should further enhance their cooperation to make the region a pacesetter for international cooperation and contribute to global economic recovery, a forum has heard.
Speakers voiced such need for getting together at a panel discussion titled Asia-Pacific Regional Cooperation: New Opportunities and Challenges on March 29 during the Boao Forum for Asia Annual Conference 2023 in Hainan province.
Referring to the forum theme "An Uncertain World: Solidarity and Cooperation for Development amid Challenges", Yasuo Fukuda, chairman of BFA's Council of Advisers and former prime minister of Japan, said the theme is a timely topic that reflects the current global landscape.
"It is an important timing to discuss this issue," said Fukuda. "No one would deny the importance of solidarity. But how to make it happen is not only a question for the BFA but also for the world."
"For the people in Asia, we have gone through various kinds of cold and hot wars and different hardships, so peace is precious and development is hard-won," said Zeng Peiyan, vice-chairman of the Council of Advisers of the Boao Forum for Asia and former Chinese vice-premier.
Noting Asia is the world's most dynamic region that accounts for 40 percent of the global economy, Zeng said the regional countries should jointly build an Asia that is secure and peaceful, prosperous and open, and one with mutually beneficial cooperation, which will make the region a pacesetter for international cooperation.
"It must be emphasized that Southeast Asia and the wider region should not be a region for major power rivalry," said Kao Kim Hourn, secretary-general of the Association of Southeast Asian Nations, or ASEAN. Kao said the Asia-Pacific region needs to emphasize inclusiveness and cooperation.
As the bloc is expected to become the fourth-largest economy in the world by 2030, Kao said the bloc will further expand investment in emerging sectors such as green economy and digitalization, while promoting the implementation of the Regional Comprehensive Economic Partnership. The 10-member bloc in principle agreed to admit Timor-Leste as the 11th member in November.
Effective on Jan 1, 2022, the RCEP is a mega-regional free trade pact comprising 15 Asia-Pacific countries, namely the 10 ASEAN member states and their five trading partners, including China. It represents about 30 percent of global trade and investment.
"The ASEAN needs to remain vigilant against the challenges …given by the global uncertainties and so on," said Sok Sopheak, secretary of state of Cambodia's Ministry of Commerce.
Seeing rapid growth in trade in the region due to economic integration and globalization, Sok said member states need to jointly face new challenges.
Zhang Yuyan, director of the Institute of World Economics and Politics of the Chinese Academy of Social Sciences, said the RCEP has resulted in significant growth in trade and investment exchanges among signatories.
China's trade with other 14 RCEP members expanded 7.5 percent year-on-year to about 12.95 trillion yuan ($1.88 trillion) in 2022, accounting for 30.8 percent of the country's total foreign trade value, according to data from China's General Administration of Customs.
Zhang Jianqiu, CEO of Inner Mongolia Yili Industrial Group Co, said Asia, especially Southeast Asia, has been a key focus of the company's globalization strategy since 2018, with its products available across the region after two manufacturing bases were set up in Thailand and Indonesia.
"The role of green finance and insurance in promoting green and low-carbon transition has not been fully developed yet and it has a lot of potential," said Sheng Hetai, vice-chairman and president of China Export and Credit Insurance Corporation.
kelly@chinadailyapac.com