Chengdu prepares to host World University Games
Share - WeChat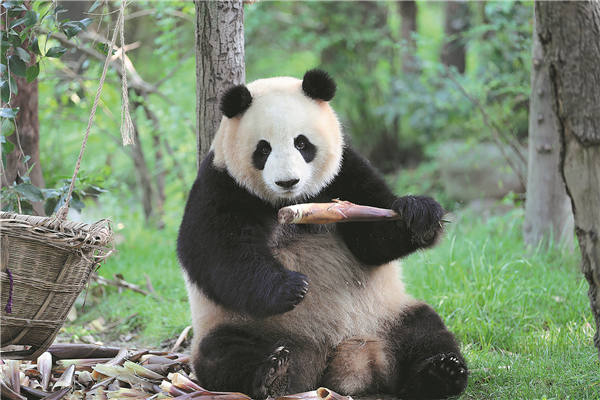 More than 80 percent of the special transportation vehicles for the event are expected to be new energy vehicles, demonstrating the green and low-carbon concept of the competition.
Chengdu is a city with athletic heritage. It is the hometown of Feng Zhe, the Olympic champion of gymnastics; Ren Qian, the Olympic diving champion; Zheng Jie and Yan Zi, the world tennis champions; and Jiang Wenwen and Jiang Tingting, champions of synchronized swimming.
During the Universiade, college athletes from Chengdu will compete with young athletes from all over the world.
Fan Tianrui, a track and field athlete from Chengdu, said: "I hope that through the Universiade, we can show the demeanor of our young athletes. At the same time, we let friends from all over the country and around the world see the confidence and strength of our Chengdu athletes."
In the men's 400-meter final of the 2023 Asian Indoor Athletics Championships, which was held recently, Fan won third place with 47.30 seconds. Fan is an undergraduate student from the athletics and swimming department of the Chengdu Sport University and said he looks forward to participating in the Chengdu Universiade in summer.
The people of Chengdu who love sports are also embracing the Universiade. Since the start of preparations for the Chengdu Universiade, more than one million young people from all walks of life have signed up to become volunteers for the Universiade.
"My young friends and I are eagerly looking forward to the arrival of the Universiade," said Zhao Yuxi, a student from the West China School of Stomatology at Sichuan University. Among the first batch of volunteers, Zhao said that she has participated in lively training and looks forward to introducing the local culture, world-famous landscape and cuisine to people from all over the world. According to the head of the Human Resources Department of the Executive Committee of the Chengdu Universiade, 20,000 volunteers will work during the event. Volunteer groups will also serve at 1,000 urban voluntary service stations in areas with high public visibility, such as around the Universiade venues, along event routes, parks and greenways, transportation hubs and business districts, focusing on publicity and events.