AI tech firms eager to join chatbot trend
Share - WeChat Baidu gives public peek at Ernie Bot; similar projects compete with ChatGPT
Chinese artificial intelligence firms should pool more resources into improving algorithms, computing power and training data, as GPT-4, the latest large language model developed by US-based AI research company OpenAI, the creator of chatbot ChatGPT, has recently become a global sensation, industry experts said.
They added the application scenarios of AI-generated content, or AIGC, technology are being expanded, covering text, voice, code, image, video and other types of content, buoyed by the continuous research and launch of large language models.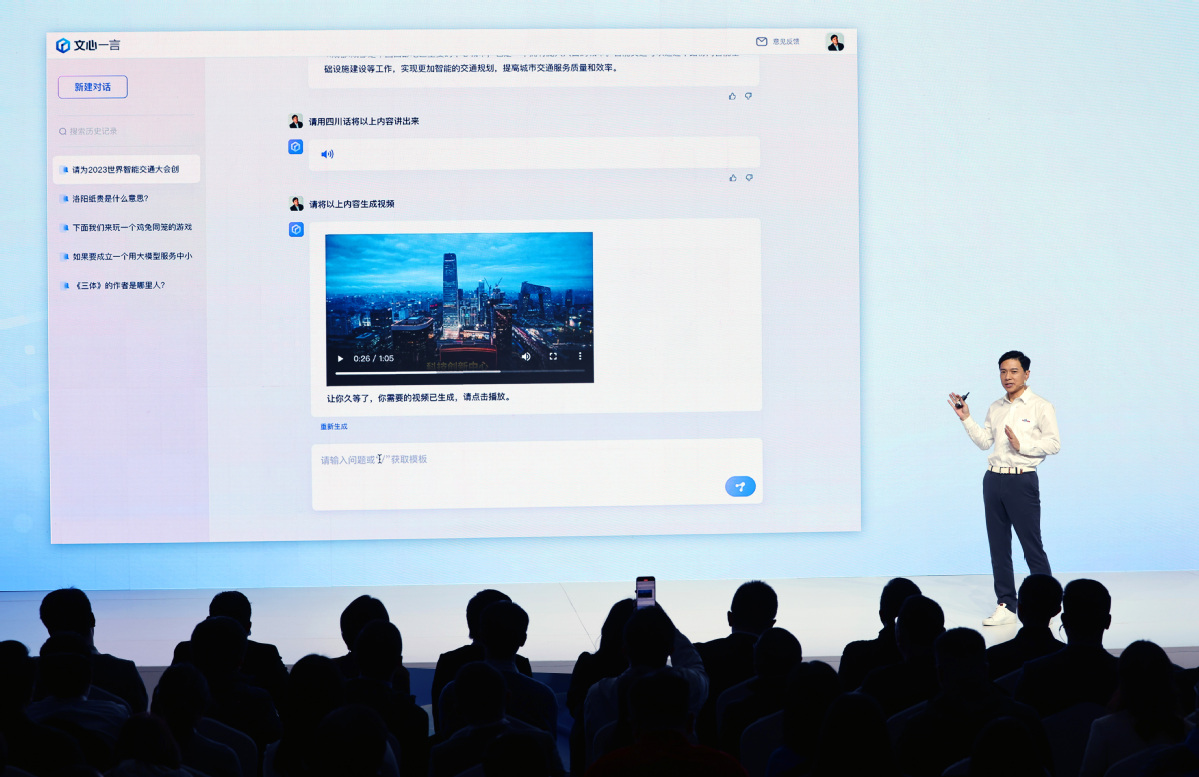 Baidu Inc, China's largest search engine company, gave the public a peek at its Chinese-language ChatGPT alternative's capabilities through an unveiling of its much-awaited AI-powered chatbot called Ernie Bot on Thursday.
As a large language model and generative AI product, Ernie Bot has showcased its capabilities in fields like literary creation, business writing, mathematics, Chinese language understanding and multimodal generation at the launch event.
Robin Li, co-founder, chairman and CEO of Baidu, said Ernie Bot is not perfect but the company is launching it now because demand is growing and the model will improve quickly as user feedback increases.
Li estimated that the multimodal large language model, which possesses the ability to generate text, images, audio and video based on given text prompts, is an undeniable future trend for generative AI.
The launch of Ernie Bot is expected to bring about emerging business opportunities for cloud computing firms that offer model-as-a-service and industrial solutions and companies creating new applications built upon the model, Li said.
"We believe that AI will revolutionize every industry we know today. The immense long-term value of AI and its transformative impact on all aspects of life are only in their infancy."
Baidu has invested heavily in the R&D of AI and deep learning in recent years. Ernie Bot has been open for trial to users with invitation codes from Thursday, and will soon be available to more users, the company said. So far, over 650 companies have joined the Ernie ecosystem.
Other Chinese tech heavyweights such as Alibaba Group and JD joined the rush to develop ChatGPT-like products and have announced similar projects.
Pan Helin, co-director of the Digital Economy and Financial Innovation Research Center at Zhejiang University's International Business School, said, "Baidu's Ernie Bot has shown strong natural language processing capabilities as it understands Chinese language and culture better than Western models."
Pan noted that Chinese tech companies should attach greater importance to accumulating more training data and enhancing computing capacities and related algorithms, as well as increasing investment in basic mathematical research.
Last week, Microsoft-backed OpenAI announced a large multimodal mode, GPT-4, which has been trained on huge amounts of data, exhibiting "human-level performance" on many professional tests. GPT-4 can accept both image and text inputs and emit text outputs, an improvement over its predecessor GPT-3.5, which can only accept text prompts.
In a simulation of the bar exam required of US law school graduates before professional practice, the new model scored in the top 10 percent of test-takers, versus the older model ranking at the bottom 10 percent, OpenAI said.
Lu Yanxia, research director at market consultancy IDC China, said she is upbeat about Chinese tech companies' layouts in ChatGPT-related technology, as they have gained an upper hand in dealing with Chinese text information and accumulated massive amounts of data in related fields compared with their foreign counterparts.
Market consultancy Gartner predicted that by 2025, generative AI will account for 10 percent of all data created compared with less than 1 percent in 2022 and could be used for a range of activities such as creating software code, facilitating drug development and targeted marketing.
Experts also warn that although China has made significant progress in developing the AI industry, Chinese AI enterprises still lag behind top-notch foreign competitors in fundamental R&D input and comprehensive innovation abilities.
Meanwhile, the use of ChatGPTstyle conversational chatbots and AIGC-related technologies has some limitations in the accuracy and scope of responses, and raises concerns about ethics, copyright protection, academic cheating and leaks infringing on personal privacy, said Guo Tao, deputy head of the China Electronic Commerce Expert Service Center.