Revitalized Lyu back with a bang
Share - WeChat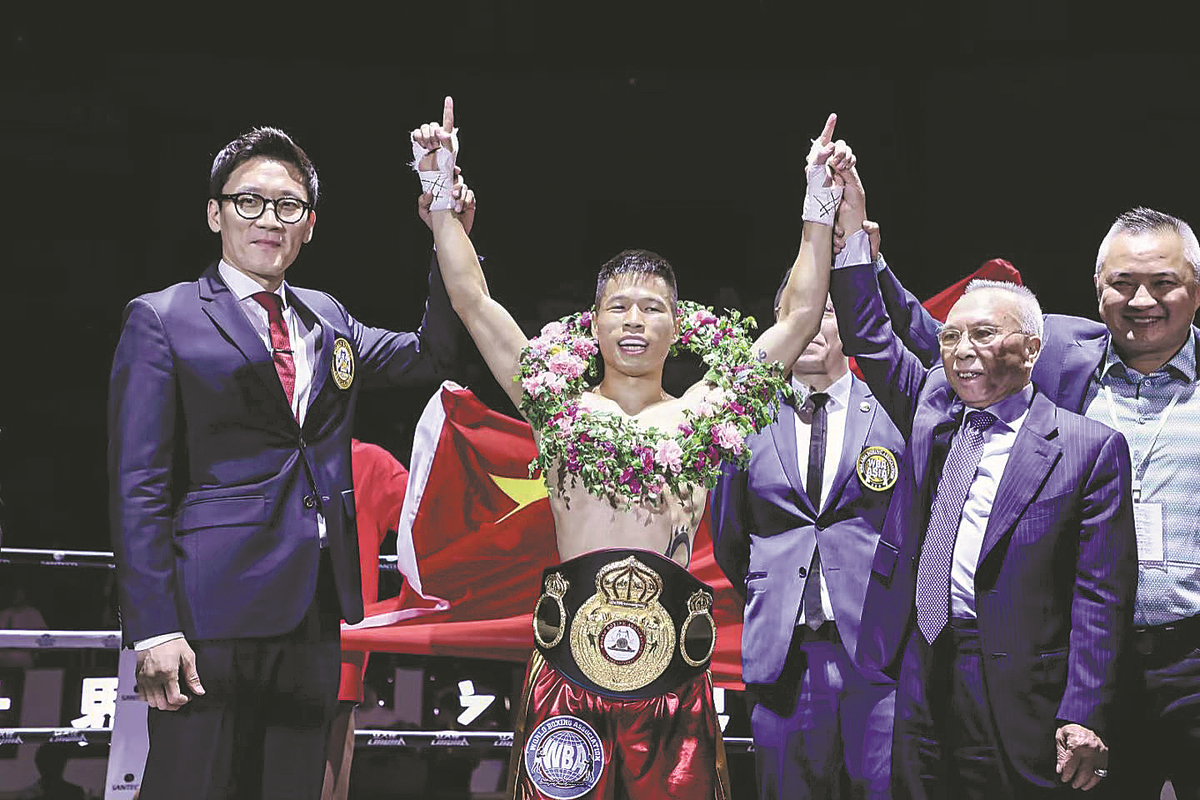 After putting his Rio Olympics injustice behind him, Chinese southpaw launches comeback in style
A victim of the sport's most notorious bout-fixing scandals, Chinese boxer Lyu Bin has punched off the shackles of the past as he attempts to rebuild his career in the pro ranks.
With his Olympic hopes crushed by a controversial decision at the 2016 Rio Games, Lyu waved goodbye to amateur boxing in 2018. Last Thursday, he proved he has what it takes to reboot his career in the professional ring by claiming the World Boxing Association's super flyweight international title.
Fighting in front of 2,500 rousing home fans in Yongkang, Zhejiang province, Lyu needed just 99 seconds to dispel doubts about his conditioning after a four-year hiatus by dropping Thai opponent Yutthana Kaensa to the canvas with a brutal body shot.
Kaensa is a former WBA flyweight interim world champion, and knocking out the Thai in just his third professional bout secured Lyu a top-15 spot in the 115-pound (52kg) division, officially qualifying him for a potential world-title shot.
However, the returning southpaw insists he won't be rushed into challenging for the world title, currently held by Joshua Franco of the United States.
"Gold medal or the golden belt, I will at least take one home eventually," said Lyu, who lost to Kenya's Peter Mungai Warui at the 2016 Rio Olympics in a preliminary bout later found to be part of large-scale corruption at the Games.
"But now I need to take one step at a time and always focus on making the best out of my next bout," said Lyu, who retired from China's national system and turned pro in 2018.
Appointed by the International Boxing Association, Canadian sports law professor Richard McLaren found in an independent investigation released in September 2021 that at least 11 bouts in qualifying and official events at the Rio Olympics were manipulated, with referees and judges bribed to ensure results were decided in favor of certain countries' athletes.
Having dominated all three rounds, Lyu, who had been the hot favorite for the 49kg gold in Rio, shed tears of disbelief when Warui's hand was raised in victory by the referee.
The International Olympic Committee later banned all the Rio Games' boxing referees and judges from officiating at Tokyo 2020.
Lyu, however, has finally moved on from those dark days and is ready to stake his claim in the pro ranks.
"What doesn't kill me makes me stronger," he said before the fight against Kaensa in his hometown.
"I don't hold any grudges about that anymore. I've experienced a lot more than my peers normally go through, and actually it has turned out to be a blessing in disguise.
"This is my first fight in Yongkang and it's a good start to my bid for the world title again," said the 28-year-old.
After seeing his Olympic dream fade, Lyu turned pro in 2018 and was immediately thrust into the limelight again. He was chosen by boxing legend Manny Pacquiao to challenge then WBA flyweight world champion Carlos Canizales of Venezuela on the undercard of the Filipino great's welterweight title bout against Lucas Matthysse of Argentina on July 15.
Holding a 20-0-1 record with 16 KO wins before the title defense, Canizales proved too much to handle for Lyu in just his second professional outing.
Lyu was dropped and stopped by Canizales in the dying seconds of the last of the 12 rounds by a four-punch combination, with the Chinese prospect failing in his attempt to become the first man to capture a major world title in just his second pro fight.
Over the next four years, Lyu spent time with family, got married and became a father. He hadn't fought any official bouts until the opportunity presented by WBA Asia tempted him back to the ring last week.
After getting back to business with a more mature understanding of the professional boxing scene, Lyu said he now knows how to make his blows count.
"Professional boxing is quite different from the Olympic bout in pace, the way you punch and the strategies," said Lyu. "It values the power of punches more, the KOs and wins in an entertaining style."
"I've got a better grasp of speed and timing and have improved my punching technique a lot over these years," Lyu said of his improvements.
Last week's efficient, no-fuss handling of Kaensa — a proven force with a 24-4-0 record before the bout — has underlined Lyu's progress from an amateur to a pro, reckoned Xu Can, China's former WBA featherweight world champion.
"It looks easy but it takes long-term hard efforts to produce it," said Xu, who helped prepare Lyu in his pre-fight training in Kunming over the past two months.
"He fights quicker and more aggressively now, taking a step further in professional boxing to build upon his solid amateur foundation," said Xu, who held the WBA's 126-pound regular world title from January 2019 to July 2021.
Although technically Lyu is already eligible to challenge for the 115-pound strap again, his Beijing-based promotion agency Max Power would like to take a more cautious approach this time.
"We have the experience and resources to help Lyu realize his professional dreams but it takes time and we need some solid buildup fights to get him ready," said Lu Xiaolong, CEO of Max Power Promotions.
Most Popular
Highlights
What's Hot