BMW shows strong resilience in journey towards full electrification
Share - WeChat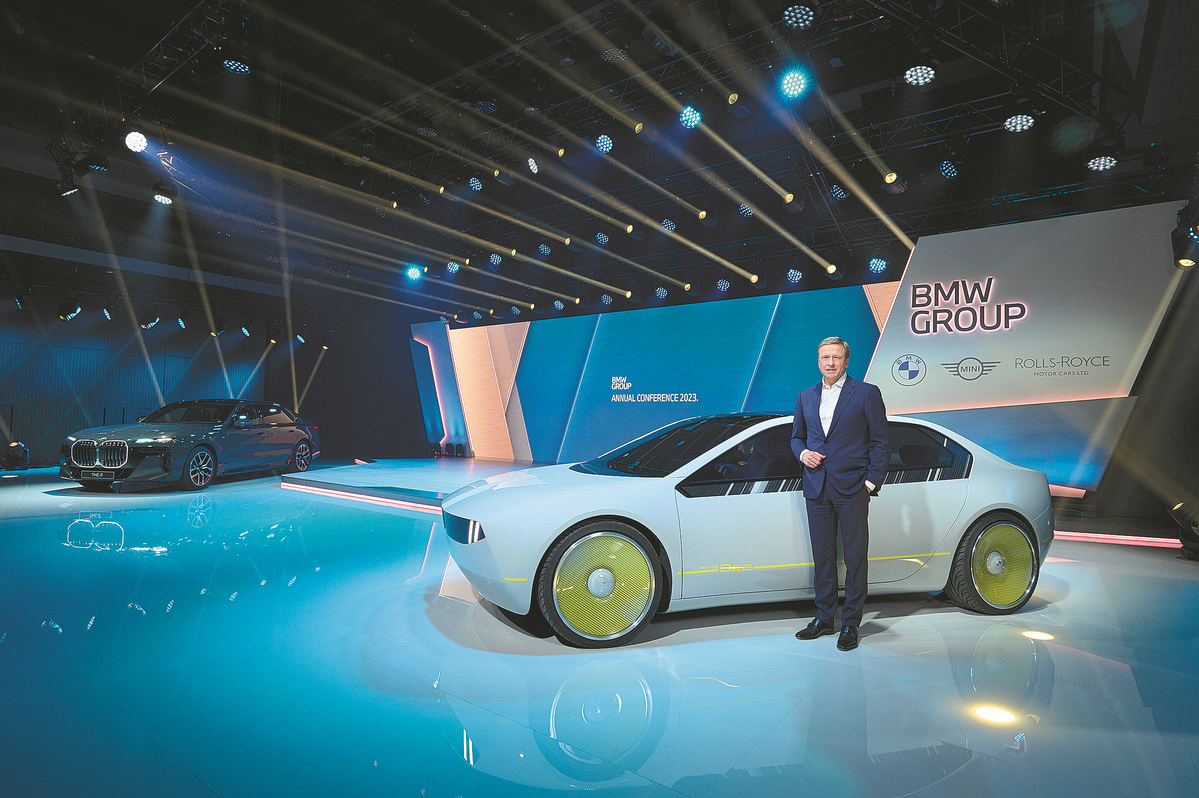 German premium automaker BMW exhibited remarkable resilience in the face of a challenging international market environment in 2022, and is pressing forward with an ambitious electrification plan to lead the industry transformation, it said at its annual conference on Wednesday.
The carmaker has declared that pure electric vehicles will be a key driver of its sales growth this year and that it anticipates a rapid growth trajectory for electric models in the coming years.
The company expects that at least one in five of its new cars sold by 2024 will have a fully-electric drivetrain. Every fourth new vehicle delivered will be a battery electric vehicle by 2025 and about one in three will be a BEV by 2026.
The NEUE KLASSE, BMW's next-generation of BEV, will be ramped up in the next two years and launched starting from 2025 with a lineup of at least six models within 24 months, including a sports activity vehicle and a pure electric sedan in the BMW 3 Series segment, according to the carmaker.
The NEUE KLASSE models will adopt BMW's sixth-generation eDrive electric drive system and a new generation of lithium-ion batteries, resulting in a 50 percent reduction in overall costs, a more than 20 percent increase in cell energy density, a 30 percent extension in driving range and a 30 percent increase in charging speed.
To achieve these goals, BMW signed battery cell contracts worth more than 10 billion euros ($10.6 billion) with battery giants, including CATL, EVE Energy and Envision AESC, in 2022.
BMW stated that the NEUE KLASSE models aim to establish new benchmarks for digitalization and electrification while also advancing the defining features of a typical BMW towards the future, which will further boost the rapidly growing demand for fully-electric BMW Group vehicles.
Earlier this year, the carmaker unveiled its latest concept car, the i Vision Dee, at the CES, which reflected the NEUE KLASSE's vision.
Oliver Zipse, chairman of BMW AG, said: "Proven strengths, future-oriented technologies and the NEUE KLASSE — that is our recipe for success in the coming years. With this combination, we are in the right position to be able to respond precisely to different developments in the various regions of the world."
Taking into account market conditions in different countries and bottlenecks in the global supply chain, BMW Group expects pure EVs to account for more than 50 percent of its global annual deliveries by 2030 and anticipates achieving cumulative deliveries of more than 10 million pure EVs before then.
BMW's Rolls-Royce, MINI and Motorrad Urban Mobility brands are also expected to be fully electric by 2030.
Jochen Goller, president and CEO of BMW Group Region China, said: "The BMW Group is anticipating dynamic BEV growth as we launch more highly attractive and technologically outstanding fully-electric vehicles.
"This year alone, we will offer 11 BMW Group BEV models to Chinese customers. At the same time, we've built a complete e-mobility ecosystem — from supply chain and production to sales and customer services. In every aspect, BMW is full-power on electrification," he said.