China's Lin edges compatriot Liang in men's last-16 tie at WTT Singapore Smash
Share - WeChat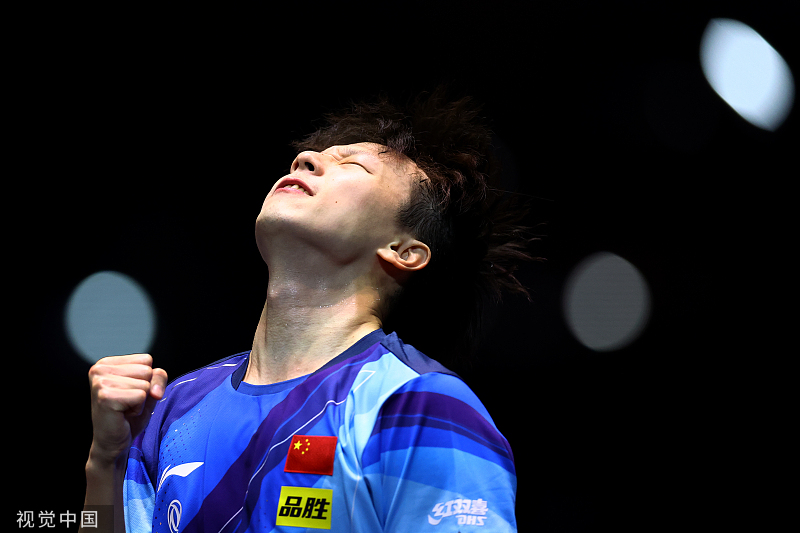 SINGAPORE - Lin Gaoyuan came out the winner against Liang Jingkun in full sets in an all-Chinese men's singles round of 16 at the World Table Tennis (WTT) Singapore Smash here on Wednesday.
Lin started out strongly and won the first two sets 11-8, 11-8, but Liang recovered from that to force a decider by taking the following two sets 11-6 and 11-9. Lin held firm to come through 11-8 in the deciding set.
"As I lost to Liang many times before, I prepared well for today's match, trying to hit long rallies and unleash my strength," Lin said while admitting that his opponent hit some balls beyond his expectations in the third and fourth games.
"There is no way back for me in the deciding set, so I just tried to play more aggressively," he added.
Top seed Fan Zhendong of China demonstrated his prowess by overwhelming Lim Jong-hoon of South Korea 11-3, 11-2, 11-5. Fan's compatriot Wang Chuqin also registered a straight-set victory over Quek Izaac of Singapore.
In the women's singles round of 16, China's Zhang Rui shared the spoils with Miu Hirano of Japan after four sets before emerging victorious 11-5 in the decider.
Qian Tianyi of China bounced back from two sets down to defeat French veteran Yuan Jianan 9-11, 9-11, 11-5, 11-2, 11-6.
"I didn't fit well into rhythm of the game in the first two sets," Qian admitted. "When I was 0-2 down, I was just focused on the game without thinking much about the score, and concentrated on how to deal with the situation at the moment."
Chinese paddler Chen Xingtong could not make her way to the tournament's last eight as she lost to German chopper Han Ying 3-1.
Wang Chuqin/Sun Yingsha beat Chinese Taipei pair Lin Yun-Ju/Chen Szu-Yu 3-1 in the mixed doubles semifinal, while Fan Zhendong/Wang Manyu fell to Tomokazu Harimoto/Hina Hayata of Japan in straight sets.
Fan Zhendong paired with Wang Chuqin to defeat host duo Pang Yew En Koen/Quek Izaac 3-1 in the men's doubles round of 16.
Wang Manyu/Sun Yingsha advanced to the women's doubles quarterfinals after dispatching Chen Szu-Yu of Chinese Taipei and Lee Ho Ching of Hong Kong, China in straight sets.