Superhero Haaland is pure Hollywood for City
Share - WeChat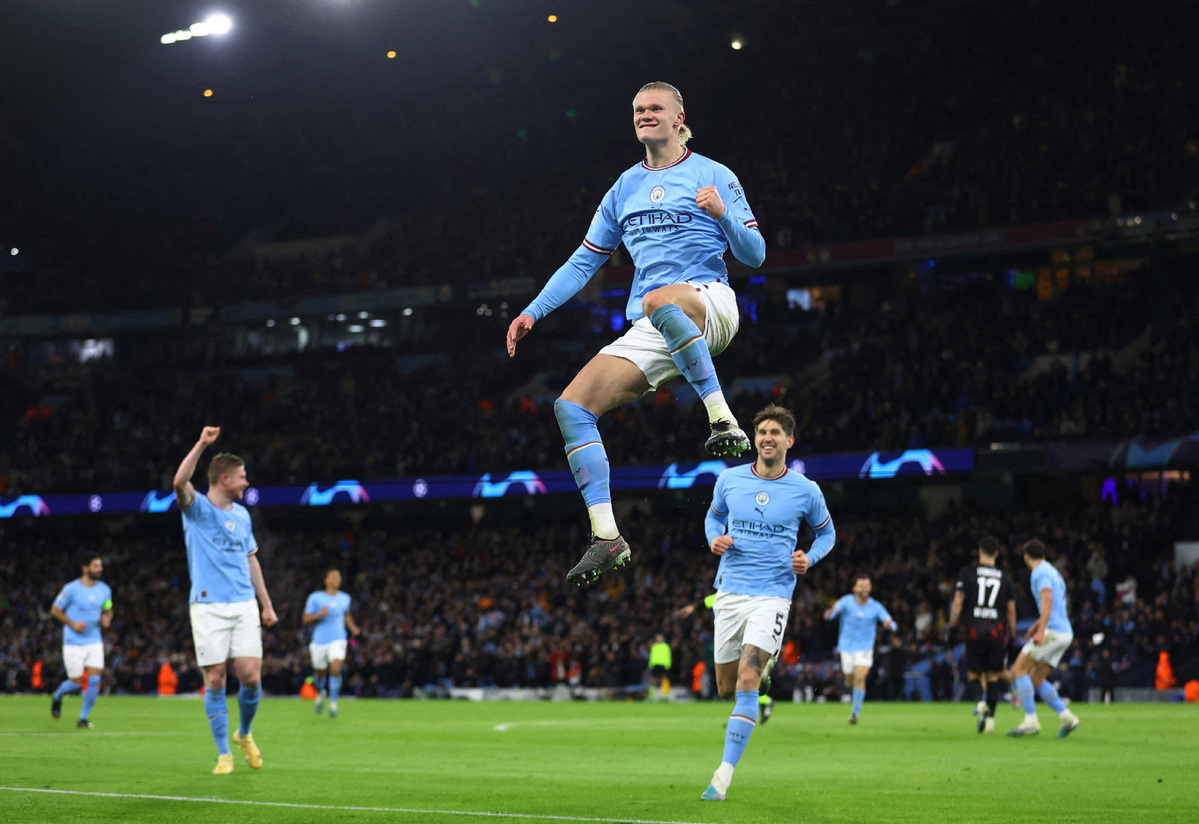 On a night when Erling Haaland set new standards in the Champions League, Pep Guardiola was preoccupied with Hollywood star Julia Roberts.
Never mind a record-equaling five goals in one match — or the Manchester City striker becoming the fastest and youngest player to score 30 in European club soccer's elite competition. Guardiola had other things on his mind after the 7-0 rout of RB Leipzig on Tuesday as City advanced to the quarterfinals with an 8-1 aggregate win.
Oscar winner Roberts, the City manager explained, is one of his three idols, along with Michael Jordan and Tiger Woods.
But on a visit to the UK she chose to watch Manchester United, rather than Guardiola's City team, which has won four Premier League titles in five years.
"She came in the period where we were better than United, in these four or five years," he said. "And she went to visit Man United. She didn't come to see us. That's why this is… even if I win the Champions League (it) will not be compared for the fact that Julia Roberts came to Manchester and didn't come to see us."
Guardiola's comments provided a digression from Haaland's scoring feats on a night when he looked like the man to finally end City's search for a first Champions League title.
So much for the suggestions the Norway striker is something of a problem for Guardiola.
He is a goal machine who produced a statement performance to fire City into the quarterfinals.
"I'm blurry in my head. I remember shooting but not thinking," Haaland said after he matched Lionel Messi and Luiz Adriano by scoring five in a single Champions League game.
"My super strength is scoring goals. Should I be honest? A lot of goals today, I didn't think. I was just trying to get it into the back of the net. A lot of it is being quick in the mind and trying to put it where the goalkeeper is not."
Haaland needed only 25 games to score 30 goals, surpassing the record held by former Manchester United and Real Madrid striker Ruud van Nistelrooy, who reached that benchmark in 34.
"I didn't know with Messi when it was happening against Leverkusen, they told me in the first interview," Guardiola said.
"But I made a substitution (Tuesday) because normally when the game is over, I want to... let them play, as many players as possible.
"Haaland equaled Messi's record, but he did it in 60 minutes, it's different. Who knows if he would have played 90 minutes?"
At 22 years, 236 days old, Haaland is also the youngest player to score 30 Champions League goals — beating Kylian Mbappe, who had broken Messi's record.
That is exalted company to keep and was the perfect response to suggestions Haaland may have had a negative effect on a City team that trails first-place Arsenal by five points in the Premier League.
"The problem is every time he doesn't score two or three goals we will be criticized for the rest of his career," Guardiola said.
"If he achieved this milestone, the record, at 22, will be boring, his life, so now he'll have a target to do it in the future, here and everywhere," Guardiola said. "So that's why I make a substitution."