A whole new ball game
Share - WeChat Steep curve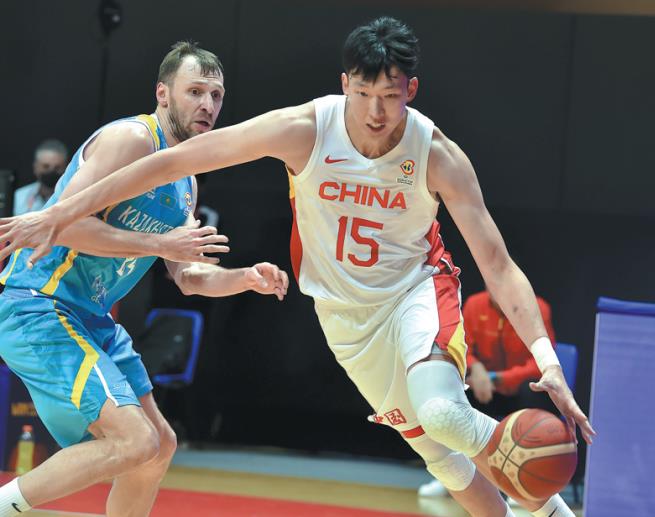 The Chinese men's basketball team, meanwhile, is also rebuilding, but has at least started the year with some morale-boosting moments on the court. Aleksandar Djordjevic's men completed their 2023 FIBA World Cup qualifying campaign with an 86-74 victory over Iran in Hong Kong, China in late February. China finished the World Cup qualifiers in second place in Group F with 10 wins and two defeats.
A decidedly trickier task is booking a spot at the 2024 Paris Olympics, with only the best-performing Asian squad at the World Cup awarded the continent's solitary direct ticket to the Games.
The predominantly young, inexperienced squad appears unlikely to emulate the glory days of Chinese basketball when the legendary Yao Ming led the nation to an eighth-place finish at the 2008 Beijing Olympics.
China missed out on the Olympic stage for the first time at Tokyo 2020 due to a disappointing campaign at the 2019 World Cup at home. Its fight for a spot in Paris appears to be even tougher, but Djordjevic remains hopeful of improvements.
"They are working hard in the training camp. They have the quality but they have to grow and understand the level that is asked internationally," Djordjevic said in February.
"In order to help the national team win as soon as possible, to better match up against high-level opponents without suffering losses, and to establish a stable foundation for taking on opponents at the World Cup and Olympic level, I must see a forest behind the big trees."
The Chinese men's volleyball's team is also lagging well behind the world's top teams. Last year, its best result was victory at the 2022 Asian Volleyball Confederation Cup.
However, three straight defeats at last year's FIVB Men's World Championship not only left Team China languishing at the bottom of Pool E, but also last place overall in the 24-team championship.
The squad is currently training in Zhangzhou, Fujian province, while the team's best players, including Zhang Jingyin, are attempting to level up their skills in elite foreign leagues.
"There are daunting tasks ahead of us during these reforms. We have to be creative, and to build better systems for management, talent selection and training, while continuing to refine the development paths for the three sports," said sports minister Gao.
"We must start from the grassroots. We need to support the growth of more youth clubs. From policies, talent and financial investment, we need to give the grassroots more support to boost these sports' development."
shifutian@chinadaily.com.cn
Most Popular
Highlights
What's Hot