Adviser stresses digital overhaul of power network
Share - WeChat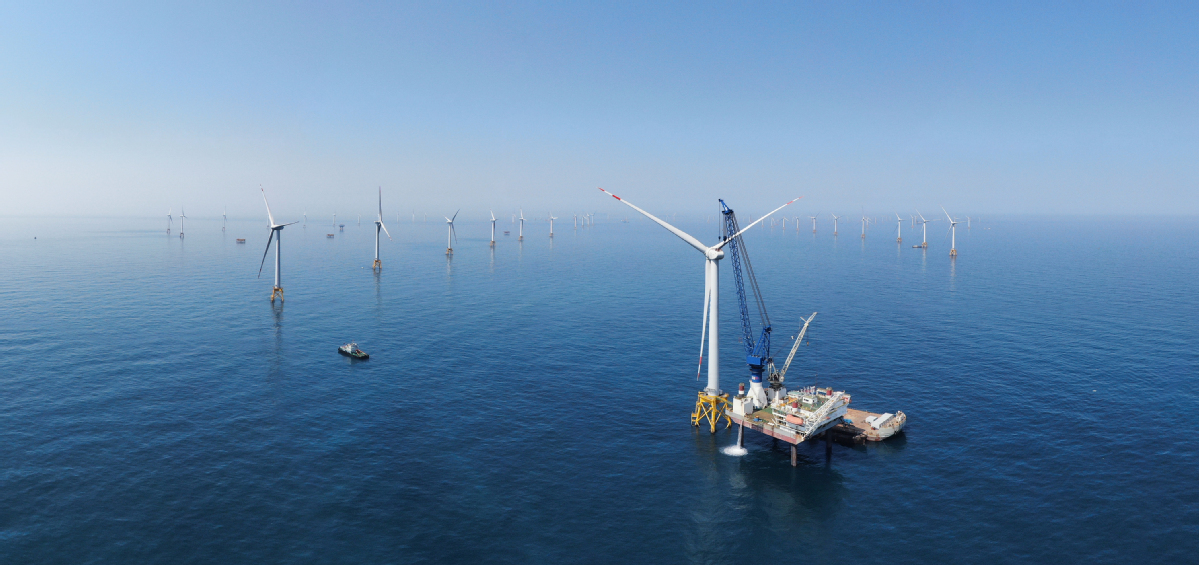 To ensure a more reliable, efficient and sustainable energy supply at a time when renewable sources become more prevalent in China's energy mix, China should promote the digital overhaul of electricity grids, said a member of the 14th National Committee of the Chinese People's Political Consultative Conference.
Meng Zhenping, also chairman of China Southern Power Grid, said during the two sessions that the country should accelerate the establishment of a new power system, with a focus on building digital power grids.
A digital power grid refers to a power network that incorporates digital communication technologies and analytics to improve grid efficiency and reliability.
By integrating real-time data analysis and automated control systems, a digital power grid can optimize energy flow, balance supply and demand, reduce energy loss and enhance grid resilience against disturbances or disruptions, experts said.
"Compared to a power system using fossil fuels, a system using power generated from renewables has more requirements for safe and reliable operation, as many new energy sources like wind and solar are not stable or controllable," said Lin Boqiang, head of the China Institute for Studies in Energy Policy at Xiamen University in Fujian province.
Lin said: "Using traditional fuels, the power supply can be easily managed through the grids' dispatch centers, which inform generators to add or reduce the burning of coals in accordance with power use.
"While renewable energy fluctuates due to natural changes, fluctuations in power generation will cause issues such as voltage instability during power transmission, which will pose additional obstacles to maintaining grid stability."
Buoyed by increasing demand and policy support, China's development of digital power grids has been on a fast track in recent years. Huaon Industrial Research Institute said investment in China's digital power grids will grow at a compound annual growth rate of 6.19 percent between 2020 and 2025 and reach 158 billion yuan ($22.99 billion) by 2025.
Meng said further efforts should be made to support power grid enterprises to play a major role in building digital power grids, further extend the supply chain, strengthen weak links along the chain and promote the high-level development of infrastructure in the energy industry.
China Southern Power Grid is in charge of power management in many South China provinces, such as the Guangxi Zhuang autonomous region, and the Guangdong-Hong Kong-Macao Greater Bay Area. In recent years, the company has accelerated the construction of digital power grids to lead the development of green energy in these areas.
Through real-time data collection, comprehensive energy modeling and energy flow optimization and control, the company has effectively improved the calculations on the power supply and demand generated from new energies. It also leveraged the various advantages of each energy type to improve new energy consumption and energy utilization efficiency.
Additionally, the company developed a management platform for grid operators to access information on nearly 800 new energy stations and over 20,000 power-generating units, to enable them to better react to different wind and solar conditions and make arrangements for electricity consumption, addressing the challenges brought by using power generated from new energies.
Using digital means proves effective in solving the problem of new energy power predictions and has increased the consumption of power generated from renewables in some regions, the company said.
Currently, the Greater Bay Area has seen steady growth in new energy consumption, with clean energy installation capacity accounting for 65 percent of the total in the area. Consumption of new energy reached 59 percent of total energy consumption, it said.