Book restorers touch history
Share - WeChat Keeping ancient manuscripts in tip-top condition requires expertise and passion, report Yang Feiyue and Wang Kaihao.
Whenever Song Jing visits a museum, she makes a point of checking out the section on ancient books. In addition to appreciating the wisdom hidden in those historical volumes, she focuses on how they were bound and presented.
"It's more like a force of habit caused by my job," says Song, 34, who has been working in the restoration division for ancient books at the National Library of China in Beijing for eight years. This entails studying and digging into unique binding methods she hasn't seen before, while evaluating the skills of masters who bring those paper treasures to light.
"You can tell the craftsmanship from the subtlety in the degrees of consistency in the paper's texture and color," Song says.
The National Library of China is home to about 3 million ancient books, which in China are defined as manuscripts, books and documents predating 1911, the year the monarchy ended.
The seasons come and go outside this workshop on the first floor of the library, but time is relative for Song and her fellow restorers. Their work is calculated not through "years" but "lifetimes". Day after day, the 10 or so specialists are fully immersed in the duty of handling and healing the old books. The flow of time may be hardly felt, except through the yellowing pages and the graying of hair.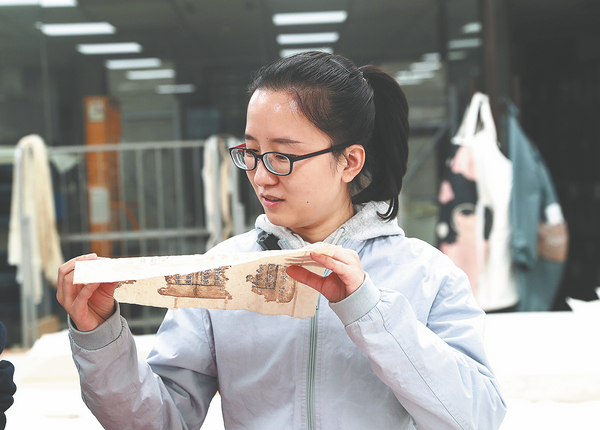 Song made her way to the ancient books division after finishing her cultural relic protection studies at Peking University in 2015. She has been engaged in restoring more than 100 ancient cultural relics, including writings by Emperor Qianlong and Empress Dowager Cixi from the Qing Dynasty (1644-1911).
The process of repairing ancient books is complex and time-consuming.
Song and the other restorers have to check in at 8:30 am every day to prepare before starting their restoration work about an hour later.
"The paste needs to be mixed right before the repair, otherwise it will go bad if it sits for too long," she explains.
"Also, the paste density varies for different tasks, which requires preparation on site."
She adds that pastes for sticking together paper and silk are different. Moreover, the restoration tools have to be checked to ensure they are cleaned thoroughly.
"If there's some residual paste on the brush, it can become hard and there is a risk it might pierce the paper," Song says.
After all is ready, restoration work can go on for seven to eight hours.
Before starting a restoration project, Song and her colleagues evaluate the subject. They have to consider what problems can be solved through restoration and those that cannot, and assess how the restoration process might potentially undermine the item.
"For example, there are many mold spots or stains on ancient paintings, and some of them are really deep, so we need to judge if the paper fiber will be compromised after their removal," Song says. "It all depends on specific cases."
In the worst cases, Song could find dozens of damaged areas on just one page of an ancient book.
"We have to create pieces of similar paper to patch them up while trying to make it as neat as possible," she says. "It is challenging and, sometimes, I even end up dreaming about the repairs."