Alcaraz arrives as full-blown superstar
Share - WeChat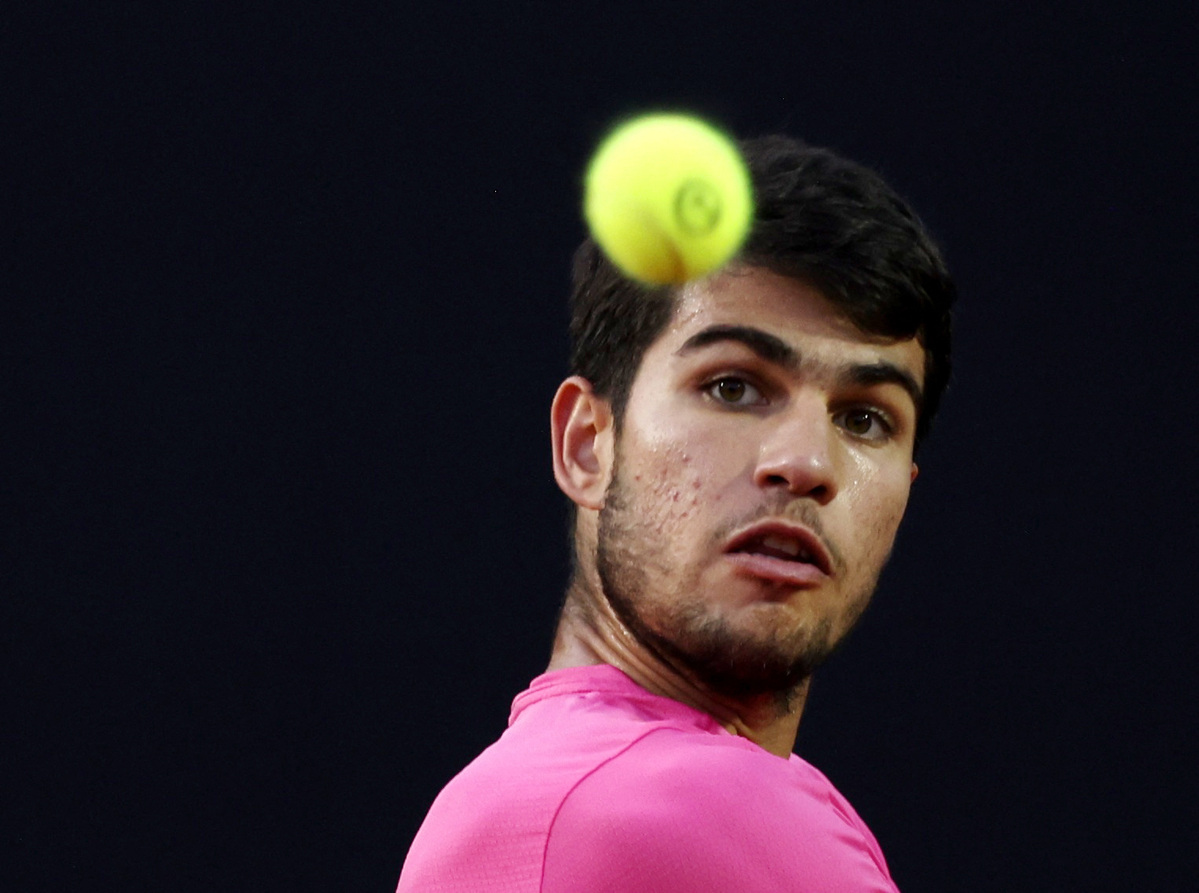 When Carlos Alcaraz arrived at the Rio Open tournament compound last year, no screaming fans were waiting, his rivals did not see him as one of the favorites, his Instagram profile was followed overwhelmingly by Spaniards and he was still troubled by typical teenage spots on his face. He was the No 29 in the rankings in a socially distanced world due to COVID-19.
Fast-forward one year since he won his springboard title in Brazil.
The still baby-faced 19-year-old already knows what it is like to spend hours signing autographs and taking pictures, become the youngest men's No 1 in history, count millions of social media followers, and lift the US Open trophy — his first major title.
Alcaraz lost Sunday's Rio final to Cameron Norrie in a match that turned in the Briton's favor when the Spaniard felt a right-leg injury in the middle of the second set. Still, local fans continued on his side even as he received his runner-up trophy, chanting "Car-li-tos! Car-li-tos!"
As dozens of excited girls and children loudly suggest wherever Alcaraz went in Rio, the life of the current No 2 changed dramatically since he won the title here in 2022 — the first ATP 500 trophy of his career, and a confidence booster toward another five tournament victories since.
"I didn't come here to watch tennis, to be honest. I came because of Carlitos," said Cristiana Souza, a 17-year-old who goes with her family every year to Rio's Jockey Club to watch the tournament. "I am just thrilled that someone my age can be this successful, humble. He spends time with his fans. I cheer more for him than any Brazilian player. And, obviously, he is so cute."
The Spanish player from the countryside city of El Palmar, outside Murcia, has earned global acclaim in only one year, and that has come with some perks, according to tournament organizers.
Alcaraz and his party of eight in Rio, including his father and brother, have a private van with security guards taking them around; a personal stretcher in his hotel room for massage; and full attention from organizers if any request arrives, though he hasn't made many. None of that was within his reach when he arrived last year.
"Whenever he wants something, his team says he would like this or that. It is very gentle," Rio Open director Luiz Carvalho told The Associated Press in his office. "It is nothing completely out of standard of other events. Some things he never asked for, but these are things we like to do because he has earned that treatment."
Alcaraz had one last-minute special request in Rio; go for a helicopter ride to see the Sugar Loaf mountain on Monday on arrival from his title-winning Argentina Open campaign. One year ago, he managed to visit the Christ Redeemer statue with little media attention. This time, Brazil's main nightly news program, among others, was there to cover and hear from him.
"Whenever I have a free day, I try to visit a place of the city," Alcaraz told TV Globo's Jornal Nacional. "It is so different from Spain. Seeing Rio from up here is wonderful. Rio will always be special for me."
The first time that Alcaraz played in Rio he was a little-known and skinny 16-year-old with a wild card and a promising ranking of 493, a shy teenager who shared his hotel room with older brother Alvaro. His first professional victory, which he also achieved in Brazil's postcard city, came in the early hours of a rainy Tuesday, with no fans on the stands as he beat compatriot Albert Ramos-Vinolas.
"I feel very thankful to this tournament for inviting me in 2020. The moments I had here helped me grow more quickly," Alcaraz said in a news conference after Sunday's final.
Alcaraz's arrival in Rio came through Albert Molina, the agent of fellow Spanish player David Ferrer. At the time, he still used his surname Garfia in posters.
"I remember he used to walk around, watch other matches. He was skinny, arms like sticks," said Maria Santos, who has worked at the tournament's catering in recent years and seen many players close to her food stall, including Rafael Nadal and Dominic Thiem.
"Now Carlos rides in that cart, leaves the club fast. He comes out smelling this great. I think (he uses) an expensive cologne. He looks like a nice family kid. He is stronger, cares about his looks, but he remains somewhat accessible. I cheer for him 100 percent; will always do that."
Fandom grew for Alcaraz worldwide after he won the 2022 Rio Open against Argentina's Diego Schwartzman with nearly 100 percent support of the local crowd. During that final, he already managed to display some of his deep-baseline forehands — some of the same he used months later to top Alexander Zverev, Nadal and Djokovic to win the Madrid Open.
As some of tennis' all-time greats retire or near their exit, Alcaraz says he is not thinking about becoming the sport's next hero for now.
"I don't know whether I am ready or not (to become a star). I go to the tournaments to give people a nice vibe," the Spaniard said in a news conference on Saturday after his semifinal win against Chile's Nicolas Jarry. "People want to see joy, amazing shots. I don't think about being the player that people want to see after the 'Big Three', I just want to be who I am and show my joy on the court."
Every player beaten by Alcaraz this year has praised him as the next big thing in tennis. Merely making Sunday's final in Rio after a right-leg injury had troubled him for four months also hinted at the Spaniard's resilience and strength of character.
It's likely his efforts there will attract still more fans to a player who has in excess of 2 million followers on Instagram — 1.7 million more than before he won the 2022 edition of the tournament.
"At age 16 he was still a junior looking for space. Now he owns the players' lounge," Rio Open director Carvalho said. "All players look at him differently (from last year).Now he belongs here."
Agencies via Xinhua