Rookies impress as Team China embarks on new journey
Share - WeChat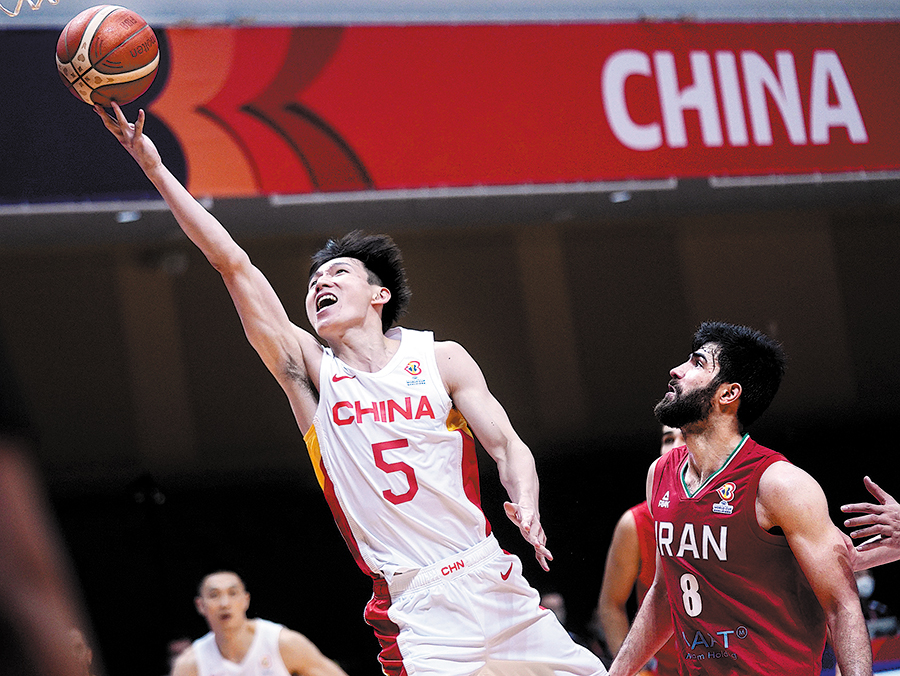 Despite capping its World Cup qualifying campaign with two straight wins, China's new-look national basketball team still has a long way to go before leveling up to the international standard.
Team China passed its first official test under new coach Aleksandar Djordjevic, but not quite convincing enough for a program that aspires to finish the 2023 FIBA World Cup as the best-performing Asian squad to secure the continent's only direct ticket to next year's Paris Olympics.
Djordjevic, however, took plenty of positives from Team China's final two qualifying wins, over Kazakhstan and Iran.
"This was just the start and a good test," the Serbian tactician said after China beat Iran 86-74 with a strong fourth-quarter comeback in Hong Kong on Sunday.
"It was a very intense game … nevertheless we stayed in the game. We had 28 assists which is a good number for us as a new team, with a new offense geometry," said Djordjevic, who took over Team China in November after the country had already secured qualification for the FIBA marquee event under then coach Du Feng.
Despite Team China's sloppy start, underlined by 20 turnovers throughout the four quarters, Djordjevic's men came back to life in the second half as the home squad picked up the pace to outscore Iran 25-16 in the fourth period, much to the delight of the enthusiastic Hong Kong crowd.
The games marked Djordjevic's coaching debut with Team China following a three-week training camp, and he made the most out of the trip, evaluating talent and experimenting by fielding all 16 players he brought to Hong Kong across the two games.
Following the 71-59 opening win over Kazakhstan on Thursday, a number of young talents impressed again against Iran — all 12 players scored, led by CBA All-Star Wu Qian's 18 points on 6-of-10 shooting in just 20 minutes of action.
Young forward Cui Yongxi, a CBA rookie with the Guangzhou Loong Lions, emerged as a standout performer, starting both games and notching eight points, five rebounds and two assists against Iran.
Led by the 19-year-old Cui and another high-profile rookie forward Zeng Fanbo, of the Beijing Ducks, five young players earned their first national team call-ups, reflecting Djordjevic's commitment to building for the future.
"They are working hard in the camp. They have the quality but they have to grow and understand the level that is asked internationally," said Djordjevic, who as a guard began his own professional career at just 16 in the Serbian league in 1983.
"I hope that through this recruitment, the talented young players in China will strengthen their understanding, based on the past international competitions and trends, of what kind of quality is the priority for the national team, and then let them take this understanding to keep growing.
"In order to help the national team win as soon as possible, to better match up with high-level opponents without suffering losses, and to establish a stable foundation for confrontation with opponents at the World Cup and Olympic level, I must see a forest behind the big trees."
Still, the youngsters' lack of international experience and chemistry with veterans requires time to build — something not in abundance with the World Cup tipping off on Aug 25.
"A lot of energy and a lot of effort. We played hard but apparently not smart enough," Team China point guard Zhao Jiwei said after scoring 12 points and providing a game-high eight assists against Iran.
"We had so much new stuff to learn from the new coach yet we only had a short training camp before coming here, so offensively we seemed quite rusty and struggled to score smoothly.
"I am not worried though about building a team that thinks as one and plays as one given more time in practice and drills," said Zhao, a veteran with reigning league champion the Liaoning Flying Leopards.
China missed out on the Olympic stage for the first time at Tokyo 2020 due to a disappointing campaign at the 2019 World Cup at home. Now, the squad is facing an even tougher prospect to return to the Games with five other Asian opponents, including hosts Japan and the Philippines, all chasing the only direct Paris 2024 spot up for grabs at the tournament.
Led by in-form NBA combo Rui Hachimura (Los Angeles Lakers) and Yuta Watanabe (Brooklyn Nets), Japan has emerged as the team to beat in Asia, while the Philippines' strong naturalized contingent, which features prolific NBA scorer Jordan Clarkson (Utah Jazz), also poses a legitimate threat.
Team China's towering center Zhou Qi, who was drafted by the Houston Rockets in 2016, remains the backbone that China leans on when it comes to vying with the best of the continent.
"For sure we have more chemistry to build and a lot of mistakes to correct," said Zhou, who started the season with the South East Melbourne Phoenix in Australia but is seeking a return to the CBA.
"It takes time but we are confident that we have the talent to be competitive as long as we keep helping the youngsters grow."