Digital tools send firms into high competition gear
Share - WeChat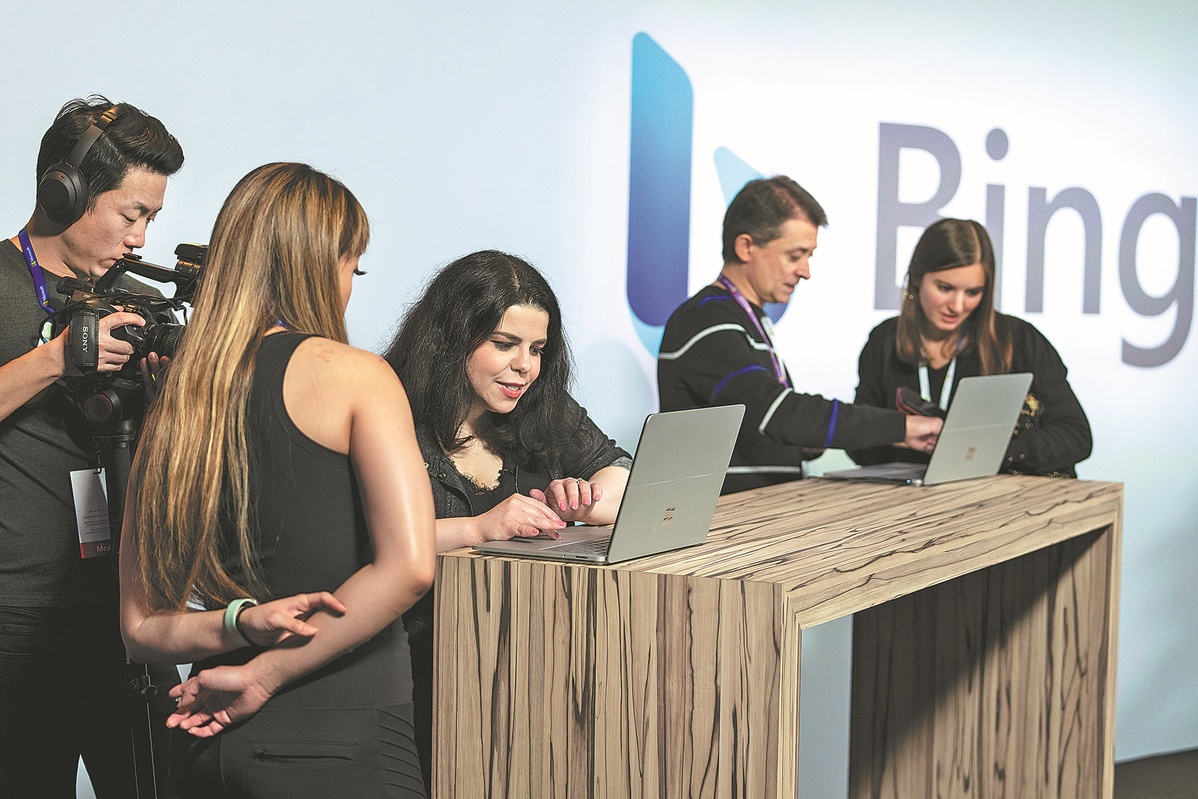 Israeli President Isaac Herzog recently delivered a speech that made global headlines, as the speech was partly written by ChatGPT, the seemingly omnipotent artificial intelligence chatbot that has taken the world by storm in the three months since its launch.
As the first world leader to publicly use ChatGPT, Herzog is one of more than 100 million monthly active users amassed in just days that are embracing the AI tool for a wide range of tasks such as writing essays, checking program bugs and making business plans, Sky News reported.
The meteoric rise of ChatGPT reveals its versatility, which differentiates it from previous narrow AI projects that excel in only one area. It also mirrors a general overflowing curiosity about human-like machines that are pushing tech heavyweights to either integrate ChatGPT into their products or develop similar AI projects.
Now, debates are on whether this could be the dawn of a new AI era or if the hype will die down as supporting technologies are still far from being mature and people may soon hit the limits of ChatGPT's current capabilities.
But, unwilling to miss any opportunity that may revolutionize the world, tech companies are scrambling to jump onto the new AI bandwagon.
Microsoft, for instance, launched its updated search engine Bing last week, with ChatGPT built in to offer advanced conversational experiences, such as responding to complex questions with fast speed and clarity and spitting out comprehensive, essay-length answers on virtually any topic.
"It's a new day for search," Microsoft CEO Satya Nadella said at a launch event in Redmond, Washington. "AI will fundamentally change every software category, starting with the largest category of all — search."
The new Bing features the option to start a chat in its toolbar, which then brings users to a ChatGPT-like conversational experience. It is worth noting that while OpenAI's ChatGPT bot was trained on data that only covers up to 2021, Bing's version is far more up-to-date and can handle queries related to far more recent events.
The updated experience is already live on Bing but it's still somewhat limited. For the full experience, users need to apply and get on a waitlist.
The move came as Microsoft is investing $10 billion into OpenAI, a US-based research lab that developed ChatGPT, over multiple years ahead, Fortune reported.
The new investment plan is part of a broader push by Microsoft, which already put $1 billion into OpenAI in 2019 and invested an undisclosed amount again in 2021, to compete with Alphabet Inc, Amazon.com Inc, and Meta Platforms Inc on the global AI battlefield.
Well aware of the opportunities and challenges ahead, one day before Microsoft's launch of its updated Bing, Google also unveiled its new chatbot tool dubbed Bard.
Like ChatGPT, Bard is built on a large language model. These models are trained on vast troves of data online in order to generate compelling responses to user prompts, Google said.
Amazon CEO Andy Jassy said in an interview with Financial Times, "Most large, deeply technical companies like ours have been working on these very large, generative AI models (like ChatGPT) themselves for a long time."
Generative AI refers to algorithms trained to produce new text, images, code, video or audio.
Shen Yang, a professor of journalism and director of the Metaverse Culture Laboratory at Tsinghua University, said ChatGPT has made progress, but its answers cost far more than search engines. Meanwhile, generative AI also raises concerns about ethics, copyright protection and privacy, Shen said.
ChatGPT-like applications can free human creators from tedious tasks, but they will not replace humans, Shen added.
This is in line with what ChatGPT wrote for the Israeli President's prompt, "Write an inspirational quote about the role of humanity in a world of superhuman technology."
The answer from ChatGPT goes: "Let us not forget that our humanity is what makes us truly special. It is not the machines that will shape our destiny but rather our hearts, minds and determination to create a brighter tomorrow for all humanity."