An essential medical guide
Share - WeChat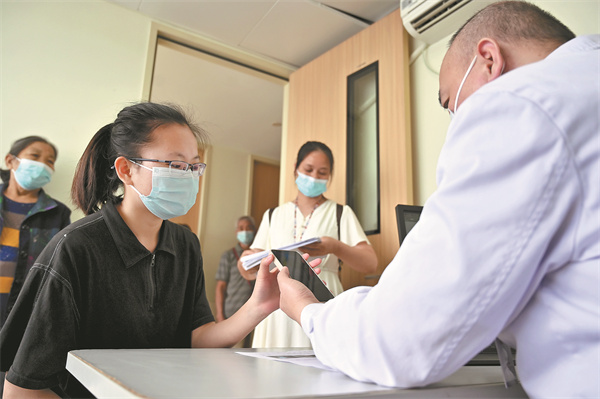 Han also advertised his English and Arabic language skills for international patients.
Then, he got down to studying hospitals, such as their specializations and medical treatment procedures for different diseases.
"It was to save time for patients, and answer their questions," Han says.
At the beginning, he was caught off guard when people started to approach him with questions.
It prompted him to read up on information on common medical problems and make connections with pertinent hospitals.
"If I had to go to a new hospital, I would visit beforehand to familiarize myself with its treatment process and the locations of all departments and examination rooms," he says.
He would also acquire details about patient conditions, which he would study before offering suggestions.
"Now I can immediately offer them two to three public hospitals once they tell me their problems," Han says.
In July, Han shared on his Douyin account a video of parents at the Beijing Children's Hospital, Capital Medical University, in the middle of the night. It received more than 130,000 views, which got more attention to his business.
As his dealings with patients increased, Han has come to see the value of his work.
He watched firsthand how a parent was struggling to take care of a sick child while fumbling around a big hospital.
"I felt my work was worth it whenever I could save them some procedural trouble, such as pre-diagnosis consultation, medical report and medication pickups," he says.
Han says he can feel the evident rise of the career, as there are now at least thousands of medical guides, as opposed to only dozens when he started.
As an emerging career, medical guidance has yet to have an agreed set of standards for safety and sustainable development.
"There is a lot at stake, such as what if the client withholds some information, such as an infectious disease or some accidents happened to patients in their old age," Han asks.
Most Popular