An essential medical guide
Share - WeChat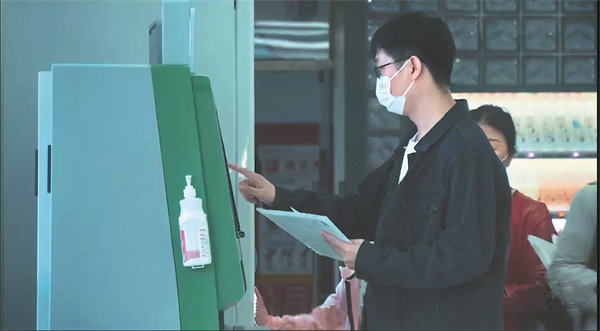 Although it was quite a hassle finding the patient's doctor who had already retired and digging into the buried medical history, Han managed to deliver what the patient asked for.
"It felt good to help solve some emergencies for them," Han says.
Wearing two facial masks, he knows the hospital like the back of his hand, after more than a year of practice.
He usually takes two orders a day, one in the morning and the other in the afternoon, with each lasting at least one hour.
The costs range from 300-500 yuan ($44.3-$73.8), depending on the length of the service time.
Born in Chifeng, North China's Inner Mongolia autonomous region, Han was engaged in international trade for several years, before he started his own business in 2018.
The business didn't pan out, especially after the outbreak of the pandemic in 2019.
In the time of desperation, he came across the novel line of work while flipping through video-sharing platform Douyin.
"I was like I could do it, because I had been around my relatives and friends from home during their visits to hospitals," Han says.
Han did a little math in his head. With rich medical resources, Beijing has been a destination for patients from across the country with complex medical conditions.
He figured the elderly with chronic diseases and whose children could not always be around would appreciate his service.
There are 264 million people on the Chinese mainland who are 60 or older, accounting for 18.7 percent of the total population, according to the National Bureau of Statistics, and the number is expected to pass 300 million by 2025.
The number of frail seniors over the age of 60 who experience difficulty in performing everyday tasks passed 42 million in 2020, according to the National Working Commission on Aging, meaning that one in six people who were 60 or older were unable to take care of themselves.
Han was also encouraged by the country's move to address the needs of the aging population, as the State Council has released a development plan for China's elderly care services during the 14th Five-Year Plan period (2021-25).
The plan specifies major goals and tasks, including expanding the supply of elderly care services, improving health support for seniors, and advancing the innovative and integrated development of service models.
In addition, he thought he could be of some assistance to patients from outside Beijing who are not familiar with the medical system in the capital.
Han opened an account on Douyin, with his name and identity card's photo.
"You have to show your true information to earn the trust of potential clients," he explains.
Most Popular