A winning mentality
Share - WeChat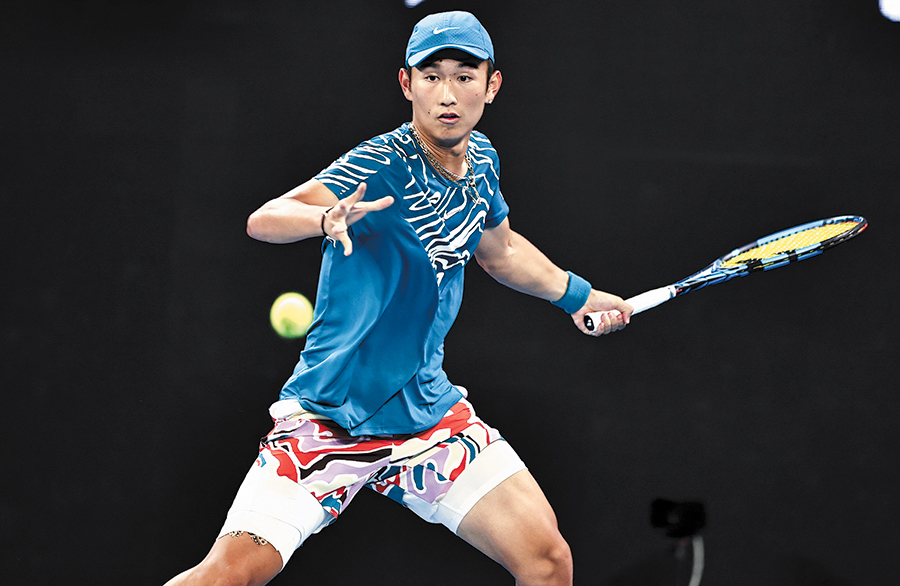 Rising teen star has the passion of youth, but the composure of a seasoned pro, as he bids for future Grand Slam glory
Becoming the first Chinese man to win a main draw match at the Australian Open in the Open era, Chinese teen Shang Juncheng made headlines and history with his performance at his Grand Slam debut. Speaking about the reasons behind the breakthrough, Shang believes it takes a lot more than passion to achieve a dream.
"I don't consider tennis to be just my passion, I also treat it like a job. If love is the sole motivation that keeps me going, some day I may stop finding this sport interesting, perhaps due to defeats or other reasons," Shang told China Daily's online show On Your Marks.
"When I encounter difficulties or face bad results, I just tell myself 'don't be influenced by your emotions'.No matter where I will be in the future, I will tell myself to stay low-key and to focus on training with the same attitude as I do now. I need to go through each day of the journey with a desire to learn from it and enjoy it."
Shang earned his spot in the Australian Open main draw after three straight wins in the qualifying rounds, most notably a victory over his childhood idol, veteran Fernando Verdasco. It made Shang only the second man on the ATP Tour to secure a debut Grand Slam main-draw win at 17, after Spain's former world No 1 Carlos Alcaraz did so at the same tournament in 2021.
As the youngest player in this year's men's singles draw, Shang kept his qualifying round momentum, beating German power hitter Oscar Otte 3-1 in the first round, before falling to a second round defeat against Frances Tiafoe of the United States.
"I think the most memorable matches at this year's Australian Open for me would be the first two qualifiers, the first of which was my debut match at a Grand Slam, so I was very nervous when I stepped onto the court," Shang told China Daily.
"The second qualifier was also very memorable. I played against the former world top 10, Verdasco. I've been watching his matches since I was a child, so I'm very familiar with his style. I did well in both of those matches."
Shang said that, as it's the first Grand Slam appearance of his career, this year's Australian Open was "very special for him".
While it was a great platform for him to display his skills and style, it was also a valuable learning experience for the rising teen star.
"Being together with the top players, I can learn a lot from them. Their performance on and off the court is very different to that of the junior players," said Shang.
"The reason why these players can reach the top 100 or top 50 is that they put in much more effort than other players. But being there at the Australian Open wasn't all about learning. I also have something to display. My skills and style are the result of my own hard work."
Managing pressure and adjusting his mentality are always the main focus for Shang, who didn't set a fixed goal for his Grand Slam debut in order to shoulder less of a burden on the court.
"I just told myself to learn from each match, to enjoy the atmosphere, to feel the pressure on the court and to hear the cheers from the stand," Shang added.
"And, of course, I'm confident. That originated from winter training, when I worked very hard.
"If I set a goal like reaching a certain round or getting a certain result, I will become nervous during the competition. I believe that is the most unwanted pressure for a tennis player."
Role models
Shang's athlete parents have been key role models for the teen star. His father, Shang Yi, was a Chinese international soccer player who plied his trade at Beijing Guo'an, while his mother, Wu Na, was a professional table tennis player, who won the mixed-doubles gold medal at the 1997 World Table Tennis Championships.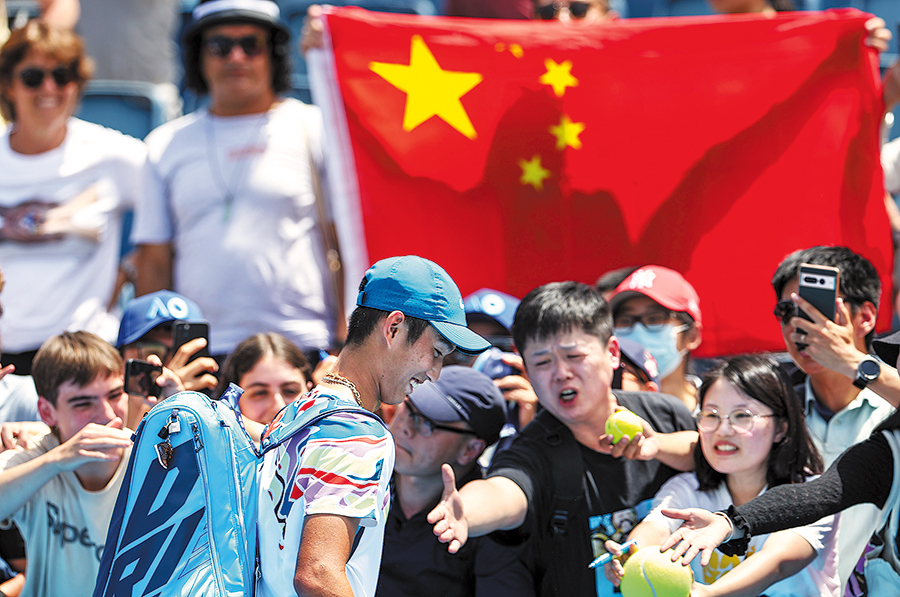 However, instead of being tough parent-coaches, they are more like friends to their son, who share their career experience and help Shang to solve problems.
"I think they laid a very good foundation for me. We have maintained a good level of communication with each other since I was a kid, and we play sports together. I think the most important thing they taught me, though, is to never give up, and that, until the game is over, I always have a chance," said Shang.
"We will often discuss problems that I am facing, such as any injuries or discomfort during my training. Since I was about 10 or 11, we have had this very good habit of having sincere discussions. We don't avoid talking about anything, and they have taught me many effective problem-solving skills as an athlete."
Shang first picked up a racket when he was five. He tried his hand at soccer, table tennis and many other sports, but it was tennis that truly attracted him.
"I remember that I played tennis for the first time in an indoor gym during winter. I found tennis to be the most interesting among all the sports that I had tried. Also, around that time, I watched a match between Novak Djokovic and Rafael Nadal. I fell in love with the sport instantly," Shang added.
Shang is one of a group of young Chinese stars shining on the world stage — including 20-year-old women's singles star, Zheng Qinwen, and 23-year-old, Wu Yibing, who only recently broke into the men's World top 100 — that have given domestic fans a growing confidence about the prospects of tennis in China.
As evidence of this Chinese tennis surge, a total of nine players from the Chinese mainland entered the main draw of the singles competitions at this year's Australian Open, with Zhu Lin and Zhang Shuai enjoying the longest runs, both reaching the women's fourth round.
"I think this is a great sign for the growth of Chinese tennis. We are making very fast progress, and I hope that more of us can play at higher levels of competition as soon as possible," Shang said.