Vast deserts become sources of plentiful energy
Share - WeChat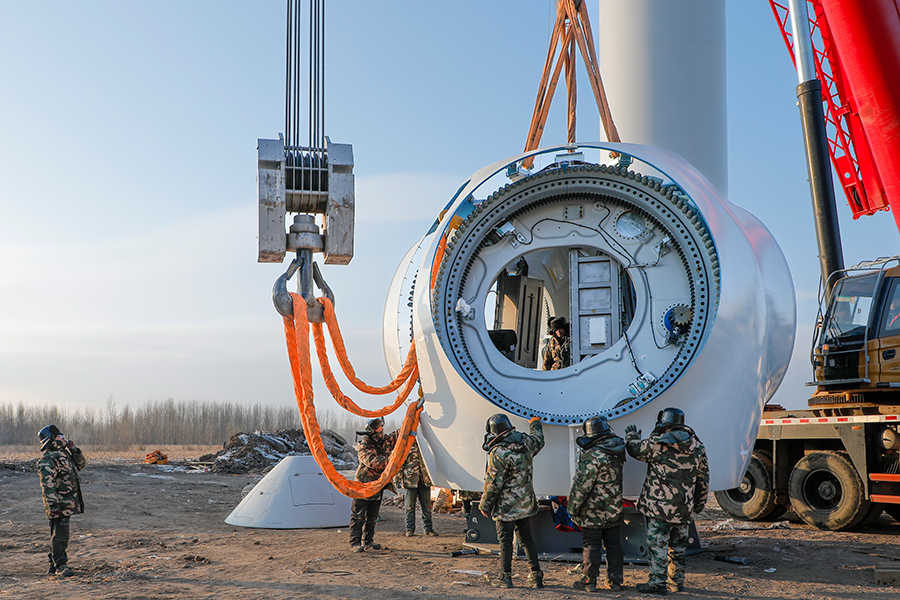 Big investments in wind, photovoltaic projects help make nation leader in reusable utilities
The huge Xinjiang Uygur autonomous region, with vast desert expanses of strong winds and intense sunshine, has become a pioneer in the country's new energy drive. It is turning its natural endowments into power for a greener future.
Xinjiang's renewable energy production reached 37.22 billion kilowatt-hours in 2022, up 25.5 percent year-on-year, according to the Xinjiang branch of the State Grid Corp of China, the country's largest State-owned utility company.
Clean energy accounted for around 30 percent of the total power transmitted to 20 other Chinese provinces, autonomous regions and municipalities, including Henan, Anhui and Shandong provinces. It has effectively balanced power demand and supply in the country, the branch said.
The region transmitted a record high of more than 125.8 billion kWh of electricity to other parts of the country last year, up 2.77 percent year-on-year, it said.
Xinjiang's new energy push is only part of the country's accelerating shift from fossil fuels to clean energy, as it vows to peak carbon dioxide emissions by 2030 and achieve carbon neutrality by 2060.
China plans to speed up the construction of solar and wind power generation facilities in the Gobi Desert and other arid regions amid efforts to boost renewable power, according to a statement jointly released by the National Development and Reform Commission and the National Energy Administration in 2022.
China had launched the first phase of wind and solar power projects by the end of 2021, comprising a total of 100 gigawatts of wind and solar power capacity in desert areas that cover 19 provinces. The second phase will focus on the Gobi and other sandy and rocky regions, with an estimated investment of up to 3 trillion yuan ($442 billion) in related industries, it said.
Most of the projects will be located in the northwestern parts of China that have vast renewable energy resources, including the Inner Mongolia, Ningxia Hui and Xinjiang Uygur autonomous regions. Local governments are not only transforming their advantages in local resources into an economic advantage, but also ensuring a sufficient power supply for the country.
Market observers and industry experts expect that China's attempt to greatly expand its wind and solar power capacity will further facilitate the country's low-carbon energy transition and ensure domestic energy security.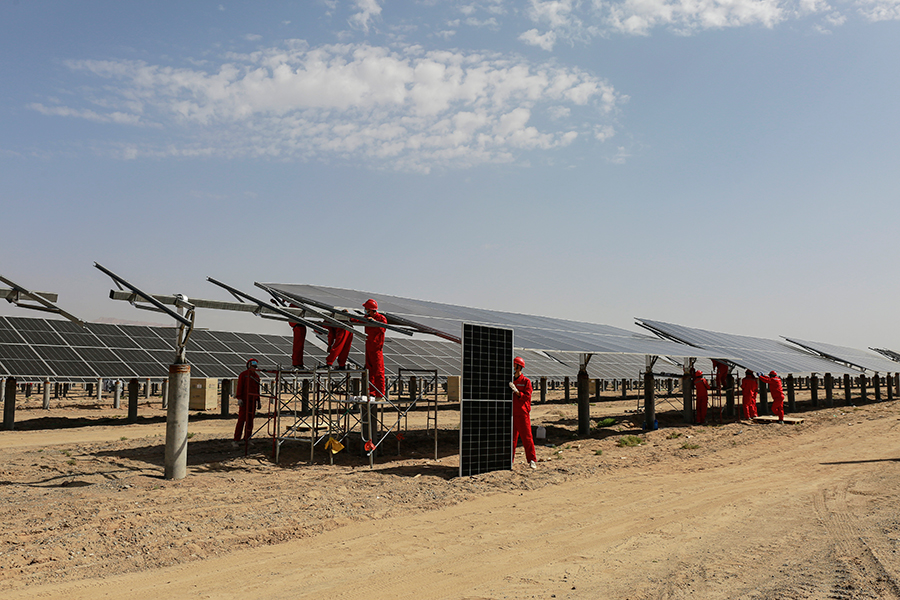 The transition will further optimize China's energy mix and facilitate the country's ambition to have nonfossil fuels account for 20 percent of total energy consumption by 2025 and 25 percent by 2030, said Luo Zuoxian, head of intelligence and research at the Sinopec Economics and Development Research Institute.
China's plan to build massive wind and solar power facilities in the country's desert areas will also facilitate the country's ambition of reaching 1.2 billion kilowatts of installed solar and wind capacity by 2030.
The project will boost the proportion of clean power in the country's energy mix while helping the country to achieve its sustainable energy ambitions. The regions involved will also be able to promote the development of an industrial chain for the manufacture of new-energy equipment, he said.
Luo said government efforts to transition to green energy have enabled regions like Xinjiang and Inner Mongolia — whose economic growth has long relied on heavy consumption of traditional energy sources that brought with it problems such as pollution from burning coal — to upgrade to a new energy-based structure.
In addition to Xinjiang, installed capacity of new energy connected to the grid in Inner Mongolia and Qinghai has also been climbing in recent years. Such new energy connections in Inner Mongolia, the country's largest coal producer, had exceeded 65 million kW by the end of 2022, as the region has adjusted its energy structure while continuing to produce coal.
Inner Mongolia also finished developing a series of wind power projects last year, including one in Xiliin Gol League with a capacity of 7 million kW and one in Ulanqab with 6 million kW of capacity.
A key national energy producer, Inner Mongolia has set a goal of new energy surpassing thermal power generation by 2030.
China's new energy industry is leading the world after years of development, from installed capacity and technical levels to industrial chain capacity, said the NEA.
China's green transition has been gaining momentum, with total installed capacity for renewable energy generation rising to 1.1 billion kW over the past 10 years, it said. Generation capacities in hydropower, wind, solar and biomass are tops in the world, it added.
Eyeing significant opportunities, domestic companies are also laying out plans to further tap the potential in the Gobi Desert and other arid regions in China.
China Three Gorges Corp is carrying out a huge clean energy project with an overall installed capacity of 16 million kW and an investment of 80 billion yuan in Inner Mongolia's Kubuqi Desert, China's seventh-largest desert. The project, to include 8 million kW of solar power capacity and 4 million kW of wind power, is expected to be the world's largest power generation center of its kind in desert areas.
The company said the project also includes an advanced and efficient coal power installation of up to 4 million kW in a supporting role, as well as 4-6 million kW of energy storage.
Once completed, the center is expected to be able to transfer about 40 billion kWh of electricity to the Beijing-Tianjin-Hebei region a year, with over half of it being clean energy. That is equivalent to saving about 6 million metric tons of standard coal and reducing carbon dioxide by about 16 million tons, the company said.
Wei Hanyang, a partner at the nonprofit Crossborder Environment Concern Association, said renewable energy projects are usually capital-intensive and those with more than 1 GW of installed capacity in large deserts would require multiple channels of financing and policy support, an area in which China excels.
"It is also likely that large, State-owned enterprises will reallocate some funding from previous coal projects to renewable centers so that the process can be accelerated," Wei said.
"With more gigawatt-level centers to be constructed, China will need to invite more participation from various sectors of society and set up a proper compensation mechanism."
The State Power Investment Corp has also vowed to continue accelerating the construction of massive wind and solar power facilities in the Gobi Desert and other arid regions, as part of the efforts to boost the green energy transition.
China is expected to generate 3.3 trillion kWh of electricity a year from renewable energy by 2025 as part of its plan to further boost its green energy transition during the 14th Five-Year Plan (2021-25) period, according to a statement released by the NDRC in January.
The increase in renewable energy generation is expected to exceed 50 percent during the period, while wind and solar power generation is also expected to double, it said. The plan calls for renewable energy to further replace fossil fuels to facilitate the country's construction of a low-carbon energy system, it said.