Hefei's manufacturing sector leads economic growth
Share - WeChat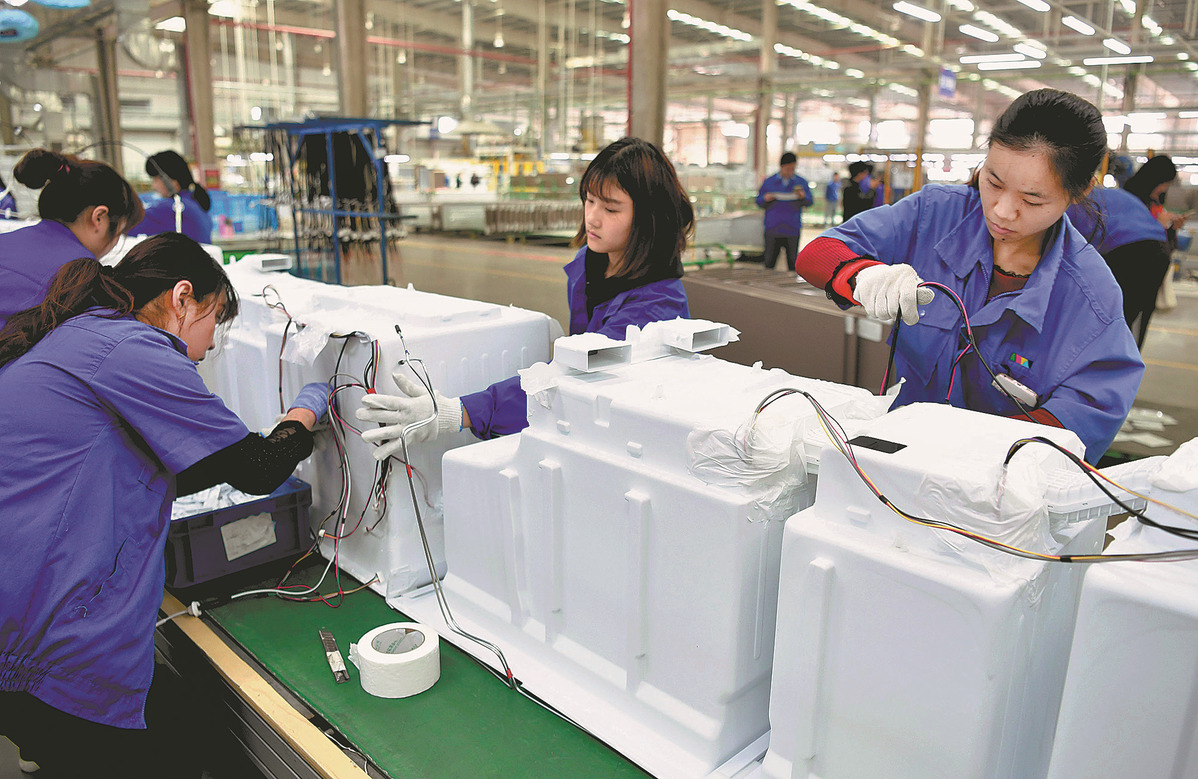 While COVID-19 caused disruptions for many manufacturing businesses last year, the manufacturing sector has significantly led the economic growth of Hefei, capital city of Anhui province.
The city is home to a number of both traditional and emerging manufacturing businesses such as home appliances, vehicles and smart manufacturing, and has now formulated comprehensive production and supply chains.
Zhang Rongsheng, general manager of TCL Home Appliances (Hefei) based in Hefei's Feixi county, said in 2022, the company's business revenue notably increased. On Jan 28, the first working day after the weeklong Chinese New Year holiday, the plant of about 2,000 workers in total already has 80 percent of the workers back, which is rare for manufacturing businesses as most are migrant workers and usually prefer spending a longer period during the holiday back in their hometowns. One reason behind the quick return of workers is the robust growth in market demand.
"In recent years, despite the lingering impacts of COVID-19, we can visibly feel the heated market demand in white appliances, particularly from overseas markets," Zhang said. White appliances are large home appliances such as stoves, refrigerators, freezers, washing machines, clothes dryers, dishwashers and air conditioners.
He said in 2022, while the export growth rate of overall white appliances in China was on a slight decline, the company's total export volume increased by 102 percent, with a particular demand surge coming from northern European countries.
This year marks the company's 10th anniversary since it began operation in Hefei in 2013. Zhang said that the company's steady expansion over the past decade is largely owed to the city's geographic advantages in growing manufacturing businesses, the city's ever-enabling business environment and, in particular, the local government's flexible approaches under the COVID-19 disruptions.
"Hefei enjoys a great geographic advantage as an inland city as its land transportation is widely connected, making logistics cheaper and more facilitated. This is particularly important for white home appliances, which are large and have high logistics costs," he said.
"In addition, over the past decade, the local government has been rolling out a number of favorable policies to lower operational costs for manufacturing businesses in Hefei. The city has also developed a comprehensive supply and production chain in traditional manufacturing for white home appliances," Zhang added.
According to the city's government work report released in December, the total GDP of Hefei in 2022 is expected to expand by 3.6 percent, with the total economy reaching 1.2 trillion yuan ($177 billion).
Official data show that between 2012 and 2021, the output value of Hefei's strategic emerging industries has been growing quickly, contributing to 71.6 percent of the city's industrial growth rate in 2021. In the first three quarters of 2022, the added value of Hefei's high-tech manufacturing industry went up by 9 percent, accounting for 33.9 percent of the added value of industries above designated size, or those with annual revenue of 20 million yuan and above.
Zhang said that one current bottleneck for manufacturing businesses is that it is more and more difficult to hire younger workers.
"Younger generations, particularly those in their twenties, mostly prefer flexible working hours such as working as deliverymen rather than working a nine-to-five day in a manufacturing plant. Therefore, hiring younger and proper labor workers is becoming more costly for us and we are hoping for more policy incentives in this regard," he said. "In addition, we also hope for more policy incentives to help bring down international logistics costs as a business based in an inland city."