Stipend supports Tibet University students
Share - WeChat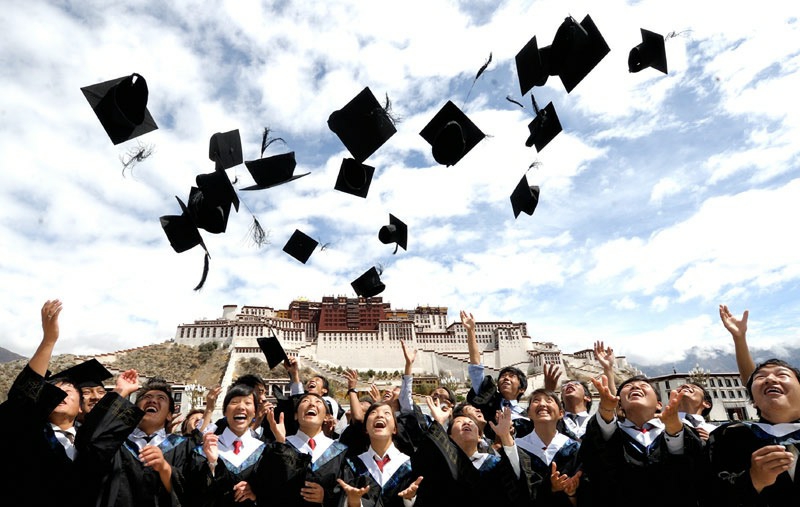 Tibet University has implemented a range of financial support measures in recent years to ensure that underprivileged students are able to pursue their dreams of higher education.
In 2021, the university spent more than 24 million yuan ($3.5 million) on scholarships, loans, grants, medical aid and subsidies, allowing more than 9,900 students from poor families to fulfill their dreams, according to a report in Tibet Daily.
"Tibet University has been working hard to offer its students at least eight sponsorship programs. These include study loans, scholarships and grants, tuition fee and accommodation cost exemptions, employment opportunities after graduation and student loan waivers for graduates who find jobs in rural areas," Phuntsok Wangdu, an official in the university's student work department, was quoted as saying.
The official said the university annually provides financial support for around 10,000 students. Twenty-four scholarship projects have been rolled out and other forms of financial support are provided to poor students every year, he added.
Allowing the students to take up part-time jobs while studying at the university is also part of the institution's efforts to help them cope with financial difficulties. This has been an effective means of developing their all-around capabilities, according to the official.
In recent years, the university has provided students with more than 300 on-campus jobs annually, including at the supermarket, printing house, canteen, libraries and department offices.
The university has opened a "green channel" for those from poor families, so that their admissions can be smoothly processed every year. This is among the many efforts to encourage underprivileged students to go to college, Phuntsok Wangdu said.
Ma Caihua, who completed a master's degree at Tibet University, said he studied at the university's literature college between 2018 and 2021. "The annual tuition fee was around 5,000 yuan, so I first applied for a student loan," he said.
Ma also benefited from the annual stipend for students who come from outside the Tibet autonomous region. "The university offers a scholarship of 5,000 to 8,000 yuan. I received 5,000 yuan every year during my three-year course. With the scholarship and stipend, I received more than 10,000 yuan annually for my higher studies," he said.
The former student thanked the university for helping him complete his education. "My parents and I did not have to worry about funding my studies, thanks to the scholarship and stipend the university provided."