Famous roast duck chain joins in spirit of Chinese New Year
Share - WeChat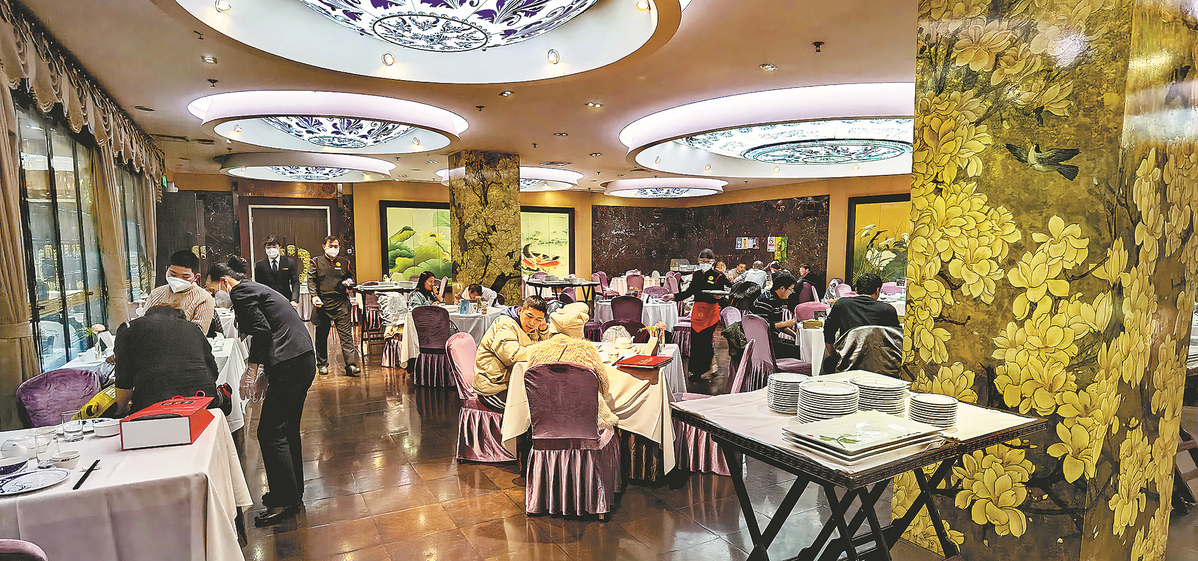 At a rose-decorated, love-themed romantic restaurant, waiting staff wearing hanfu — a traditional Chinese style of clothing — are serving a steady stream of customers. Many diners also choose to wear hanfu themselves, and take fancy pictures near a palatial-looking photo backdrop.
This is a typical scene at the newly opened branch of the time-honored brand China Quanjude Group. The specially decked-out restaurant is located in Wangfujing in downtown Beijing, along the city's most famous shopping and pedestrian street. Not far away in Hepingmen, the Peking roast duck giant launched an open-style restaurant after major renovations that provides panoramic views of Beijing's greenery. The concept is a brand-new undertaking for the group. Using the famous restaurant chain's traditional gold and Chinese palace red color motif, as well as ornate metal, wood, leather, cloth and black brick decor, the dining establishment demonstrates the ingenuity of the time-honored brand.
With China's catering industry constantly changing, the traditional Chinese old brand of Quanjude is taking on a new look.
Zhou Yanlong, Party chief, board director and general manager of China Quanjude Group, who has also been a catering sector expert for over a decade, said, "I firmly believe that demand in China's catering industry is rigid and tremendous, and the development of the industry is unstoppable."
Zhou said the influence of the COVID-19 pandemic on the catering industry has been undeniable, but with the optimization of the epidemic prevention and control measures, the catering industry will certainly roar back to life.
"It is expected that the industry will embrace clear, balanced and steady growth, containing more business opportunities and more vitality," he said.
For the just-concluded Spring Festival holiday, Quanjude launched its premade Chinese New Year's Eve dinner packages, which encompassed the major regional cuisines of Beijing and Sichuan and Shandong provinces. The premium version of the package included a 1,800-gram king crab, Peking roast duck and fotiaoqiang, or "Buddha jumps over the wall". The special holiday menu also included dry boiled yellow croaker, stewed beef, fried vegetables and rabbit-shaped desserts to celebrate the Year of the Rabbit, while more family-themed packages contained a variety of delicacies suitable for sharing among a party of three to four people.
As early as in 2020, Quanjude threw its hat into the premade dish sector. It renovated its duck category production lines to better produce premade dishes. So far, Quanjude's premade dishes across 30 categories have been launched both online and offline. By the first half of 2022, delivery of its premade dishes accounted for 30 percent of its total product offerings.
"Although premade dishes are a popular concept currently, we try not to make our premade dishes taste like fast food. As a time-honored brand, we have the advantage of making the premade dishes as tasty as dine-in options, offering consumers a better dining experience," Zhou said.
Lai Yang, a member of the Expert Committee of the China General Chamber of Commerce, said: "Catering enterprises should keep pace with the times, as the lifestyle of the main consumption group has constantly been changing. This is especially important for time-honored brands. The secret behind Quanjude's success is that it keeps innovating, trying to be in tune with the consumption habits, consumer preferences and consumption structures of consumers."
Zhou added: "We are in a transformational process, and have made great changes in products, business models and targeted consumers. We aim to offer better services to locals, presenting a restaurant full of warmth to young consumers and expanding our food business. I believe we are on the right track, as the efforts are injecting new vitality and momentum into our business."