Minnows score big with shock soccer victory
Share - WeChat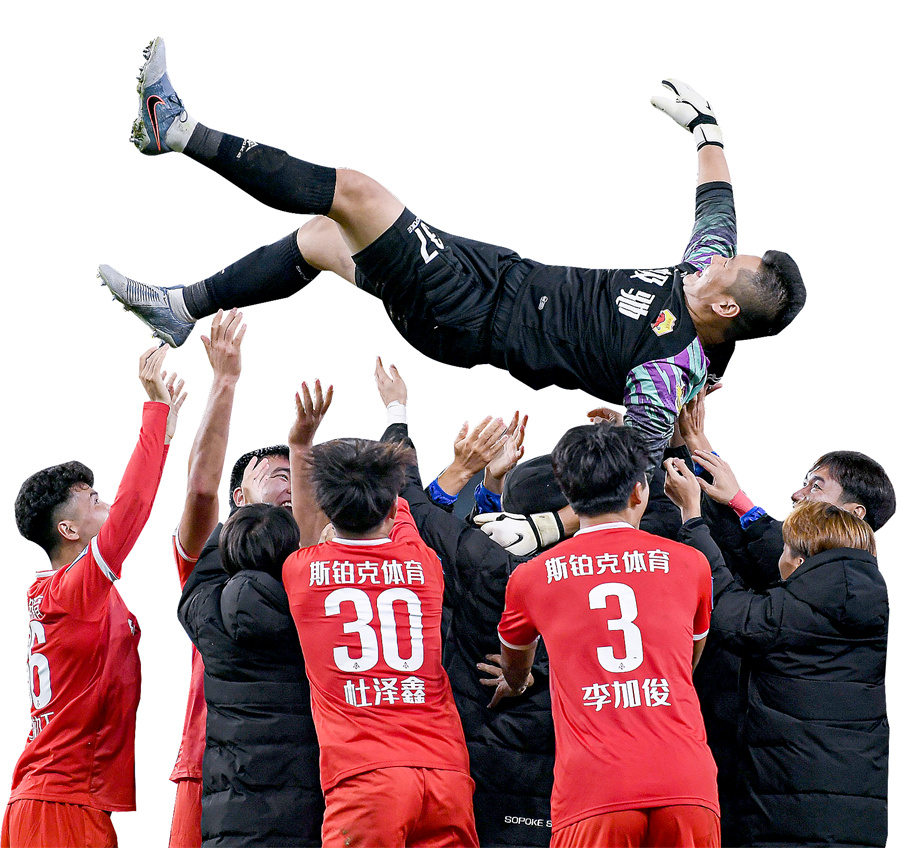 Cup triumph in Gansu gives sport major boost at grassroots level
Jingchuan Wenhui, an amateur soccer team registered in a small county in Gansu province, made headlines after sending Chinese Super League giant Beijing Guo'an crashing out of the Chinese Football Association Cup in mid-November.
In one of the competition's biggest upsets, the team held four-time Cup winner Guo'an to a 2-2 draw after 90 minutes, before winning the penalty shootout 7-5.
The shock victory triggered heated discussion on social media, with several related topics trending on various platforms.
Despite having professional players, the club competes in the fourth-tier CFA Member Association Champions League, or CMCL, which is an amateur division.
Wang Zhen, president of the Jingchuan Football Association in Pingliang city, Gansu, said, "Rumors spread that our team comprises deliverymen, sports teachers and high school students, but that's not the case.
"Soccer is no joke. Our players are professionals, or have had some professional experience. They train for at least two hours each day under instruction from the coaching staff members."
Wang, 35, who also plays for and is an assistant coach at Jingchuan Wenhui, wanted to be a professional player since childhood.
In 2013, supported by the local sports bureau, Wang and other grassroots players registered the Jingchuan 744300 soccer club, named after the county's postal code.
"At that time, the team had more than 30 members, all of them amateurs, including sports teachers, doctors, civil servants and people running their own small businesses," Wang said.
"During weekends, we trained and played on school playgrounds, as we had no training field of our own."
Since being formed, the team has won the local league in Pingliang each season.
With some adjustments and restructuring, the club gradually became more professional. In 2021, it was renamed Jingchuan Wenhui FC, and represented the Gansu Football Association for the first time in the CMCL.
"We now have 150 players from across China, including 80 youth players from Gansu. In addition to our first team, which plays in the CMCL, we have an under-19 side and an under-17 team," Wang said.
Special cooperation
The victory against Beijing Guo'an brought a wave of publicity to Jingchuan, a small county with a population of about 350,000.
However, the players in the Cup match were mainly from Beihai Jichi FC, a club in Guangxi Zhuang autonomous region. In 2021, Jingchuan Wenhui and Beihai Jichi signed a three-year cooperation deal. The clubs registered with the Jingchuan civil affairs bureau to play in the CFA Cup.
Yao Jun, a representative of Beihai Jichi, said: "Jichi has good facilities and good players. We needed the opportunity to play in the CFA Cup, while Wenhui wanted more professional players."
Sixteen teams qualify for the final round of the CMCL. A team can win a CFA Cup place only when it has qualified for the final round for two consecutive years.
Jingchuan Wenhui finished in 15th place in the league in 2021 and in 14th position this year, winning entry to the Cup competition.
However, Beihai Jichi did not rank in the top 16 last year, so to avoid losing players, and to compete at a higher level, it turned to cooperation with Wenhui.
Yao attributes his team's achievements to hard work.
"In the past year, we played more than 80 matches, far more than teams in the Chinese Super League, or CSL. As long as there are registration channels and we have qualified players, we will definitely compete," Yao said.
When their club was drawn against Beijing Guo'an, Jingchuan Wenhui players showed no signs of nerves. Members of the coaching staff drew up a detailed plan for the Cup match, and the club's players had 54 percent of possession during the game.
Du Zexin, 19, who had just made the first team from the under-19 side, scored the first goal in the match.
Yao said: "These matches are like tests. Only through a continuous examination and review process can we continue to progress. As long as we strive to pursue our dreams, grassroots players can become heroes."
By promoting cooperation between the two clubs, Yao aims to cultivate more young players, help professional players from Gansu broaden their horizons, and take soccer in the province to a higher level.
He said it was sad to see many professionally trained players in the 18 to 20 age group failing to land contracts with professional clubs, or being dropped after not making the first teams.
Yao wants to help these young men continue playing soccer, or to make the transition to coaching and refereeing. "We want to assist them in pursuing their soccer dreams. Even if they don't turn professional, they can still do work related to soccer," he said.