Hurts, Eagles soar into Super Bowl, rout 49ers for NFC title
Share - WeChat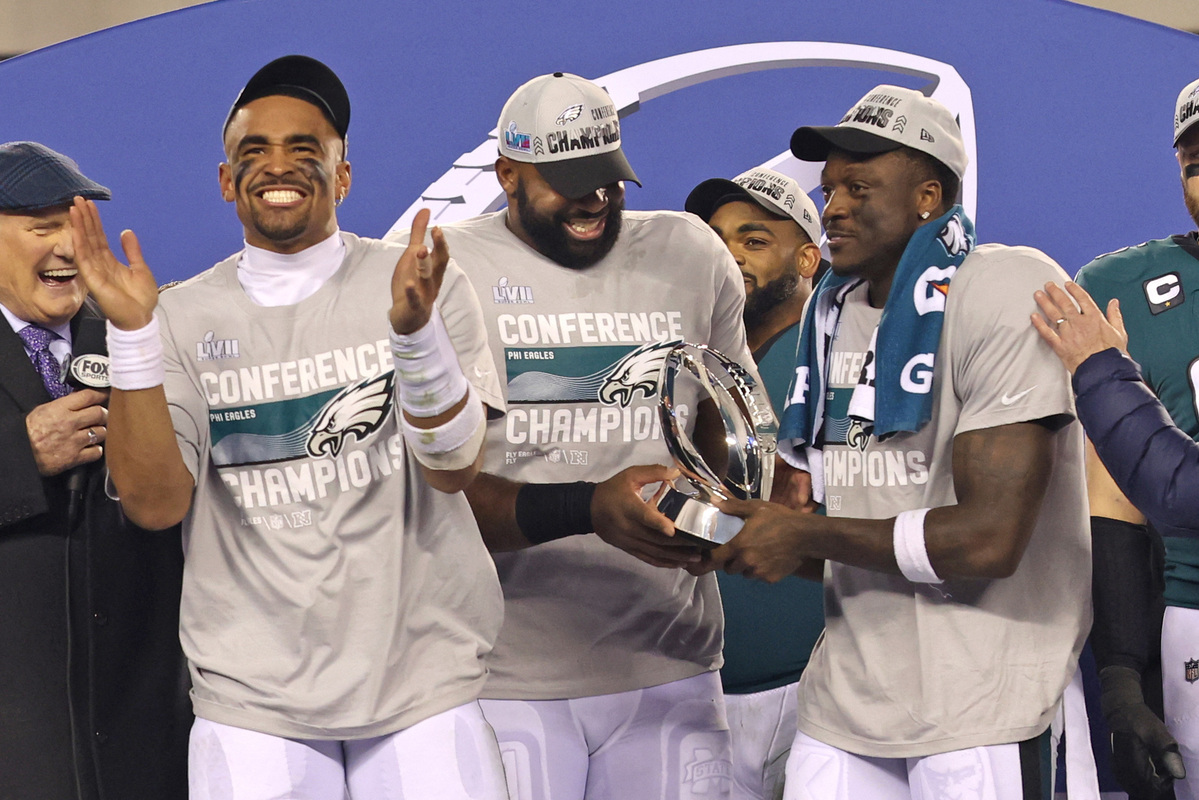 PHILADELPHIA — Jalen Hurts can conduct a singalong about as well as he can orchestrate the kind of punishing scoring drives that sent the Eagles into the Super Bowl.
At the end of one more triumph, Hurts stood on the stage on the field — as his Eagles teammates passed around the NFC championship trophy — and clutched a microphone in front of what was suddenly Philadelphia's largest karaoke joint. His rendition of the team fight song was a tad off-key.
Hurts may not sing as well as he can score, but it was another memorable moment in a season full of them. And the Eagles don't believe they're done yet.
"We've got new moments," Hurts said. "New moments and new times." Hurts had one of Philadelphia's four rushing touchdowns and the Eagles soared into the Super Bowl, forcing both of San Francisco's quarterbacks out of the game with injuries and beating the wounded 49ers 31-7 in the NFC championship game on Sunday.
The Eagles, who won the Super Bowl five years ago with a different coach and quarterback, will try to do it again behind the formidable duo of Hurts and coach Nick Sirianni. Philadelphia will play either the Cincinnati Bengals or former Eagles coach Andy Reid's Kansas City Chiefs.
"We get to do it because we did it better than anyone in the NFC this year," Sirianni said.
Hurts had a modest game by his standards after a season in which he was a finalist for MVP. He was 15-of-25 passing for 121 yards and ran for 39, improving to 16-1 as a starter this season. The Eagles (16-3) lost two games that he missed with a sprained right shoulder.
Hurts sat alone at his locker dressed all in purple and he took a few puffs of a cigar as the Eagles celebrated around him. He understood there was one more game to win.
"I never knew how far we'd go," Hurts said, "but I never said it couldn't be done." Miles Sanders ran for two touchdowns and linebacker Haason Reddick made the hit that forced 49ers rookie quarterback Brock Purdy out of the game with an elbow injury. Reddick also recovered a fumble by Purdy's replacement, Josh Johnson, who later suffered a concussion.
That forced Purdy back into the game, but his injury was clearly a factor as the 49ers all but gave up on the passing game, even while trailing by multiple scores. Purdy said he was unable to throw the ball more than 10 yards after his elbow got hurt.
San Francisco's bad luck at quarterback was finally too much to overcome as its 12-game win streak ended. The Niners (15-5) lost both Trey Lance and Jimmy Garoppolo to season-ending injuries, and Purdy — the final pick in April's draft — lost as a starter for the first time.
Philadelphia police greased traffic and light poles in what proved again to be a futile attempt to slow the postgame revelry. The city now has its beloved Birds in the Super Bowl just three months after the Philadelphia Phillies reached the World Series.
"When you guys go into our indoor (practice facility), there's always that picture in the back part of it of the 2017 NFC championship game, and it's just the electricity of the stadium," said Sirianni, who was hired two years ago to replace the Eagles' Super Bowl-winning coach, Doug Pederson. "We're looking forward to getting another picture up there of this special moment that we had."
The game disintegrated in the waning minutes and Philadelphia's K'Von Wallace and San Francisco's Trent Williams were ejected for their roles in a brawl. Williams yanked Wallace from behind and slammed him to the ground.
The moment only seemed to rile up Eagles fans even more as they soon waved their green towels and went wild as confetti fluttered around them.
"We've got one more game for the rest of our lives," Sanders said.
Most Popular
Highlights
What's Hot