Punching up
Share - WeChat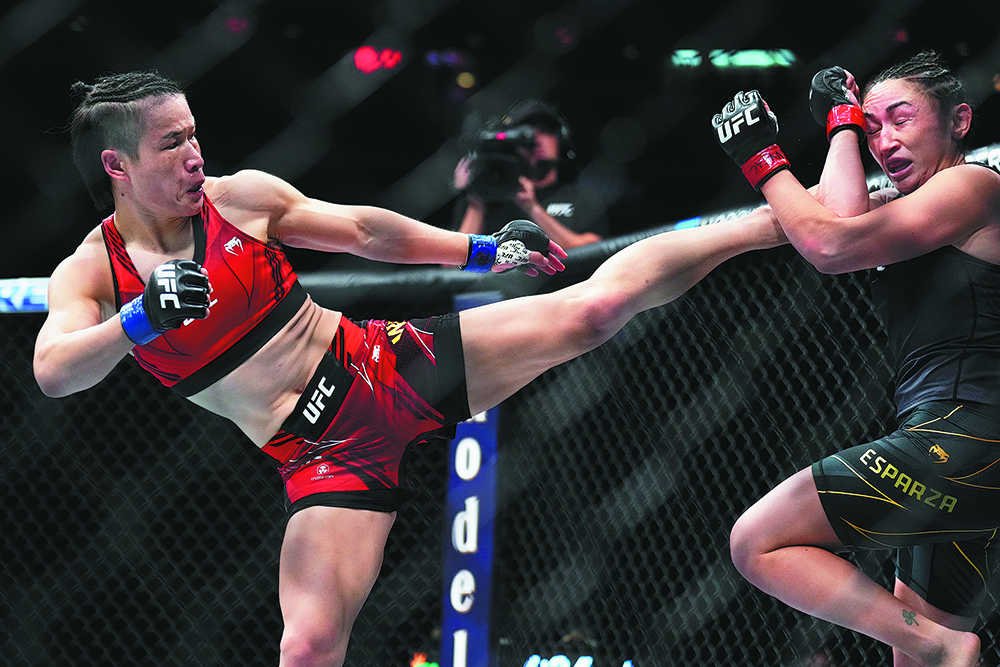 China's fighters are putting the nation on the MMA map globally, as well as inspiring a greater domestic interest in the sport
With a new king crowned and the old queen back on the throne, China's mixed martial artists put up a gusty fight on the world stage in 2022, as the sport continues to punch above its weight in the birthplace of kung fu.
Known as the cradle of ancient martial arts, China cemented its rise to prominence in the modern sport of MMA last year, with the men celebrating a major breakthrough in the ring, while the women maintained their world-class prowess.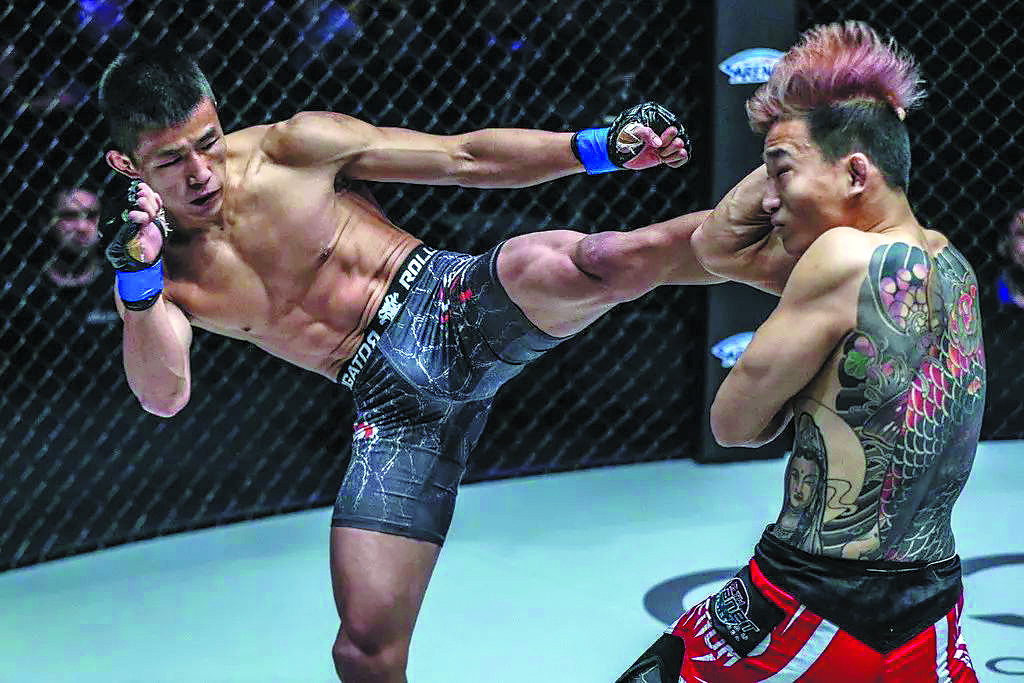 Fighting in the ONE Championship, a Singapore-based major MMA promotion, Chinese striker Tang Kai made history on Aug 26 after beating former champ Thanh Le of the United States to claim the organization's featherweight belt via a five-round unanimous decision.
By securing his 10th straight win in the Circle, Tang became China's first men's MMA world champion with a major promotion, joining his countrywoman Xiong Jingnan — ONE Championship's reigning strawweight title holder — on the Asia-focused promotion's champion roster.
Hailing from the Sunkin International Fight Club in his native Hunan province, Tang had set his eyes on a long reign upon the featherweight throne right after his successful challenge.
"To bring the championship belt to China, I've lived up to my words before the fight, but I won't stop here," said Tang, a 27-year-old knockout specialist. "My goal is to defend my title many times to extend my dominance as long as possible."
Tang already owns an impeccable 7-0 record since signing with ONE in 2019.
"To make myself a stronger champion, I will work harder on my weaknesses in jujitsu, particularly grappling and brawling," Tang said. "I will also keep sharpening my punches to improve the effectiveness of my striking."
As Tang savored his triumph, Xiong sent him a timely reminder of what it takes to stay on top of a division by going all out on Oct 1 at a live event in Singapore to beat challenger Angela Lee and defend her world title for a record seventh time.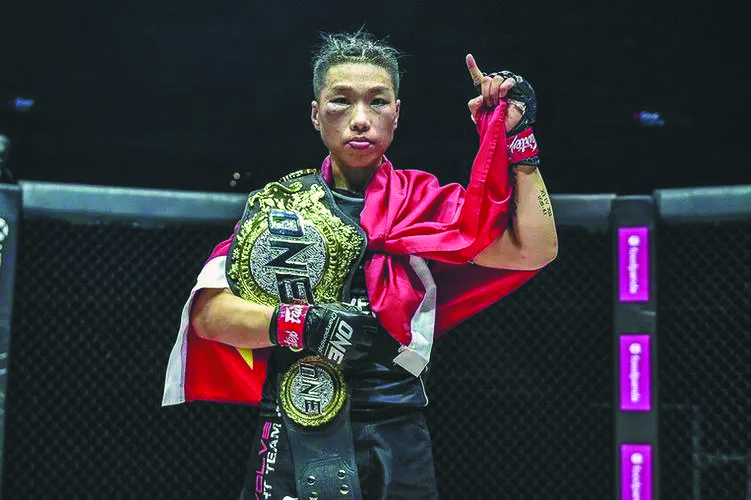 Via a five-round unanimous decision, Xiong, known as "The Panda" in the Circle, ousted Lee to retain her 125-pound (56.7-kilogram) title and lead the Canadian-American fighter 2-1 in bouts fought.
After losing her only fight since joining ONE in 2017 to Lee in a 115-pound (52.2-kg) matchup in October 2019, Xiong, who holds an 18-2 career record, came back strong with three solid wins in the build-up to her third battle against Lee and prevailed with her trademark tenacious attack.
After the hard-fought win, Xiong dedicated her victory to the country, which was celebrating the National Day holiday when she retained the belt.
During her four-year, eight-fight stranglehold on the division, Xiong has proved herself to be the best strawweight fighter the organization has seen, but she isn't satisfied with that.
"It might sound cocky, but I'll keep this belt for a long time," said the 35-year-old Shandong province native.
With no imminent strawweight challengers coming at her way, Xiong is targeting the lower division again.
"I've been thinking about that for a long time," Xiong said of a coveted fourth showdown with Lee in the atomweight class to become a double-division champ.
Now sharing the role to spearhead MMA's rise in China with Xiong, Tang is immensely proud to play his part in popularizing the sport in his home country.
"I think no other sports compare with MMA. It's unique in its appeal," he said. "Hopefully, more people in China will become interested in MMA and start to practice it because of what I did."
Most Popular
Highlights
What's Hot