Xi makes video calls to people across China, extending festive greetings ahead of Year of Rabbit
Share - WeChat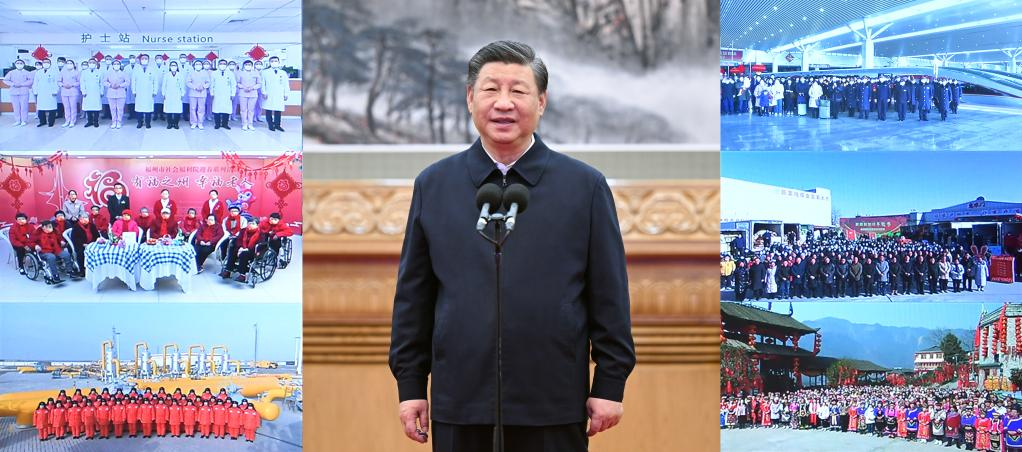 Xi called for efforts to strengthen the monitoring and early warning of extreme weather conditions and carry out safety overhauls to prevent major safety accidents.
Xi demanded strict implementation of anti-COVID measures to reduce infection risks to the minimum.
Xi also extended his holiday greetings to vendors and customers at the Xinfadi wholesale market, a major fresh-produce marketplace in Beijing.
To his delight, Xi heard that the food price was stable and the provision of various produce was sufficient.
Xi urged the wholesale market to expand its suppliers and the diversity of products, maintain good quality, and step up food safety examination and market management.
Xi stressed redoubled efforts to ensure sound production, sale, and supply of essential commodities such as grain, edible oil, meat, eggs, milk, fruits, and vegetables.
A smooth delivery, sufficient and diversified provisions, and the stable market price of these commodities should be guaranteed during the holiday so that people can have a happy and sound Chinese New Year, Xi said.
Speaking with villagers and tourists in Shiyi Village in Southwest China's Sichuan province, Xi called on them to strive for common prosperity to make their lives better.
Shiyi Village is one of the villages rebuilt after being heavily stricken by the Wenchuan earthquake in 2008.
Xi extended festive greetings to the villagers and tourists, and he also sent Spring Festival wishes to all rural residents across China and those working hard on the frontline in the country's rural revitalization cause.
He asked local officials and tourists about the village's tourism. Hearing positive feedback, Xi stressed the role of agricultural specialties and rural tourism in the rural revitalization of the new era.
Xi said he was primarily concerned about rural areas and rural residents after the country adjusted its COVID-19 response measures.
Xi stressed efforts to improve medical care for those most vulnerable to the virus in rural areas, and ensure the health of rural residents and their normal running of work and life to the maximum extent possible.
At the end of the virtual talks, Xi delivered an important speech.
"As we greet the Spring Festival, I care more about my fellow people and officials working at the primary level," Xi said.
Xi said this year's virtual talks enabled him to speak with people from across the country. He said that he could feel the happiness and joy of the people, even from behind the screen.
"My heart is always with you all and people of all ethnic groups across the country," Xi said. "My biggest wish is that we all have a happy Spring Festival."
He ordered sound implementation of COVID response measures in the new phase and effective prevention of emergencies and accidents so that people across the country will have a joyful and safe Spring Festival.
The past year was extraordinary but not easy, Xi said. "We have overcome all kinds of difficulties and challenges, making new achievements on all fronts."
For the year ahead, Xi called for concerted efforts to make more progress and greater contributions to the country.
Related:
Xi on COVID-19 response: light of hope right ahead
Xi stresses safe Spring Festival travel
Xi stresses stable food supply for Spring Festival
Xi calls for more achievements in rural revitalization
Xi stresses stable energy supply, price ahead of Spring Festival