Xi makes video calls to people across China, extending festive greetings ahead of Year of Rabbit
Share - WeChat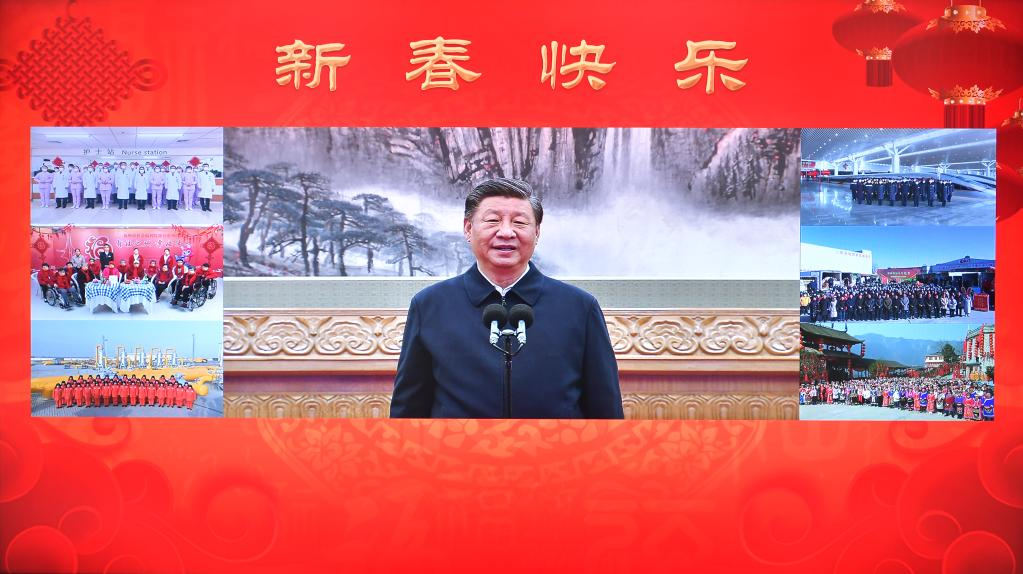 BEIJING - President Xi Jinping on Wednesday extended festive greetings to all Chinese people when he held virtual talks in the Great Hall of the People in Beijing with the general public from across the country ahead of the Spring Festival.
Xi, also general secretary of the Communist Party of China (CPC) Central Committee and chairman of the Central Military Commission, spoke with medical workers at a hospital, senior citizens in a welfare home, workers on an outlying oilfield, travelers and staff members at a high-speed railway station, vendors and customers at a wholesale market, and people in an ethnic minority village via video link.
Xi wished Chinese people of all ethnic groups healthy and happy lives in the Year of the Rabbit and expressed his hope that the country will enjoy prosperity and the people live in a safe and peaceful nation.
This year's Spring Festival, or the Chinese New Year, falls on Jan 22.
Li Qiang, Cai Qi and Ding Xuexiang -- who are members of the Standing Committee of the Political Bureau of the CPC Central Committee -- were also present during the virtual talks.
Speaking with medical workers and an elderly patient at the First Affiliated Hospital of Harbin Medical University in Northeast China's Heilongjiang province, Xi said that facing this latest wave of COVID-19 infections, medical workers have worked long hours under heavy pressure and with an excessive workload to treat patients.
Acknowledging their great contributions to protecting people's lives and health, Xi extended festive greetings to medical workers across the country.
"We have now entered a new phase of COVID-19 response. Tough challenges remain, but the light of hope is right in front of us. Perseverance means victory," he said.
The country had made "the right choice" to deal with the COVID-19 epidemic with strict measures over the past nearly three years, Xi said, adding that China has thus withstood several rounds of outbreaks of virus mutations.
China has lowered the proportion of severe cases and the case fatality rate to the greatest extent possible, protected people's lives and health, and bought precious time for the later moves to optimize response and downgrade the management of COVID-19, Xi said.
The focus of the current COVID-19 response has shifted from infection prevention to medical treatment, with protecting people's health and preventing severe cases being the priority, said Xi, noting that hospitals are now undertaking more arduous tasks.
Xi demanded efforts to increase medical resources and the supply of medical services and drugs, and to prepare for medical treatment of severe cases in particular.