Tourists make up for lost time
Share - WeChat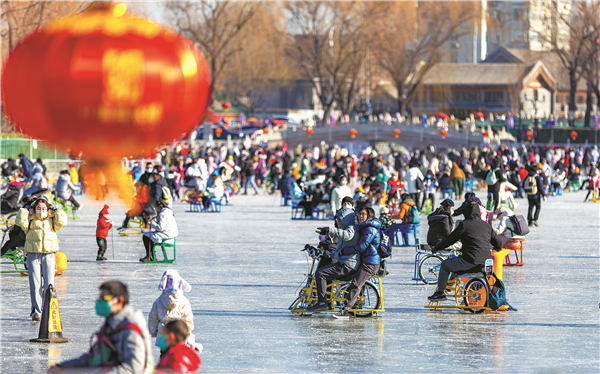 His homestay features seven rooms offering lake views, and was under renovation between May and October.
"Although the going was rough, we've always believed tourism will bounce back and thrive," Li says, adding that the renovation was necessary to cater to the rising demand of Chinese visitors and stay competitive.
To date, Li has received about 200 guest inquiries every day, and he has to recommend many guests to other homestays in the neighborhood.
"We remain confident in the future, and will open a second homestay in Dali this year," Li says.
Beijing also saw its tourism and cultural activities bouncing back to pre-COVID-19 levels during the New Year holiday. Approximately 2.7 million people visited the city's 151 key scenic spots over the holiday, reaching 86.4 percent of the number registered in the same period of 2019, according to the Beijing Bureau of Culture and Tourism.
The tourist attractions reported a total revenue of about 248 million yuan, up 44.5 percent from 2019, the bureau reports.
The number of cultural activities on offer also rose, compared with the same period a year ago. The city's 75 theaters held 303 commercial performances during the holiday, roughly the same as the figure logged in 2019.
Zhang Meinan, the Beijing-based Cichang Comedy standup operator in Beijing, saw audience numbers suddenly spike and sold out 150 seats since the last week of December. He attributed the success to the public need to blow off steam after being cooped up at home for a long time due to the pandemic.
He's thrilled about the quick recovery in the city's performance market, noting that his company doesn't plan to take a break and will continue offering standup comedy performance during Spring Festival.
Now that the country has scrapped the quarantine requirements for international arrivals and downgraded management of COVID-19 cases from Class A to Class B, Zhang Guangqi is motivated to head overseas during his next trip.
"I've seen some of my friends already book trips to Thailand and Singapore," he says.
Outbound flight bookings surged by 145 percent year-on-year during the New Year holiday, while the figure has surpassed 260 percent for the Spring Festival holiday, according to Trip.com Group.
Before the outbreak of the pandemic, Zhang Guangqi usually took at least two long-distance trips a year, including one to another country in Southeast Asia or Europe.
"I'm still checking out the tourism policies of destinations I have in mind and will make the bookings when the flight and hotel prices are favorable," he says.