Tibet launches winter tourism campaign to lure more visitors
Share - WeChat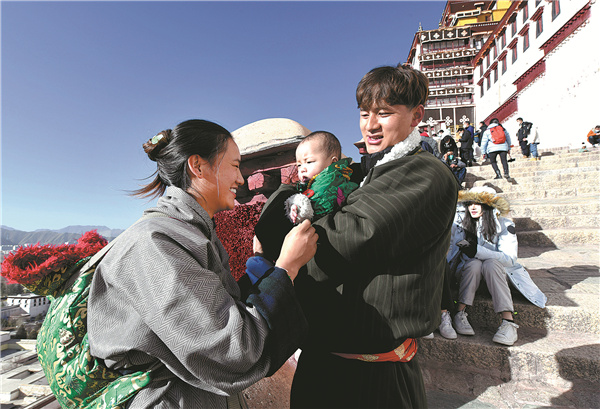 Tibet launched a new round of its Winter Tour Campaign on Jan 1 to attract more tourists to the autonomous region in the wintertime, according to a statement released by the regional department of tourism development. The campaign will run until March 13.
The department said the winter tour will offer bonuses for certain businesses supporting tourism in Tibet. Tickets to visit Potala Palace in Lhasa and other scenic sites in the region will be free.
Potala Palace reopened to visitors on Tuesday, with a reservation required via the palace's WeChat account, according to a statement from the palace on Sunday.
Some designated hotels and tourism transport companies will implement an off-season winter price model. Hostels and airline companies meeting requirements will benefit from bonuses and subsidies offered by the government.
Tibet is a major destination for tourists from around the world, but it has seen fewer visitors during winter months, with tourism-related businesses remaining closed for months in the past.
This has changed in the last few years. After Tibet launched its first Winter Tour Campaign in February 2018, it has been offering differential pricing on tourism products, including free entry to several scenic spots, hefty discounts on hotels, flights and transportation.
Such policies have been able to reverse the so-called tourism depression that is often witnessed during winter in the region.
During the Spring Festival holiday last year, Tibet received more than 438,000 domestic and overseas tourists, an increase of 40 percent year-on-year, Tibet Commerce Daily reported.
During the same period, tourists spent 315 million yuan ($45 million), a 46 percent jump over the previous year.
Wang Songping, head of the regional tourism development department, said the region's upcoming tourism campaign will promote demand and help the region revitalize its tourism industry.
"We expect that more tourism-related operations in the region will see more business opportunities with the campaign," Wang said.
The statement also recognizes people who volunteered in the region's fight against COVID-19 outbreaks will give them lifetime exemptions from ticket costs.
The winter tour policies will provide a hostel within the region a 100,000 yuan bonus after it receives more than 800 tourist groups, and an additional 50,000 yuan will be granted to the hostel for every 100 tourists on top of the 800. The bonus to a hostel cannot exceed 800,000 yuan.
Wang Yi, general manager of Tibet Zhongxin International Hostel, said Tibet has been carrying out the Winter Tour Campaign for years, and it has greatly contributed to the overall development of his tourism business.