National EV brands in top spot as auto industry transforms
Share - WeChat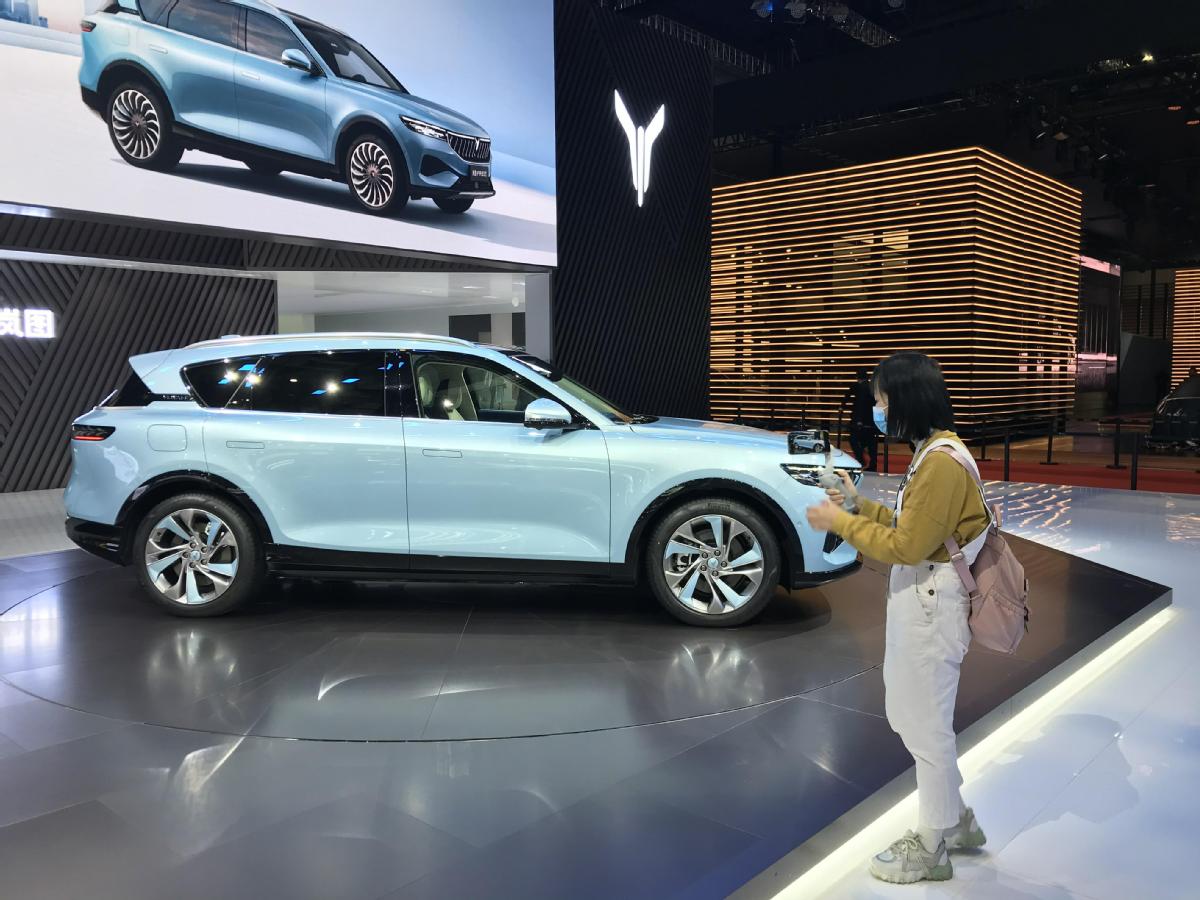 Domestic marques to lead way across markets globally, says McKinsey report
China is already a leading player in the smart electric vehicle segment, which experts said may prompt the country to reshape the global auto industry by the end of this decade.
Global sales of EVs from 2021 to 2030 will reach 220 million units, and about half of them will be sold in China, according to a report released by global consultancy McKinsey on Thursday.
Chinese electric carmakers and their auto suppliers have seized the first mover advantage, and local Chinese marques have replaced international rivals on the list of Chinese car buyers' top candidates.
Chinese car buyers tend to choose international brands when they buy gasoline cars. But Bill Peng, a McKinsey partner, said brands are not as important for electric car buyers as they are for people purchasing gasoline cars.
Statistics from the China Passenger Car Association show that 12 out of China's top 15 NEV makers in the first 11 months of this year were Chinese. The three exceptions were Tesla and Volkswagen's two Chinese joint ventures.
BYD, which stopped sales of gasoline cars earlier this year, is now the world's largest producer of new energy vehicles, with its monthly sales breaking records several times this year.
According to the company's report, its November deliveries hit a new high of 229,942 units, including EVs and plug-in hybrids, which is 155 percent more than 2021. Its total deliveries of NEVs have exceeded 3.1 million units.
The carmaker expects its performance to grow further in 2023, with its premium marque Yangwang unveiled to compete in the high-end segment.
Guan Mingyu, a McKinsey partner, said: "Triggered by Chinese car buyers' affection for smart EVs, the Chinese vehicle market is experiencing a series of changes far deeper and wider than expected.
"The surge of electric car sales in China is powered by the buyers' actual demand instead of the authorities' policies."
The China Association of Automobile Manufacturers estimated that sales of electric cars and plug-in hybrids, both classified as NEVs in China, will reach 6.7 million units this year, up from 3.5 million units in 2021.
Chinese NEV carmakers are also wowing overseas customers with models that "beat their wildest imaginations", which may see them raise their positions on the global stage, according to the McKinsey report.
Smart features are commonplace in those models. Earlier this month, Dongfeng's Voyah launched its first sedan, which has more than 30 advanced driving-assist functions.
The sedan also sports an augmented reality head-up display, which is unique to its segment. It is capable of gesture control as well as facial and voice recognition.
Voyah has not said when the model will go overseas. But its first model, the Free SUV, is available in Norway, with the second model, an MPV called the Dream, to follow in 2023.
Many others have done so as well, including startups like Nio and traditional carmakers such as BYD.
Nio, one of China's first electric car startups, opened its first showroom in Germany in October. It started to ship models to Norway, its first European stop, in 2021.
The New York-listed carmaker's three models, the ET5, the ET7 sedans and the EL7 SUV, are available for local customers to rent for as short as a month. The ET7 is the world's first model to sport Nvidia's Orin chip, which is designed for AI-assisted driving.
The models can also have their used batteries swapped for new ones in minutes in addition to the traditional way of getting them charged.
Meanwhile, Chinese NEV brands are winning big orders. In October, BYD won a deal from Germany-based car rental company Sixt to supply 100,000 EVs by 2028.
One month later, Chinese EV startup Aiways won an order to supply up to 150,000 EVs to Thai e-mobility service provider Phoenix EV to be delivered over five years. The deal marks the largest EV order of Chinese carmakers worldwide.
"The cooperation with Phoenix EV represents a significant step for the Aiways brand," said Alexander Klose, executive vice-president of overseas operations at the carmaker.
Fu Bingfeng, executive vice-president of the China Association of Automobile Manufacturers, said China's electric cars, which are doing a good job in terms of design, quality and novel features, are competitive in the global market. They are helping Chinese models as a whole to go upward and driving China's vehicle exports.