Experts say US blacklist ploy for edge in chips
Share - WeChat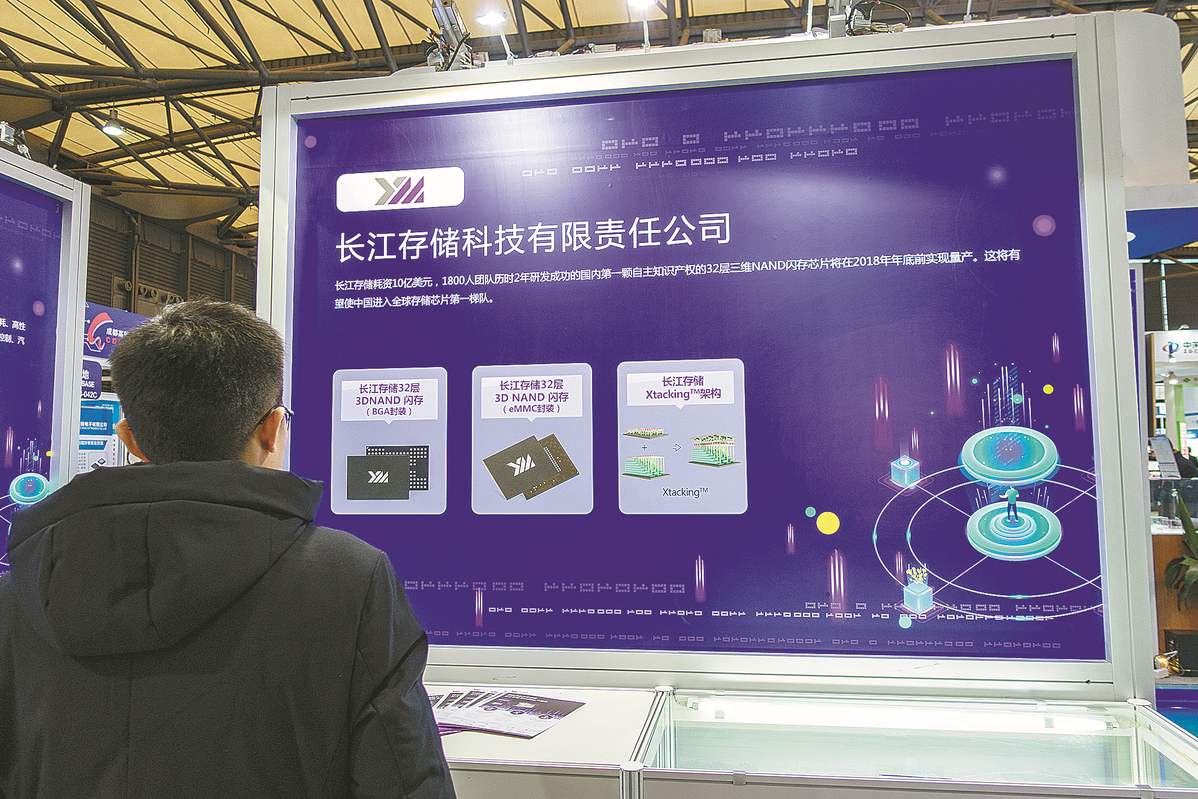 The US government's decision on Thursday to add 36 Chinese companies and institutions to its export blacklist is typical market distortion for economic hegemony, and will further disrupt the global semiconductor industrial chain, officials and experts said on Friday.
Among the US Department of Commerce's "entity list" is Yangtze Memory Technologies Co, China's top flash memory chipmaker. It and the other 35 Chinese companies cannot access critical US commodities, software and technologies unless their American suppliers gain explicit sales approvals.
On Friday, China's Ministry of Commerce said it strongly opposes the move, and urged the United States to immediately stop its wrong practices and return to the correct path of upholding the rules of the multilateral trading systems such as the World Trade Organization.
"China will take necessary measures to resolutely safeguard the legitimate rights and interests of Chinese enterprises and institutions in response to the actions of the US," the ministry said in a statement on its official website.
Bai Ming, deputy director of the international market research department at the Chinese Academy of International Trade and Economic Cooperation, said that in recent years Washington had repeatedly resorted to political maneuvers to hinder normal business and investment decisions by blacklisting more and more Chinese companies.
"The latest move will only further hurt the interests of suppliers in the US and impede international cooperation," Bai said.
In October, the US announced a sweeping set of export controls that were seen as an effort to contain China's semiconductor industry. Wei Shaojun, president of the integrated circuit design branch of the China Semiconductor Industry Association, said the real intent of the US appears to be building a global semiconductor supply chain without China's participation while curbing and suppressing other competitors.
Such attempts are severely disrupting the development cycle of the global semiconductor industry, and systematically fragmenting the global semiconductor industrial chains, Wei said.
Zhong Xinlong, a senior consultant at the China Center for Information Industry Development Consultancy, said it is clear the US is adopting a series of well-calculated approaches to curb China's fast-growing chip industry.
"Washington does not want China to make any progress on advanced chip technologies, but its politically motivated restrictions will deal a major blow to US chip companies, which bank on China, the world's largest chip market, for revenue growth," Zhong said.
"The export controls will motivate us to double down on resources to achieve breakthroughs," said a senior executive from a Chinese chip company who declined to be named.
On Thursday, the US Department of Commerce also removed 25 Chinese companies from a watch list of "unverified" firms that it alleged might have military connections, following end-user checks.
China's Ministry of Commerce said it welcomed the move, which showed that the two sides can solve specific concerns through communication on the basis of mutual respect.